---
Southern Provisions
The Creation and Revival of a Cuisine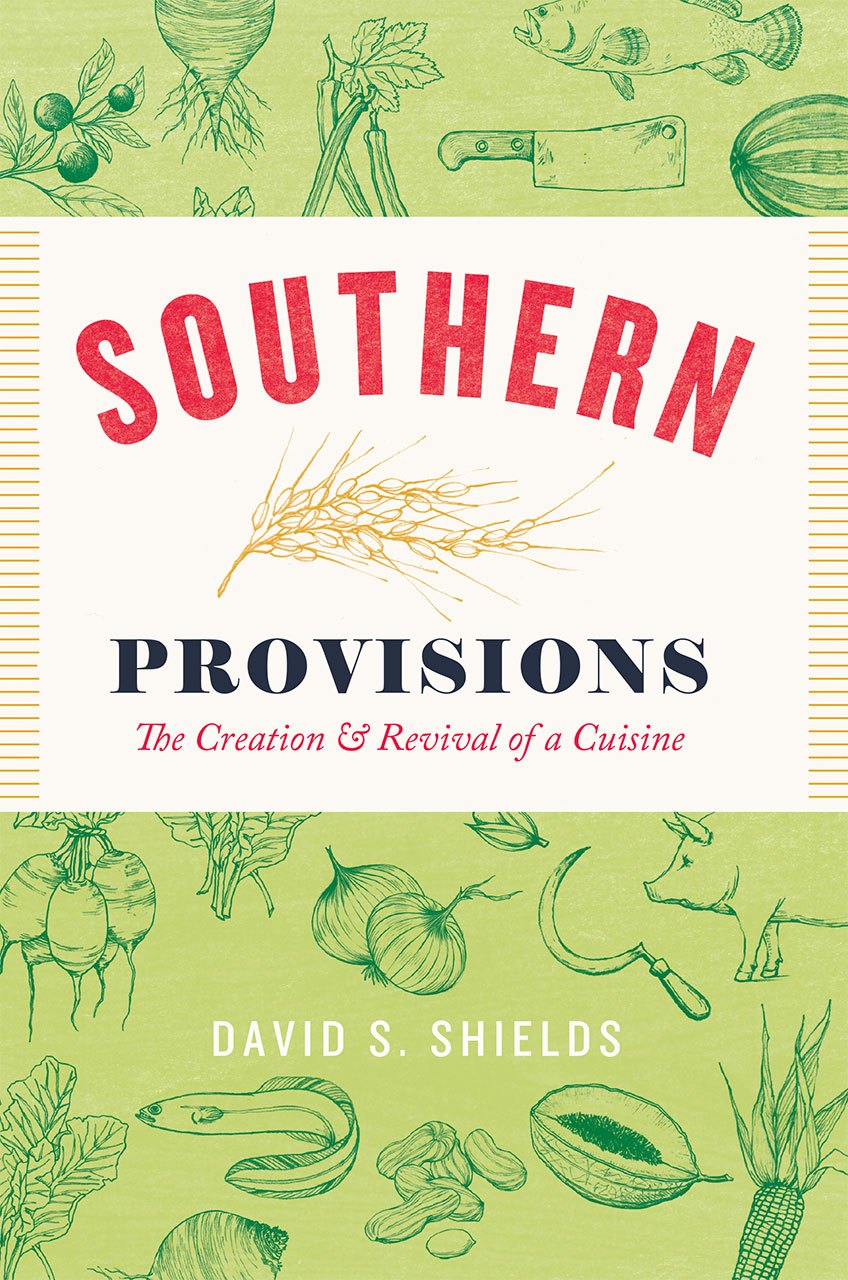 416 pages | 23 halftones, 1 line drawing, 2 tables | 6 x 9 | © 2015
Southern food is America's quintessential cuisine. From creamy grits to simmering pots of beans and greens, we think we know how these classic foods should taste. Yet the southern food we eat today tastes almost nothing like the dishes our ancestors enjoyed, because the varied crops and livestock that originally defined this cuisine have largely disappeared. Now a growing movement of chefs and farmers is seeking to change that by recovering the rich flavor and diversity of southern food. At the center of that movement is historian David S. Shields, who has spent over a decade researching early American agricultural and cooking practices.  In Southern Provisions, he reveals how the true ingredients of southern cooking have been all but forgotten and how the lessons of its current restoration and recultivation can be applied to other regional foodways.

Shields's turf is the southern Lowcountry, from the peanut patches of Wilmington, North Carolina to the sugarcane fields of the Georgia Sea Islands and the citrus groves of Amelia Island, Florida. He takes us on a historical excursion to this region, drawing connections among plants, farms, growers, seed brokers, vendors, cooks, and consumers over time. Shields begins by looking at how professional chefs during the nineteenth century set standards of taste that elevated southern cooking to the level of cuisine. He then turns to the role of food markets in creating demand for ingredients and enabling conversation between producers and preparers. Next, his focus shifts to the field, showing how the key ingredients—rice, sugarcane, sorghum, benne, cottonseed, peanuts, and citrus—emerged and went on to play a significant role in commerce and consumption. Shields concludes with a look at the challenges of reclaiming both farming and cooking traditions.

From Carolina Gold rice to white flint corn, the ingredients of authentic southern cooking are returning to fields and dinner plates, and with Shields as our guide, we can satisfy our hunger both for the most flavorful regional dishes and their history.
 
Table of Contents
Contents
Preface
Acknowledgments
1 Rebooting a Cuisine

PART I Cooking in the South
2 The South and the Institutions of American Food
3 Madame Eugène and Nineteenth-Century Restaurant Cuisine in New Orleans
4 The Maryland Club Feast
5 Charleston's Caterers, 1795 to 1883
6 The Jockey Club Banquet of February 1, 1860
7 Possum in Wetumpka

PART II Selling
8 Touring the City Markets, 1810 to 1860
9 Fish Master: C. C. Leslie and the Reconstruction
of Charleston Cuisine
10 The New York Market: National Supply and Demand
11 Truck Farming

PART III Planting in the Lowcountry
12 Carolina Gold Rice
13 Sugar from the Sugarcane
14 Sorghum
15 Prospecting for Oil
16 Peanuts and Peanut Oil
17 Citrus
18 The Return of the Tastes

Notes
Index
Review Quotes
Sean Brock, executive chef, Husk
"People are always asking me what the most important book written  about southern food is. You are holding it in your hands."
Times Literary Supplement
"An impassioned history of the relationship between professional cooking, markets and planting in the American South which argues that true regionality is to be found not in dishes, but in ingredients. . . . Shields, refreshingly, sees taste as an end in itself. He insists that he does not want simply to revive tradition, but provision today's chefs with the quality ingredients enjoyed by their predecessors."
Choice
"This deeply enjoyable, rambling volume has as many digressions as a country lane.  In it, Shields stews over 'amnesia-cleansed' cultural memory with a sense of humor and historiography.  He mines 19th-century agricultural journals, a miscellany of famous eateries from New Orleans to Baltimore, and personal field experiences in an attempt to resuscitate a cuisine and revivify its soil.  The writing is at times gorgeous. . . . Savor this volume, explore its many flavors, and learn that there is more to cuisine than just sitting down at the table."
Booklist
"What does it take to imbue scholarly (and long-term) research with a compelling narrative? Ask University of South Carolina professor and author Shields, who combines his obvious affection for southern cuisine—and its roots—with a desire to present all cooking of the South, from the Appalachians to Texas, eyeing three factors: home and professional cooking, selling, and planting. His stories come alive with real people. Meet Sally Seymour, a free black pastry cook in Charleston; Colonel F. Dancy, who pioneered new ways of growing citrus; and South Carolina governor James Henry Hammond, responsible for the care and feeding of sorghum in the 1850s and its transformation into a sugar crop. Almost every chapter features at least one historical personage as well as colorful accounts of nineteenth-century feasts and unusual recipes (for instance, snipe à la Creole)."
Charleston City Paper
"Shields new book, Southern Provisions, is as much manifesto as history, and it represents a solid cornerstone in the burgeoning effort to rediscover, recognize, and adapt the preindustrial agriculture of the South, particularly the Lowcountry region, into the modern culinary lexicon. . . . Shields' contribution to the effort should be viewed as the first edition in a line of investigations that give cooks and farmers an exploratory window into an alternative world, where flavor matters and emergent cuisine expresses an adaptation of heritage that best captures the people and place in which it perennially resides."
Bon Appetit
"There are loads of delicious staple produce and grain that were once essential to eating in the South that are now extinct—or severely endangered. That's why professor Shields is trying to revive the best-tasting produce and grains from Southern history and bring them back to life (and our dinner tables)."
Wall Street Journal
"Southern Provisions is history as culinary restoration, and its primary message is this: To restore the tastes of the Lowcountry, one must restore the plants (and animals). . . . It takes joint effort to restore a regional food scene, but the rewards—tastier food, healthier land, and the perpetuation of community—are a lot more nourishing than just a meal."
Paul Fehribach, co-owner and executive chef, Big Jones
"It's not often that a book comes out that is truly groundbreaking in the well-trodden fields of Southern cuisine. This spring, however, David Shields and University of Chicago Press released one of the most important books not just in Southern cuisine, but more importantly, American cuisine at large. For us at Big Jones, this is exactly the type of work that enables us to make food that is true to its Southern roots, and restores the tastes that made Southern cuisine one of the best regional cuisines in the world. . . . Big Jones owes as much of its reputation to the work Shields has done, largely behind the scenes, to bring Southern food's best historic qualities to the fore, as it does anyone else. . . . This is essential reading for anyone interested in culinary history, seed saving, and the evolution and future of American foodways."
 
Dan Barber, co-owner and executive chef of Blue Hill and Blue Hill at Stone Barns
"Shields is an unsurpassed custodian of Southern culinary history. In Southern Provisions, he provides a richly detailed account of the evolution of Southern food culture, from field to marketplace to home kitchen. It's at once enlightening and inspiring—a powerful call to remember and rehabilitate our nation's most essential foodways."
Ronni Lundy, author of Shuck Beans, Stack Cakes, and Honest Fried Chicken
"Shields makes it clear that he is not interested in the mythology of Southern food, but purely in the facts and what we can discern from them. This emphasis on the verifiable underscores the imperative to understand and acknowledge the real who and what of the region's complicated edible past. It likewise fuels the urgency to identify and preserve for the future that which is valuable and irreplaceable. Southern Provisions is an essential volume for anyone interested in the state of American food."
John T Edge, coeditor of The Larder: Food Studies Methods from the American South
"In Southern Provisions, Shields skillfully draws connections between agricultural history and the history of food in the Lowcountry. In the process, he unearths truths about the south, its flora, fauna, and peoples. If you want to apprehend the tangled roots of American regional cuisine, this is a good place to start."
Art of Eating: Art of Eating Prize
Shortlist

View
Recent Awards
page for more award winning books.
For more information, or to order this book, please visit https://press.uchicago.edu
Google preview here