---
Weather on the Air
A History of Broadcast Meteorology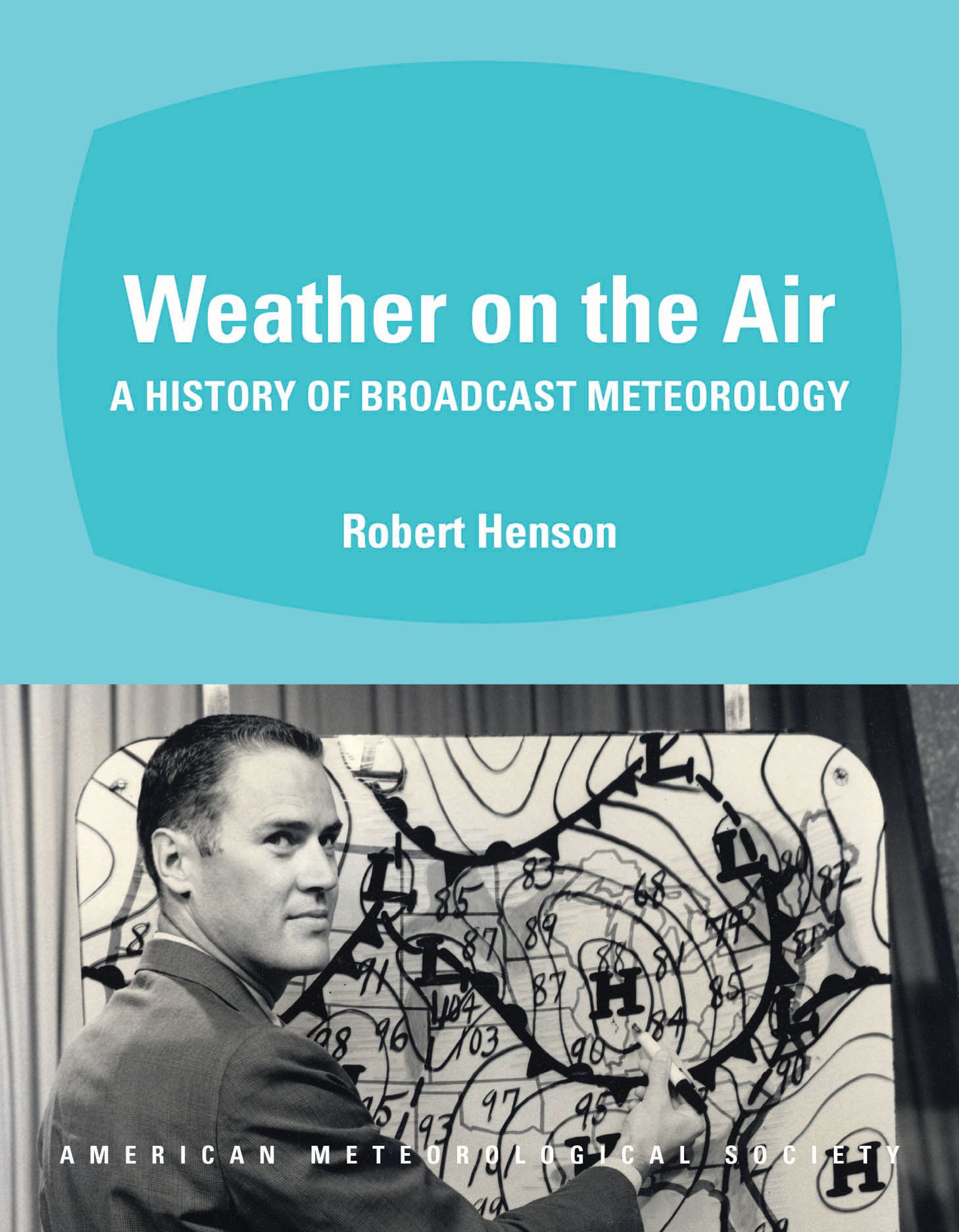 241 pages | 16 color plates, 75 halftones | 7 x 9 | © 2010
From low humor to high drama, TV weather reporting has encompassed an enormous range of styles and approaches, triggering chuckles, infuriating the masses, and at times even saving lives. In Weather on the Air,meteorologist and science journalist Robert Henson covers it all—the people, technology, science, and show business that combine to deliver the weather to the public each day.
            
The first comprehensive history of its kind, Weather on the Air explores the many forces that have shaped weather broadcasts over the years, including the long-term drive to professionalize weathercasting, the complex relations between government and private forecasters, and the effects of climate-change science and the Internet on today's broadcasts. Dozens of photos and anecdotes accompany Henson's more than two decades of research to document the evolution of weathercasts, from their primitive beginnings on the radio to the high-gloss, graphics-laden segments we watch on television every morning.

This engaging study will be an invaluable tool for students of broadcast meteorology and mass communication and an entertaining read for anyone fascinated by the public face of weather.
Table of Contents
Contents
Foreword
Preface

1. "And Now, Your Forecast": A Whirlwind Tour through TV Weather History
2. The Big Picture: The When, Where, and Who of Weathercasting
3. The Invisible Weather Team: How Public and Private Meteorologists Shape the Weathercast
4. But Seriously...: Attitudes and Approaches to Conveying the Weather
5. Blue Skies and Green Screens: The Technical Side of Weathercasting
6. Breaking through the Glass Map: Diversifying the Ranks of Weathercasters
7. Coast to Coast: The Nationwide Approach to Weathercasting
8. When Minutes Count: Getting the Word Out during Severe Weather
9. Voices of Weather: The Story of Radio Weathercasting
10. Cloudy and Warmer: Climate Change and Weathercasting
11. The Extended Outlook: Whither the Weathercast?

Notes
Index
Review Quotes
Ray Ban, retired executive vice president of programming and meteorology, The Weather Channel
"Weather on the Air captures the full breadth and depth of the engaging—and to many enthusiasts, intoxicating—world of broadcast meteorology. The history, the personalities, the science, the challenges, the beauty, and the warts of weathercasting: It's all here."
David Laskin, author of The Children's Blizzard and Braving the Elements
"Robert Henson covers a wide swath of weather and broadcast history with warmth, engaging humor, boundless curiosity, and a keen eye for the quirky and overlooked. Whether you approach the atmosphere with the utmost seriousness or laugh at the absurdities of the weather business, Weather on the Air is a treasure."
Edward Maibach, director, Center for Climate Change Communication, George Mason University
"Supplanting baseball, talking about the weather has become our national pastime. This book is a must-read for anyone seeking to understand the evolution of our attraction to, and dependence on, up-to-minute news about the weather."
Joe Witte, former NBC/Today meteorologist
"Henson clearly charts the internal storms as well as the fair skies of a profession that has been surprisingly slow to accept the growing scientific consensus of humankind's contribution to climate change."
Eric Klinenberg, author of Fighting for Air: The Battle to Control America's Media
"Robert Henson's rollicking story of how the weather news became a staple of American culture has more surprises than a windy day at Wrigley field. If, like so many of us, you find the weather report oddly compelling and want to know why, this is the book for you."
Dan Satterfield, chief meteorologist, WHNT, Huntsville, Alabama
"Robert Henson has written the definitive history of on-air weather in America."
Greg Carbin, warning coordination meteorologist, NOAA/NWS Storm Prediction Center
"From green screens to greenhouse gases, a thorough a very readable history of broadcast meteorology."
Bob Swanson | Weatherwise Magazine
"Bob Henson's Weather on the Air is lovingly written and meticulously researched. . . . More than just a simple timeline detailing the technological innovations that have taken the profession from hand-drawn maps on Plexiglass to today's touch screen technology, Henson's book also touches on the philosophical."
For more information, or to order this book, please visit https://press.uchicago.edu
Google preview here