---
The Spirits of the Earth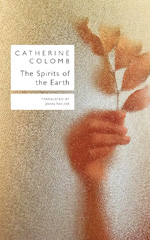 232 pages | 5 x 8 | © 2016
Swiss novelist Catherine Colomb is known as one of the most unusual and inventive francophone novelists of the twentieth century. Fascinated by the processes of memory and consciousness, she has been compared to that of Virginia Woolf and Marcel Proust. The Spirits of the Earth is the first English translation of Colomb's work and its arrival will introduce new readers to an iconic novel.

The Spirits of the Earth is at heart a family drama, set at the Fraidaigue château, along the shores of Lake Geneva, and in the Maison d'en Haut country mansion, located in the hills above the lake. In these luxe locales, readers encounter upper-class characters with faltering incomes, parvenues, and even ghosts. Throughout, Colomb builds a psychologically penetrating and bold story in which the living and the dead intermingle and in which time itself is a mystery.
Table of Contents
Contents
vii
Introduction
John Taylor
I.
The Spirits of the Earth  
Review Quotes
Times Literary Supplement
"Originally published in French in 1953 as the second entry in an unofficial trilogy, this new Seagull edition provides the first English translation of the Swiss author's extraordinary work. . . .As the translator John Taylor observes in his introduction, the novel's frequent use of elliptical devices imparts a distinct supernaturalism to the text, as though its characters exist as something between ghost and angel. It is this multidimensional indeterminacy that makes Colomb's work a compelling example of Francophone literature that is both thoroughly 'French' and distinctly Swiss."
For more information, or to order this book, please visit https://press.uchicago.edu
Google preview here