---
Simone de Beauvoir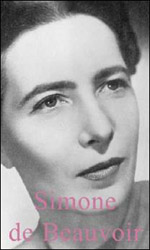 178 pages | 5 x 8
Simone de Beauvoir was a member of the intellectual elite of philosopher-writers whose feminist ideas revolutionised conventional thinking. She is known primarily for her monumental work: The Second Sex, (1949) a scholarly and passionate seminal work, which became a classic of feminist literature but also for her partnership with the philosopher Jean-Paul Sartre, France's most celebrated and unconventional intellectual couplings.
Table of Contents
Contents
Introduction
The Dutiful Daughter
A Necessary Love
Literature as Salvation
The Ethics of Existentialism
Being a Woman
The Committed Intellectual
The Exemplary Life
A Radical Old Age
Notes
Chronology
List of Works
Further Readting
Picture Sources
Index
Review Quotes
Lauren Elkin, author of Flâneuse: Women Walk the City in Paris, New York, Tokyo, Venice, and London
"This is an eloquent, clear-eyed, and readable portrait of an immensely complex and brilliant woman, and her ambivalence about being perceived as one. In this general but deeply researched biography, Lisa Appignanesi moves from the young philosophy student through her love affairs with Sartre, Algren, and Lanzmann through to her radicalized later years, contextualizing these events within de Beauvoir's work, avoiding facile biographical readings of it. On the contrary: the life and work come together here in mutually-reinforcing urgency. De Beauvoir is as relevant now as seventy years ago and this is an excellent overview of why."
Dr Lara Feigel, author of Free Woman
"'What a lot Lisa Appignanesi has packed into such a slim volume. This is the ideal introduction to Simone de Beauvoir, capturing the woman, the philosopher, the lover, the public intellectual, and the fluidity between these roles. Appignanesi is brilliantly nuanced on the emotional costs of de Beauvoir's complicated 'pact' with Sartre and on the way the philosophy emerged, hard-won, out of the life. It's a book that's attentive to de Beauvoir's times and alive to her urgent relevance to ours."
For more information, or to order this book, please visit https://press.uchicago.edu
Google preview here