---
Relevant Linguistics, Second Edition, Revised and Expanded
An Introduction to the Structure and Use of English for Teachers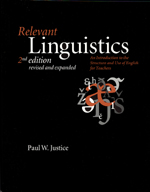 224 pages | 8 1/2 x 11 | © 2001, 2003
This revised and expanded edition of Paul W. Justice's popular text provides a straightforward, accessible introduction to the basics of linguistics for education students and all non-linguistics majors, covering the essentials of phonetics, phonology, morphology, morpho-phonology, and syntax. While this overview is accessible to any student, Justice's text will be of particular use in teacher training programs, many of which now expose trainees to these topics in order to cope with rising linguistic diversity in classrooms.

Each chapter of Relevant Linguistics leads students through descriptive analysis, helps them grasp linguistic concepts, and provides them with the reference materials necessary for their own teaching. This second edition contains more exercises as well as expanded and clarified explanations of the issues discussed in the first edition. Also included are more references to areas such as the history of English and semantics.
Table of Contents
Contents
Acknowledgments

1 What is Linguistics?

2 Phonetics: The Sounds of English

3 Phonology: The Sound System of English

4 Morphology: English Word Structure and Formation

5 Morphophonology: Where Morphology Meets Phonology

6 Syntax: English Phrase and Sentence Structure

7 Language Variation: English Dialects

Glossary

References

Index
Review Quotes
Linguist List
"This textbook provides a clear and accessible introduction to the major subfields of linguistics . . . offers clear and simple explanations of key concepts . . . and many useful appendixes which cover additional topics not addressed in the text. This textbook answers a true need for designated textbooks and course material for this student population, and will, no doubt, be of great use to its intended audience."
For more information, or to order this book, please visit https://press.uchicago.edu
Google preview here