---
Reference and Reflexivity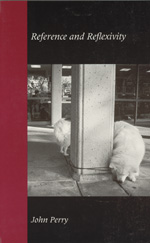 350 pages | 6 x 9 | © 2001
Following his recently expanded The Problem of the Essential Indexical and Other Essays, John Perry develops a ``reflexive-referential'' account of indexicals, demonstratives and proper names. On these issues the philosophy of language in the twentieth century was shaped by two competing traditions, descriptivist and referentialist.

Oddly, the classic referentialist texts of the 1970s by Kripke, Donnellan, Kaplan and others were seemingly refuted almost a century earlier by co-reference and no-reference problems raised by Russell and Frege. Perry's theory, borrowing ideas from both traditions as well as from Burks and Reichenbach, diagnoses the problems as stemming from a fixation on a certain kind of content, coined referential or fully incremental.

Referentialist tradition is portrayed as holding that indexicals contribute content that involves individuals without identifying conditions on them; descriptivist tradition is portrayed as holding that referential content does not explain all of the identifying conditions conveyed by names and indexicals. Perry reveals a coherent and structured family of contents — from reflexive contents that place conditions on their actual utterance to fully incremental contents that place conditions only on the objects of reference — reconciling the legitimate insights of both traditions.
Table of Contents
Contents
Preface
1. Introduction
2. Contents and Propositions
3. Utterance and Context
4. Context and cognitive paths
5. Meanings and Contents
6. Names and the Co-reference Problem
7. Names, Networks and Notions
8. The No-reference Problem
9. Conclusion
Examples
References
Index
For more information, or to order this book, please visit https://press.uchicago.edu
Google preview here