---
Robert Motherwell
With Pen and Brush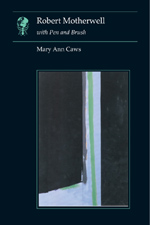 Distribution by the University of Chicago Press only to customers in the USA and Canada. Customers elsewhere should visit the UK website of
Reaktion Books
.
224 pages | 6.25 x 9.25
Robert Motherwell was by far the most intellectual and articulate of the Abstract Expressionists. This book, written by a friend of the artist, the well-known writer and critic Mary Ann Caws, examines Motherwell's way of thinking and writing in relation to his paintings. The artist, American by birth, yet simultaneously American and European in his way of visualizing and vocalizing artistic and philosophical traditions, always worked between these two poles, and it is this tension that imbues his œuvre with its particular intensity.

The author bases her analysis of Motherwell on the artist's own writings and readings, as well as on extensive conversations and interviews with him. She considers his work and interests in relation to those of other Abstract Expressionists as well as to the work of the Surrealists. Her book highlights his deep attraction to France and French literature and art, and his concern with the idea of elegy and the tragedy of the Spanish Civil War. His singularly American spirit provided him with a manner of painting and thinking unique among the Abstract Expressionists, as well as with a distinctive and highly personal filter through which to interpret his fascination with European literature and history.
Table of Contents
Contents
Preface
A Short Biography
1. Painter, Writer and Reader
2. America and Europe
3. An Ethical Aesthetic: Individual and Public
4. Feeling and Violence
5. Surrealism and Spontaneity
6. Voyage and Quest: Baudelaire and Mallarmé, Eliot and Cornell
7. Nocturnes: Matisse, Stevens and Schwartz; Frost and Jarrell
8. Working Through the Night
9. Cloud and Mistake: Joyce and Yeats
10. Elegy for Us All: Lorca, Beckett, Alberti
11. Open Window: Whitman, Stevens, Olson
12. Harmony of Consciousness
13. Open Door: Back to the Studio
14. The Sublime: Looking Again Now
Epilogue
References
Bibliography
Acknowledgements
List of Illustrations
For more information, or to order this book, please visit https://press.uchicago.edu
Google preview here