9780971757592
In a series of snapshots after the attack on the World Trade Center—from a day, to a week, up to a year and beyond—Eliot Weinberger offers thoughtful and provocative reflections on his city, the country, and the state of the world. Originally published only outside the United States, these essays are now available together, and for the first time in English. Taken as a whole, they constitute a remarkable "archive of the moment," way-markers for a story that is still unfolding.
Read More

about 9/12
Read Less

about 9/12
---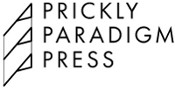 View all books from Prickly Paradigm Press
Reviews
"It stands to reason that Eliot Weinberger, an old Borges hand, should be so adept at teasing out the nightmarish, nearly phantasmagoric dimensions of our country's post-9-11 situation--rich with ironies we might begin to enjoy, if we weren't busy biting our nails to the quick.. . . . For Weinberger, the current administration is the country-s true sleeper cell, with Bush and bin Laden twinned not just by well-oiled family wealth but as men 'cut off from the world, one in a cave and one on a ranch in the middle of nowhere; one who reads no books and the other who presumably reads one book.'. . . His acid Baedeker illustrates what Geoffrey O'Brien noted . . . that close reading is mandatory in the fallen world."
Ed Park | Village Voice Literary Supplement
"Weinberger focuses on how the 'White House Team' has both presented and used the events of 11 September to re-shape American policy and foist it on the American people. The President is not solely to blame; as he sees it, 'George Bush has exactly the same relationship to the policies of his government as Britney Spears does to the operation of the Pepsi Corporation', and Weinberger usefully reminds readers of the backgrounds and histories of various actually dominant figures in the generally shadowy background. . . . <I>9/12<I> is a polemic, and there will be those who disagree with how Weinberger sees things; the U.S as Banana Republic isn't an idea a large part of the population will likely even want to consider (though Weinberger makes a nice case for it)."
The Complete Review
Be the first to know
Get the latest updates on new releases, special offers, and media highlights when you subscribe to our email lists!