---
Otherworlds
The Art of Nancy Spero and Kiki Smith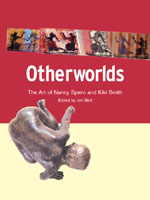 Distribution by the University of Chicago Press only to customers in the USA and Canada. Customers elsewhere should visit the UK website of
Reaktion Books
.
224 pages | 80 color plates, 30 halftones | 8.25 x 11
Otherworlds accompanies a major exhibition of the work of two American artists – Nancy Spero and Kiki Smith – at the Baltic Centre for Contemporary Art, Gateshead, UK, from 13 December 2003 to 30 March 2004. They are both prominent artists, from different generations, whose figurative art addresses issues of the feminine across history and mythology. The book explores thematic connections in their work – the female body, myth and fantasy, the "decorative" – and situates them in the context of post-War American art and social movements, as well as feminist and cultural theory.

Now in her mid-seventies, Nancy Spero is a respected feminist artist whose practice has greatly influenced a younger generation. Her work on paper and her installations are an acknowledgement of the power of the carnivalesque, and an exploration of the potential recoding of space and architecture through a visual poetics of word and image. Never abandoning the figure, even at a time when images of women were thought to carry only negative connotations, Spero has systematically refigured the feminine as collective, social and empowered.

Coming from the generation of artists immediately following Spero, Kiki Smith has always acknowledged a liberating impulse in her art. Both artists have turned vulnerability into strength, making art that represents the female body, but in forms that avoid objectification or narcissism, and that can speak to the universal without idealization or reduction. Both artists make art from the histories, fantasies, legends and myths of the feminine, reclaiming the female body as an expressive vehicle of emancipation and desire.

Contributors: Rosetta Brookes, Sylvere Lotringer, Jo Anna Isaak, Marina Warner and Anne Reynolds.
Table of Contents
Contents
Acknowledgements
Notes on the Editor and Contributors
Foreword - Sune Nordgren
1. Imagining Otherworlds: Connection and Difference in the Art of Nancy Spero and Kiki Smith - Jon Bird
2. Working in the Rag-and-Bone Shop of the Heart - Jo Anna Isaak
3. Rapture: A Girl Story for Kiki Smith - Marina Warner
4. If Walls Could Talk - Rosetta Brooks
5. Present Imperfect: Word and Image in Nancy Spero's 'Scrolls' of the 1970's - Jon Bird
6. Invisible in Plain Sight - Ann Reynolds
References
Selected Bibliography
Selected Solo Exhibitions/Installations
Selected Public Collections
List of Illustrations
For more information, or to order this book, please visit https://press.uchicago.edu
Google preview here