---
Malindy's Freedom
The Story of a Slave Family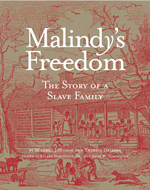 220 pages | 30 b&w illus | 8 x 10
This is an account of the years 1820 to 1865 in the life of Malindy, a freeborn Cherokee who was unlawfully enslaved as a child by a Franklin County, Missouri, farmer. Married to a freedman, Malindy gave birth to five children in slavery—creating a family she would fight her whole life to keep together. As a testament to Malindy's iron will, her great-granddaughters Mildred Johnson and Theresa Delsoin have lived to share the story passed on through their family for generations—a story of courage, conviction, and love.
            In Malindy's Freedom, Johnson and Delsoin construct a narrative that realistically re-creates Malindy's world—the individuals she encountered, the crucibles she faced, the battles she won. The authors relied principally on census records, along with other primary and secondary sources, to document their great-grandmother's experience as told to them by their grandmother. Malindy's story of the "peculiar institution" of slavery is unique: it makes clear that the African American experience derives from Native American and European, as well as African, roots. The beauty of Malindy's Freedom is the authors' appreciation of their ancestors as human beings who did the best they could for their families under inhuman conditions.
            Edited by Stuart Symington, Jr., Malindy's Freedom brings truth and humanity to one of American history's darkest hours. Yet, as a tale of abiding faith and steadfast love for one's family, Malindy's story is the story of every family that has ever struggled to survive and has ultimately been the stronger for it.
Table of Contents
Contents
Foreword
Preface
Editors' Note
Authors' Acknowledgements
Chapter One: The Way of the Cherokees
Chapter Two: Rose Dawn is Enslaved
Chapter Three: Malindy Becomes a House Slave and Is Sold
Chapter Four: Life in the Big House
Chapter Five: Malindy Meets Old Free Charlie Wilson
Chapter Six: Prayer Meetings at the Grape Arbor
Chapter Seven: Slave Motherhood: Malindy Feels the Lash
Chapter Eight: Sold on the Auction Block
Chapter Nine: Malindy's Son George Defies Slavery
Chapter Ten: The Nation Becomes Divided
Chapter Eleven: Free, Free at Last
Afterword
Appendix: Census Records
Selected Bibliography
 
For more information, or to order this book, please visit https://press.uchicago.edu
Google preview here