---
Marcel Duchamp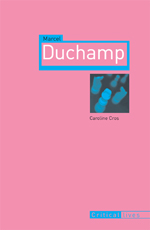 200 pages | 50 halftones | 5 x 7 7/8 | © 2006
A revealing account of an artist whose enduring obsession with chance and coincidence shaped both his life and work, Marcel Duchamp illuminates one of the most important and influential figures in all of modern art. 

Drawing on the artist's own correspondence as well as interviews, Paris-based curator and art critic Caroline Cros explores the creative processes behind Duchamp's works—including his famous anti-sculptures, the "Readymades"; the enigmatic Grand Verre; and the seductive, disturbing Etant Donnés—as well as the often hostile reception he encountered in Paris and around the world. 

Cros also examines Duchamp's work after he abandoned his art at the age of thirty-six. Notoriously, Duchamp claimed that he would dedicate the remainder of his life to chess, but here we learn of his ongoing contributions to the art world, including his intense involvement in museums, foundations, and surrealist publications. 

With two major Dada exhibitions planned for 2006, at the National Gallery of Art in Washington, D.C., and the Museum of Modern Art in New York, MarcelDuchamp will be this year's ultimate guide to the master of the movment.
Table of Contents
Contents
1.  Introduction
2.  Marcel, this Sad Young Man on a Train
3.  All Aboard for New York, 1915-18
4.  Ready-mades, 1914-64
5.  Collaborations
6.  'Exhibiting -- it's like getting married'
7.  La Mariée mise á nu par ses célibataires, même
8.  Duplicating Works instead of Repeating Himself
9.  Counseling
10.  Art as Love/Eros for All
11.  'Marie, (you have) finally arrived'
12.  Parting Deeds and Words
References
Bibliography
Acknowledgements
Photographic Acknowledgements
Review Quotes
Keith Miller | Times Literary Supplement
"A short, efficient, critical biography of Duchamp."
For more information, or to order this book, please visit https://press.uchicago.edu
Google preview here