---
The Metaphysics of The Healing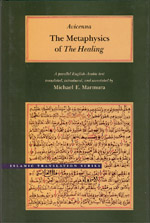 868 pages | 6 x 9 | © 2005
Avicenna, the most influential of Islamic philosophers, produced The Healing as his magnum opus on his religious and political philosophy. Now translated by Michael Marmura, The Metaphysics is the climactic conclusion to this towering work. Through Marmura's skill as a translator and his extensive annotations, Avicenna's touchstone of Islamic philosophy is more accessible than ever before.

In The Metaphysics, Avicenna examines the idea of existence, and his investigation into the cause of all things leads him to a meditation on the nature of God. From this discussion, Avicenna develops a theory of divine causation that synthesizes Neoplatonic, Aristotelian, and Islamic ideas. Within this emanative scheme, Avicenna establishes some of the basic ideas of his religious and political philosophy, as he discusses the divine attributes, divine providence, the hereafter, and the ideal "virtuous" city with its philosopher-prophet as the human link between the terrestrial and heavenly realms. With this edition, The Metaphysics can now be better seen as one of the most masterful works of classical Islamic philosophy.
Table of Contents
Contents
Foreword to the Series
Acknowledgments
Note on Conventions
Translator's Introduction
Key to the Arabic Notes

Book One, consisting of eight chapters
Book Two, consisting of four chapters
Book Three, consisting of ten chapters
Book Four, consisting of three chapters
Book Five, consisting of nine chapters
Book Six, consisting of five chapters
Book Seven, consisting of three chapters
Book Eight, on knowing the First Principle of all existence and on knowing His attributes; [consisting of] seven chapters
Book Nine, on the emanation of things from the first governance and the return to Him; [consisting of] seven chapters
Book Ten, consisting of five chapters

Notes to the English Text
Bibliography
Index

Review Quotes
Ayman Shihadeh | Muslim World Book Review
A complete English translation is highly welcome and gives a major boost to the study of Avicenna and medieval Arabic philosophy. . . . The translation is excellent."
For more information, or to order this book, please visit https://press.uchicago.edu
Google preview here