---
Moscow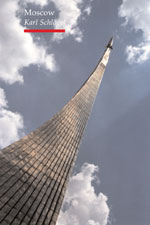 Distribution by the University of Chicago Press only to customers in the USA and Canada. Customers elsewhere should visit the UK website of
Reaktion Books
.
380 pages | 70 halftones | 6.15 x 9.20 | © 2005
No European city has undergone as much upheaval in the past fifteen years as Moscow. The stage for the fall of a world empire and the rebirth of a globally-connected Russia, Moscow has transformed from a monochrome capital city to a new Babylon iridescent with neon lights. Karl Schlögel's Moscow offers a fascinating and engaging portrait of this international metropolis in transformation.

First published in German in 1984, and now rapidly attaining the status of a classic work, this debut English edition of Moscow has been updated with a new introduction and conclusion covering the post-Soviet period. Schlögel describes the modern history of Moscow from various aspects as he explores the city's streets and unearths the rich histories of its buildings, monuments, and parks. A city where the past and future continually clash, Moscow struggles to define its global role in the twenty-first century, and Karl Schlögel's insightful essays in Moscow provide a valuable window into the complex and resilient character of the ever-evolving capital and its citizens.

Table of Contents
Contents
Introduction
Prologue: The eye of the beholder
 
1. Starting with the surface
2. High-rise buildings
3. Strata
4. A rampant boom
5. A note on Shekhtel
6. Buildings that were never built
7. The shadow of an imaginary tower
8. A mise-en-scene for the moment
9. Let reason reign!
10. VDNKh
11. Classicism and Romanticism
12. On the edge of an era
13. Railway stations
14. Second-hand bookshops
15. The strong man and the hero
16. Vsya Moskva
17. Red forum
18. Proximity and distance
19. Inscriptions on the black background
20. The Conservatory
21. Proletarian stronghold
22. Museums
23. An Excursus on excursions
24. Intermediate worlds
25. Gathering evidence
26. Zamoskvoreche
27. Metro
28. Illustration
29. Monasteries and cemeteries
30. Knowing and seeing
31. In the footsteps of Walter Benjamin
 
Conclusion
In lieu of a bibliography
Photographic Acknowledgements

Review Quotes
Brian Droitcour | Moscow Times
"Uncovers interesting links. . . . Constructivism and its legacy in Moscow's architecture figure largely in Schlögel's book, so it is fitting that the English translation has come out at a time when awareness of the movement's importance is growing."
Natalia Lechtchenko | Russian Review
"The fact that Schlögel's book was originally written in the beginning of the 1980s not only provides the reader with a unique view but also sets the background for a better understanding of contemporary Moscow. . . . Successfully explores aspects of Moscow history often neglected by cultural studies. . . . Moscow proves to be an entertaining and insightful study of Moscow, one that prompts the reader to explore the city further."
Michael F. Hamm | The Historian
"Schlögel has a keen eye for the remnants of Moscow's architectural heritage. . . . Schlögel's Moscow wiill interest students of architecture and planning, and Helen Atkins has provided a wonderfully readable translation. Those who can recall late-Soviet Moscow may also enjoy his leisurely strolls about the city."
For more information, or to order this book, please visit https://press.uchicago.edu
Google preview here