---
Jean Genet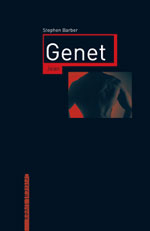 156 pages | 28 halftones | 5 x 7 7/8
An engaging and challenging introduction to Jean Genet, this concise biography of the French writer and his work cuts directly to the intersection of thought and life that was essential to Genet's creativity. Arguing that Genet's life was an extraordinary spectacle in which the themes of his most revolutionary works were played out, Stephen Barber gives both the work and its singular inspiration in Genet's life their full due.

Abandoned, arrested, and repeatedly incarcerated, Genet, who died in 1986, led a life that could best be described as a tour of the underworld of the twentieth century.

Similarly, Genet's work is recognized by its nearly obsessive and often savage treatment of certain recurring themes. Sex, desire, death, oppression, domination-these ideas, central to Genet's artistic project, can be seen as preoccupations that arose directly from the artist's travels, imprisonments, sexual and emotional relationships, and political engagements and protests. This trenchant volume focuses directly on the moments in Genet's life in which those preoccupations are vividly projected in his novels, theater works, and film projects.

Genet's works have been hugely influential for a vast array of writers, filmmakers, choreographers, and directors, especially at moments of social crisis; thus Genet's life is not only at the root of his own work but also that of many important artists of the twentieth century. With its frank and illuminating introduction by Edmund White, Jean Genet gives readers access to this brilliant and brutal mind.

Table of Contents
Contents
Introduction by Edmund White
1. Jack's Hotel
2. Jean Genet, the Bastard
3. The Criminal Child
4. The Mettray Colony
5. Crossings of Europe
6. Genet's Prisons
7. Our Lady of the Flowers
8. Miracle of the Rose
9. Genet in Occupied Paris
10. Jean Cocteau: Flaming Creature
11. Funeral Rites
12. Genet in Liberated Paris
13. Querelle of Brest
14. Genet's Hotel Rooms
15. The Thief's Journal
16. Lucien, Java, Decimo
17. Nico Papatakis and Genet
18. Un Chant d'Amour
19. The Penal Colony
20. Genet's Film Projects
21. The Cock and the Anus
22. The Screens
23. Unrest in the Theatre
24. Genet's Fragments
25. Rembrandt and the Wound
26. Giacometti
27. The Tightrope-Walker
28. Death, Suicide, Silence
29. Paule Thévenin and Genet
30. Genet in Japan
31. Genet and the Destruction of America
32. The Palestinians: Love and Death
33. The Brutal Gesture
34. A Loving Captive
35. Larache and London
36. Pages Torn from the Book of Genet
References
Bibliography
Acknowledgements
Photo Acknowledgements
Review Quotes
Edmund White
"A magisterial overview of the key episodes in Genet's existence, a profound understanding of his main artistic experiments and a lively sympathy for his political loyalties. . . . I relished reading this book."
Gregory Woods | The Times Literary Supplement
"One in a new series of beautifully produced 'Critical Lives' -- very short critical biographies whose main target audience is likely to be undergraduates, but that will also do nicely for a general audience."
Carl Rollyson | New York Sun
"He provides a powerful backdrop for understanding Genet's hatred of French society. . . . Mr. Barber's command of Genet's literature and life make his book a good starting point for understanding a sensibility that might otherwise be dismissed as vicious."--New York Sun
Paul Kane | The Compulsive Reader
"This focused yet fragmentary treatment seems to me to be an apposite way for dealing with Genet, a writer whose life, even now, has immense lacunae. . . Barber has an elegant prose style, elliptical and engaging in about equal measure, and this makes for a provocative and informative critical biography."
For more information, or to order this book, please visit https://press.uchicago.edu
Google preview here