---
Icon and Devotion
Sacred Spaces in Imperial Russia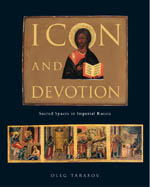 Distribution by the University of Chicago Press only to customers in the USA and Canada. Customers elsewhere should visit the UK website of
Reaktion Books
.
416 pages | 278 halftones | 7 x 9
Icon and Devotion offers the first extensive presentation in English of the making and meaning of Russian icons. The craft of icon-making is set into the context of forms of worship that emerged in the Russian Orthodox Church in the mid-seventeenth century. Oleg Tarasov shows how icons have held a special place in Russian consciousness because they represented idealized images of Holy Russia. He also looks closely at how and why icons were made. Wonder-working saints and the leaders of such religious schisms as the Old Believers appear in these pages, which are illustrated with miniature paintings, lithographs and engravings never before published in the English-speaking world.

By tracing the artistic vocabulary, techniques and working methods of icon painters, Tarasov shows how icons have been integral to the history of Russian art, influenced by folk and mainstream currents alike. As well as articulating the specifically Russian piety they invoke, he analyzes the significance of icons in the cultural life of modern Russia in the context of popular prints and poster design.
Table of Contents
Contents
Foreword by Robin Milner-Gulland
Introduction
PART ONE: THE ICON AND THE WORLD
1. Venerated Image: The Sacred in the Everyday
—The Burden of Numbers
—The Details of Ritual
—Miracles
2. Dispute about Signs, Dispute about Faith
—The Ambivalence of Symbols
—The Complications of Renaming: A Tract Concerning the New Devotion
3. In a World without Grace
—The Shadow of Antichrist
—The Sacralization of the Icon Painter
—The Theology of the People
PART TWO: THE ICON AND POPULAR CULTURE
4. East and West
—Face and Countenance
—Landscape
—Word, Emblem, Heraldry
—The Portrait Icon
5. The Middle Ages Delayed
—Concealed Montage
—Myth and Mystification: Self-Awareness in the Icon-painting Experience
6. Icons and Popular Art
—The Aesthetics of Sensibility
—The Spirit of Religious Tradition
—The Projection of Signs: Icon, Lubok, the Avant-garde
References and Editorial Notes
Bibliography
Index
Review Quotes
Times Literary Supplement
"Richly illustrated, making available much popular iconographic material generally unfamiliar to Western readers. . . . A fascinating contribution to the cultural history of Russia."
Slavonica
"Invaluable. . . . This remarkable book should be required reading for anyone with a desire to understand imperial Russian culture at a more than superficial level."
For more information, or to order this book, please visit https://press.uchicago.edu
Google preview here