---
Intercities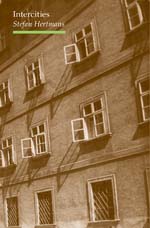 Distribution by the University of Chicago Press only to customers in the USA and Canada. Customers elsewhere should visit the UK website of
Reaktion Books
.
240 pages | 6 x 9
"Forgetting is a strange power, because it makes memory possible. That is why all architecture from the past is something like the music of space, which surrounds us and sends us images that we have constantly to interpret."

In Intercities, Stefan Hertmans thinks about what constitutes identity in present-day Europe. Looking at people and cities from the periphery, he tries to discover an "archaeology of streets and faces" which could bring him closer to himself. Set in peripheral cities such as Trieste, Marseille, Dresden and Bratislava, and in major ones like Vienna and Amsterdam, Intercities is about the feeling of being abroad, of losing part of one's self in order to gain a richer life.

Mingling travel stories with philosophical reflections, Hertmans's poetic text proves the sixteenth-century observation that every journey is a "voyage around your own chamber". His book is a personal statement about living in Europe today which looks beyond the surface to the heart of contemporary urban existence.
Table of Contents
Contents
Check-In
Sydney: Parallel Worlds
Tübingen: Gothic Graffiti
Trieste: Lonely In-Between
Dresden
Intercity
Bratislava: The Age of Anachronism
Vienna
Marseilles: Urban Legends and Sardines
Never Run Away from a Kiss
Clouds. Home
Ultima Thule
Check-Out
For more information, or to order this book, please visit https://press.uchicago.edu
Google preview here