---
Hot Dog
A Global History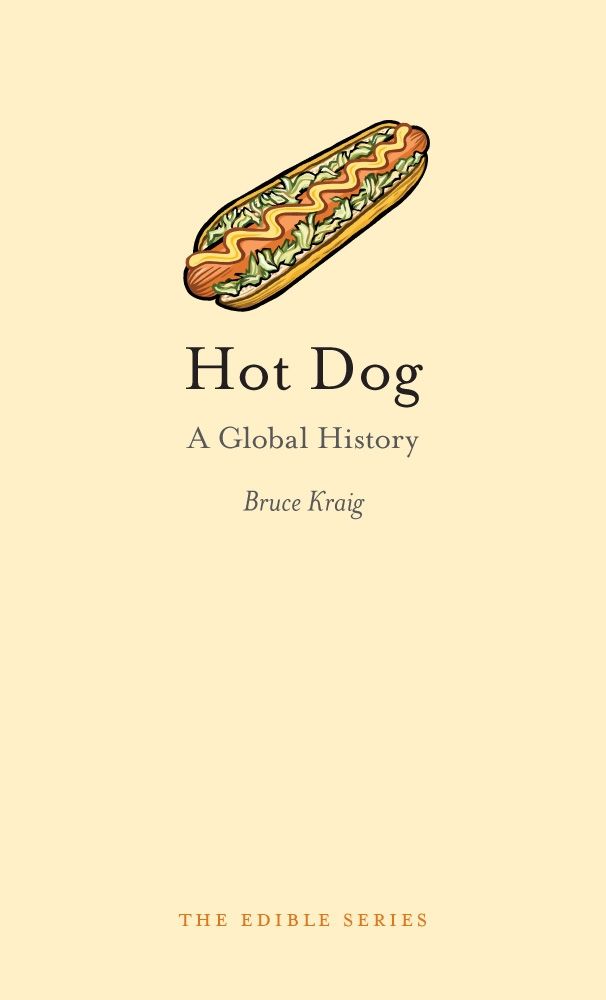 Click
here
for a special, limited-time offer for the entire Edible series.  
128 pages | 40 color plates, 20 halftones | 4 3/4 x 7 3/4
Char-grilled or boiled? Sauerkraut or chili? Mustard or ketchup? Vienna Beef or Sabrett? Only these questions could be raised about one of the world's favorite backyard, picnic, ballgame, and street foods—the hotdog. Though nearly two billion hot dogs are consumed by Americans annually in the month of July alone, there is absolutely no consensus on which is the right way to serve up a hotdog. In
Hot Dog,
well known food historian Bruce Kraig recounts the history of this popular "tube steak" from the origin of the sausage 20,000 years ago to its central place in American culture today.
            Kraig discusses the many brands, including Hebrew National, Pearl, Sabrett, and Vienna Beef, and the regional variations that go along with them—like kosher-style New York dogs loaded with mustard and sauerkraut, New England dogs with Boston Baked Beans, and fully-loaded Chicago style hotdogs, complete with mustard, onion, relish, sport peppers, a dill pickle spear, a dash of celery salt, and tomato slices (but never, ever ketchup). Hot Dog covers the other international sausages, like bologna and bockwurst, as well, and explores some of the apocryphal tales of the hotdog in history—like the origin of its name and whether Queen Elizabeth II was truly served hotdogs on a visit to the White House.
            Packed with tasty facts and recipes,
Hot Dog
reveals the rich history and passionate opinions about this seemingly ordinary food.
Table of Contents
Contents
Introduction: What is a Hot Dog?
1. Hot Dog History
2. How Hot Dogs are Made
3. How Hot Dogs are Sold
4. Hot Dog Culture
5. Hot Dogs Around the World
The Hot Dog Factory
Recipes
References
Select Bibliography
Websites and Associations
Review Quotes
Guardian (UK)
"An exemplary book . . . the definitive authority on the small subject of hot dogs. Amusing and scholarly at the same time, it tells how sausage snack was instrument of social mobility and that the bun replaced the white gloves originally used to hold the sausage."
Huffington Post
"Scholarly yet clever and entertaining, Bruce Kraig probably knows more about the history of the hot dog than anyone, and he meticulously dismissed the many myths about the origin of the frankfurter, the bun, and its name. He does a good job of explaining how hot dog culture spanned the nation and even the world."
Grand Forks Herald
"A near-microscopic account of the travels , the types, the very elongated being of the hallowed hot dog. It's an immersive history, heavily illustrated with well-chosen photos from 100 years of wiener culture."
For more information, or to order this book, please visit https://press.uchicago.edu
Google preview here