---
Health and Illness
Images of Difference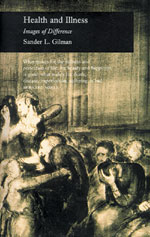 Distribution by the University of Chicago Press only to customers in the USA and Canada. Customers elsewhere should visit the UK website of
Reaktion Books
.
200 pages | 6 x 9.25
This timely study demonstrates how images of beauty and ugliness have constructed a visual history that records the artificial boundaries dividing "healthy" bodies from those that are "ill".

"Gilman tells an excellent tale."—Jewish Chronicle
Table of Contents
Contents
Acknowledgements
1. How and Why do Historians of Medicine Use or Ignore Images in Writing their Histories?
2. Again Madness as a Test Case
3. The Ugly and the Beautiful
4. The Phantom of the Opéra's Nose
5. Mark Twain and Hysteria in the Holy Land
6. The Beautiful Body and AIDS
Towards a Conclusion
References
Photographic Acknowledgements
Index
Review Quotes
Oxford Art Journal
"Gilman offers up the ambiguity of fantasies about health and illness for discursive redemption by his readers, providing insights without judgements which is another reason why the book make such an excellent teaching tool. It is a stimulating synthetic work which reaches a new level of originality, provokes new questions and points toward further directions."
For more information, or to order this book, please visit https://press.uchicago.edu
Google preview here