---
Guy Debord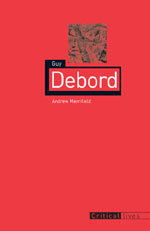 Distribution by the University of Chicago Press only to customers in the USA and Canada. Customers elsewhere should visit the UK website of
Reaktion Books
.
174 pages | 20 halftones | 5 x 7 7/8 | © 2005
Though well-known for his founding of the avant-garde Situationist International movement and his prominent political and cultural activism, Guy Debord was nonetheless a surprisingly elusive and enigmatic figure, spending his last years in an isolated farmhouse in Champot, France. Andy Merrifield's Guy Debord pushes back the farmhouse shutters and opens a window onto Debord's life, theory, and art.

Merrifield explores the dynamics of Debord's ideas and works, including the groundbreaking Howls for Sade and his 1967 classic, The Society of the Spectacle. Debord understood life as art, Merrifield argues, and through that lens he chronicles Debord's stint as a revolutionary leader in the 1950s and 1960s, his time in Spain and Italy during the 1970s and the reclusive years leading up to his death in 1994.

Dada and Surrealism's legacy and punk rock's god, Guy Debord spun theories on democracy, people, and political power that still resonate today, making Merrifield's concise yet comprehensive study an invaluable resource on one of the foremost intellectual revolutionaries of the twentieth century.
Table of Contents
Contents
1. Eyes for Blowing Up Bridges
2. The Café of Lost Youth
3. It Never Said Anything Extreme
4. Aesthete of Subversion
5. I am Not Somebody Who Corrects Himself
6. Land of Storms
References
Select Bibliography
Acknowledgements
Photo Acknowledgements
Review Quotes
John Berger
"This aberrant and playful book would almost certainly have pleased its subject. And for us, who have survived Debord's dire prophesies, it's like a happy accident, a flashing chance-encounter, a bit before dawn. To be read."
Stuart Schrader | Maximum Rock N Roll
"A good biography . . . captures Debord's fascination with plumbing history in an effort to supersede the present. . . . For a peek into what made this brilliant revolutionary tick, read Merrifield's book."
For more information, or to order this book, please visit https://press.uchicago.edu
Google preview here