---
Filigrana encendida / Filigree of Light
Poemas / Poems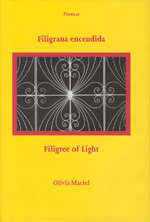 102 pages | 6 1/4 x 9 1/4 | © 2002
In Olivia Maciel's Filigree of Light, one enters a lyric of solitude and light, water and wind. Maciel is a poet who has the power to reveal and surprise, bringing one close to things. She approaches the unknown, searching with riddles and reverie.

Table of Contents
Contents
Doves and Gardenias
Wind
Beginnings of Dusk
The Lock
Midnight Prayer
The Pomegranate
Sphere
Illuminate
The Fisherman
Invention
Black Cherries
The Branch
In an empty lot. . .
Fervor
Winged Horse
More baroque pearl. . .
Baroque Pearl
The Red of His Sleeve
Alone
Belated Blackberries
Angel of Dust
Arabian Night
Resistance
Awl
Burin
Chisel
Take me with you . . .
Apples of Light
Comb of Half Moons
Oh Flame!
Nonna
Aroma of Rosemary
Seventy and Long Silk Linen
Black Snail
Word
Golden Ember
Red Carnations
Filigree of Light
Enjambment
Weave
Sea of Fertility
Kisses of Water
 

Review Quotes
Canning House | British Bulletin of Publications
"Exquisite imagery and lyricism. . . . The verses have a sense of rhythm that encourages the reader to pause and reflect."
Mark Strand
"Olivia Maciel's poems combine simplicity and passion to a degree rarely found in today's poetry. They offer observations so intense that they become voluminous occasions of transcendence. She is a remarkable poet."
Alberto Blanco
"Olivia Maciel in her Filigree of Light gives us testimony of a poet who has discovered and applied what the word already is, and I cite her: a 'form of light…spring, stream of sonorous current.' It only remains for us to accompany her in seeing, feeling, listening…."
For more information, or to order this book, please visit https://press.uchicago.edu
Google preview here