---
Cow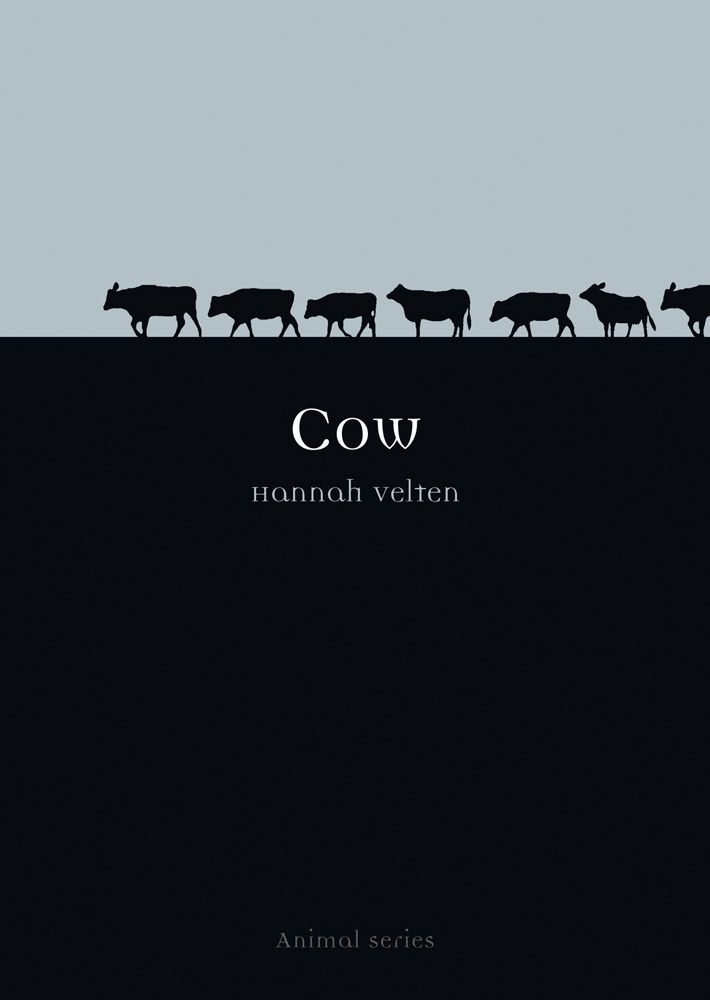 Click
here
for a special, limited-time offer for the entire Animal series.
208 pages | 60 color plates, 40 halftones | 5 3/8 x 7 1/2
From the milk we drink in the morning, to the leather shoes we slip on for the day, to the steak we savor at dinner, our daily lives are thoroughly bound up with cows. Yet there is a far more complex story behind this seemingly benign creature, which Hannah Velten explores here, plumbing the rich trove of myth, fact, and legend surrounding these familar animals.

        From the plowing field to the rodeo to the temple, Velten tracks the constantly changing social relationship between man and cattle, beginning with the domestication of aurochs around 9000 BCE.  From there, Cow launches into a fascinating story of religious fanaticism, scientific exploits, and the economic transformations engendered by the trade of the numerous products derived from the animal. She explores in engaging detail how despite cattle's prominence at two ends of a wide spectrum: Hinduism venerates the cow as one of the most sacred members of the animal kingdom, while beef is a prized staple of the American diet.  Thought provoking and informative, Cow restores this oft-overlooked animal to the nobility it richly deserves.
Table of Contents
Contents
Introduction: Reintroducing the Cow, Bull and Ox
1. Wild Ox to Domesticates
2. Bull-Gods, Bull-Kings
3. Cow Mysticism and a Rural Idyll
4. Toiling the Fields and a 'Cattle Complex'
5. Cattle Stars and Romantic Associations
6. Poor Cow: Pushing the Boundaries
Epilogue: Out of Sight, Out of Mind?
Timeline
References
Bibliography
Associations and Websites
Acknowledgements
Photo Acknowledgements
Index
Review Quotes
Carola Groom | Financial Times Magazine
"The book's design and illustrations are beautiful, which means, I suspect, that Cow will be probably bought most often as a gift--for country lovers, perhaps. . . . Velten has a passion for her subject and it comes across. Her account is sweeping but precisely detailed and subtly persuasive. . . . Look hard at cows and you learn about humans. Fascinating and delightful."
Patrick Evans | Times Literary Supplement
"The book feels comprehensive despite its size, for Velten's writing is meticulously well researched. . . . She makes fascinating detours into domestication, breeding, art, religion, BSE, stampedes and the rodeo, and the section on African pastoralism is particularly evocative. . . . Velten's passion for the cow works subtly, incrementally becoming the narrative which binds the text together, and her insights into this seminal beast leave us wanting more."
Eastern Daily Press
"A fascinating paperback . . . A fascinating mix of history, myth and record prices paid for top breeding animals."
Country Smallholding
"She aims to help us see the animals that produce beef, milk and leather as mythical and awe inspiring."
Richard Bullie | Agricultural History
"Considering the central role that cows have played in cultures around the world, it is remarkable how rarely an author has undertaken to devote an entire book to the complex history of this commendable animal. All the more welcome, therefore, is Hannah Velten's Cow, a brief but eminently readable book positively crammed with every sort of cattle lore."

For more information, or to order this book, please visit https://press.uchicago.edu
Google preview here