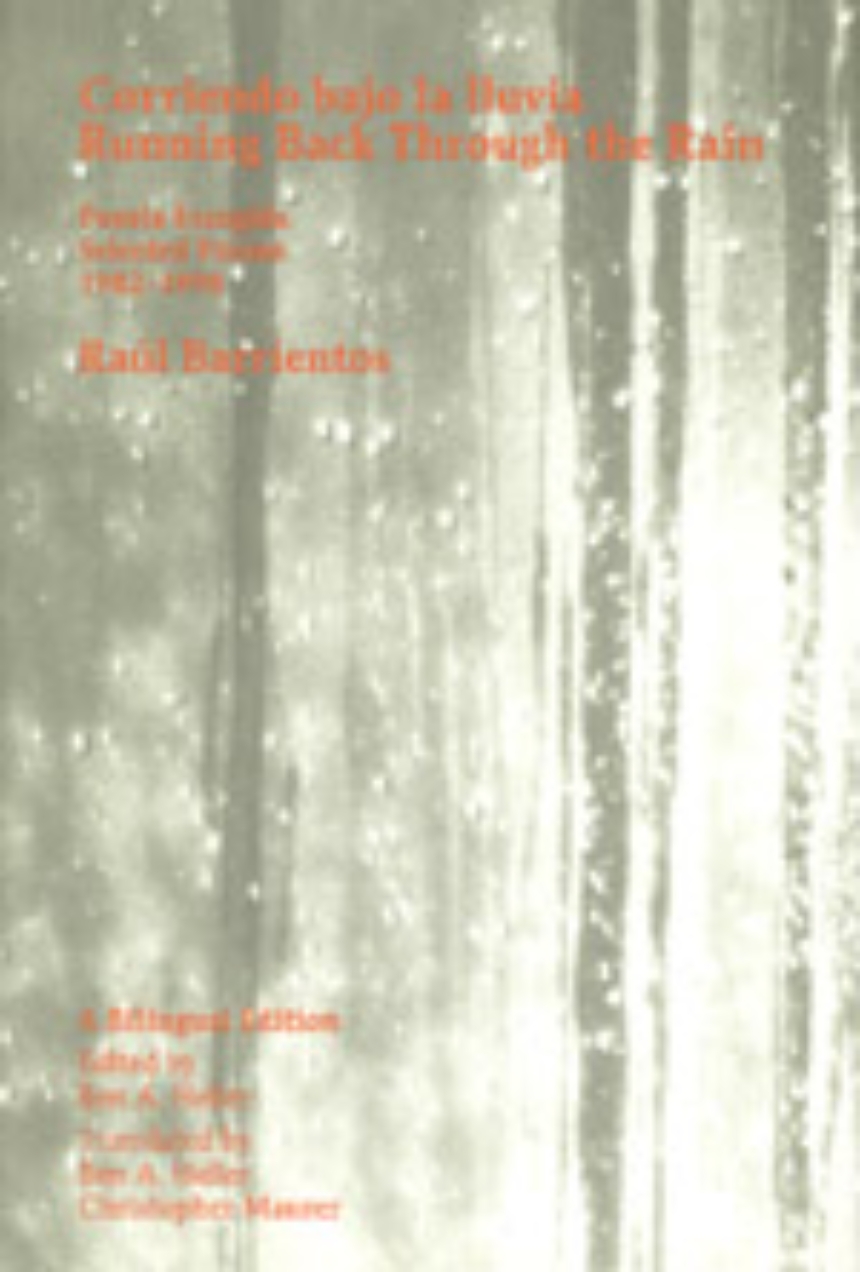 Distributed for Swan Isle Press
Corriendo bajo la lluvia / Running Back Through the Rain
Poesia Escogida / Selected Poems 1982-1998
9780967880846
Distributed for Swan Isle Press
Corriendo bajo la lluvia / Running Back Through the Rain
Poesia Escogida / Selected Poems 1982-1998
---
273 pages | 6 1/4 x 9 1/4 | © 2002
---

View all books from Swan Isle Press
Reviews
"It is easy to sense the incantatory, nightmarish linguistic fire. . . . The publication of [Corriendo bajo la lluvia] is an occasion for optimism in terms of restoring lost dialogues and creating new ones at a time when, more than ever, perhaps, one can appreciate the therapeutic value of the poetic word as it joins readers from different generations and places in its secret, mycelial life."
Steven F. White | Review Magazine
Back to top
Table of Contents
Introduction
From Historic Account of the Kingdom of the Night (1982)
     Dark Love
     Pure Breezes Cross You Too
     On the Executions
     Dies Irae
     With a Fistful of Sand I have Lived on the Steps
     Negro Spiritual
 
From Ephemeral's Foot (1985)
     Crazy Bird at Summer's End / Outline of the Poem
     Knife
     Southward Pursuit
     Halloween
     Words in Memory of You
     Piano with Dagger Before a Mirror
     Bells
     Rooster
     Under the Same Sun
     "It Would Be Better, Reallly, If They Just Ate It All and We Ended This"
     "The Found His Armor in Lyons, Kansas. Assoc. Press"
     Stephanie
     Ruins
     Triptych: 1. Revealed (With Echo)
                      2. Sunset
                      3. Calm Before Rain
 
From Book of Images (1989)
     Hard Times
     Sunday
     Cellophane
     The River
     Those Crazy Bells (1932)
     When Fred Astaire Danced Into My Life
     The Witnesses
     Shoes
     The Public Life of Manhattan Pigeons
     The Circus
     And What Did They Do to the Strike?
     All that Jazz
 
From Monarch (1997)
     I'm the One Who Flies and You the Monarch
     Where to, Ariadne?
     The Messenger Was Carrying a Lamp
     Summer Concert
     Aquarium
     I, Who Came Running Back Through the Rain
 
From Neon Key (1998)
     Under the Bridge
     Renovation
     Ulysses the Blind
     Night
     Day after Day
     Bolero
     Lioness
     Penelope
 
Notes
The author
The editor and translators
 

Read More

about table of contents
Read Less

about table of contents
Be the first to know
Get the latest updates on new releases, special offers, and media highlights when you subscribe to our email lists!