---
Chachapoya Textiles
The Laguna de los Cóndores Textiles in the Museo Leymebamba, Chachapoyas, Peru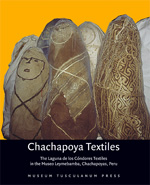 119 pages | 8 1/2 x 10 | © 2007
In 1996 more than two hundred mummies and skeletal remains accompanied by a rich array of burial offerings were discovered at a cliff side burial site overlooking Laguna de los Cóndores in the cloud forest of Chachapoyas. In spite of the humid climate in this remote corner of Peru's northeastern Andes, many of the organic remains, including textiles, were extraordinarily well preserved. The textiles are today stored or exhibited at the Museo Leymebamba.
The find includes the best preserved and largest cache of Chachapoya textiles known to date, providing researchers with a unique opportunity to learn about little-known Chachapoya weaving techniques, iconography, style, politics, and trade connections, mostly from the Chachapoya-Inca period, ca. 1470–1532.
This richly illustrated volume studies forty-five selected textiles, both burial offerings and mummy bundle wrappings, with chapters on Chachapoya iconography, culture,and quipus (talking knots), as well as a description of the project launched to rescue the finds and the construction of the Museo Leymebamba.
Table of Contents
Contents
The Museo Leymebamba Textile Collection
      Lena Bjerregaard and Adriana von Hagen
Placing the Chachapoya and the Inkas on the Map
      Inge Schjellerup
Preserving the Heritage of the Chachapoya: The Museo Leymebamba and the Mummies from Laguna de los Cóndores
      Sonia Guillén
Textiles, Materials and Technologies
     Lena Bjerregaard
Stylistic Influences and Imagery in the Museo Leymebamba Textiles
      Adriana von Hagen
The Khipus from Laguna de los Cóndores
      Gary Urton
The Museo Leymebamba Textile Catalogue
      Lena Bjerregaard

Bibliography
The Authors
For more information, or to order this book, please visit https://press.uchicago.edu
Google preview here