---
Boundaries in China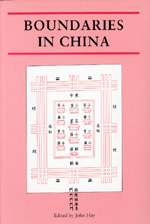 Distribution by the University of Chicago Press only to customers in the USA and Canada. Customers elsewhere should visit the UK website of
Reaktion Books
.
360 pages
A crucial topic in the study of Chinese culture past or present is that of the "boundary". In this book the authors investigate the meaning of the boundary as metaphor and paradox, as threshold and interface across the whole spectrum of Chinese art and society. The essays range from early politics and society to contemporary public and private discourse; from the creation of a literary canon to the positioning of individuals in dynastic time; from the public spaces in today's Peking Opera to the intangible surfaces of self in 14th-century painting.

All the authors in this book are established Sinologists. Boundaries in China will be stimulating reading for anyone interested in the psycho-social dynamics of non-Western art and culture.

Includes essays by Robin D. S. Yates, Wu Hung, Pauline Yu, John Hay, Jonathan Hay, Dorothy Ko, Isabelle Duchesne, Rey Chow, Ann Anagnost.
Table of Contents
Contents
Photographic Acknowledgements
Notes on the Editor and Contributors
Chronology
Introduction - John Hay
1. Body, Space, Time and Bureaucracy: Boundary Creation and Control Mechanisms in Early China - Robin D. S. Yates
2. Beyond the 'Great Boundary': Funerary Narrative in the Cangshan Tomb - Wu Hung
3. The Chinese Poetic Canon and its Boundaries - Pauline Yu
4. Boundaries and Surfaces on Self and Desire in Yuan Painting - John Hay
5. The Suspension of Dynastic Time - Jonathan Hay
6. Lady-Scholars at the Door: The Practice of Gender Relations in Eighteenth-Century Suzhou - Dorothy Ko
7. The Chinese Opera Star: Roles and Identity - Isabelle Duchesne
8. 'Love Me, Master, Love Me, Son': A Cultural Other Pornographically Constructed in Time - Rey Chow
9. Who is Speaking Here? Discursive Boundaries and Representation in Post-Mao China - Ann Anagnost
10. Zhang Hongtu / Hongtu Zhang: An Interview (interviewer: Jonathan Hay)
References
Select Bibliography
Index
For more information, or to order this book, please visit https://press.uchicago.edu
Google preview here