---
Ape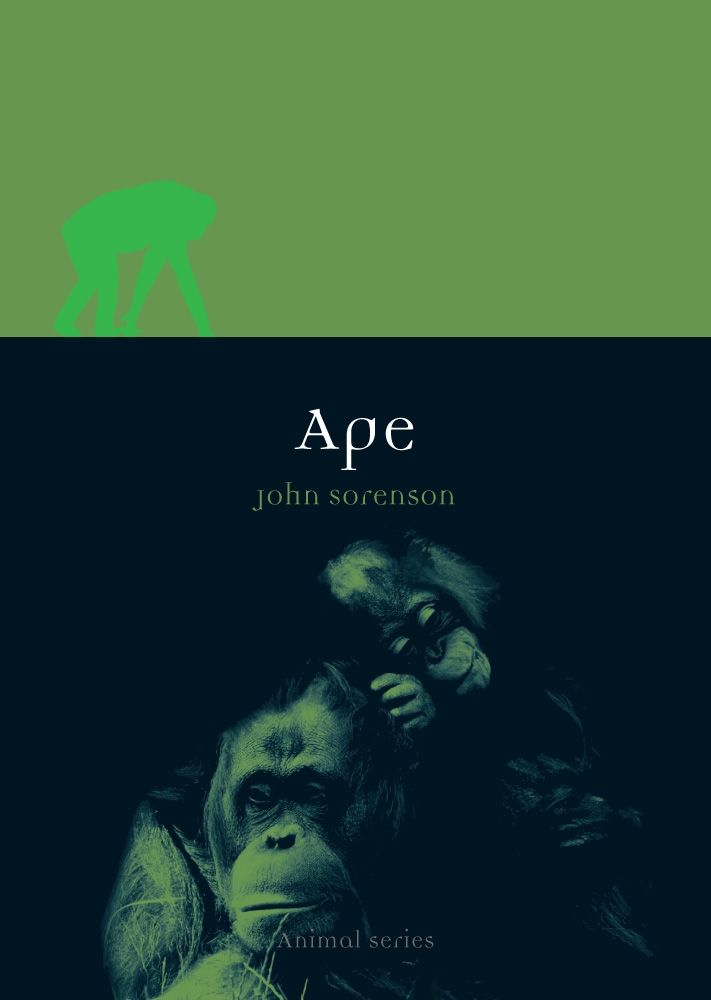 Click
here
for a special, limited-time offer for the entire Animal series.
224 pages | 40 color plates, 60 halftones | 5 3/8 x 7 1/2 | © 2009
Apes—to look at them is to see a mirror of ourselves. Our close genetic relatives fascinate and unnerve us with their similar behavior and social personality. Here, John Sorenson delves into our conflicted relationship to the great apes, which often reveals as much about us as humans as it does about the apes themselves.
            From bonobos and chimpanzees to gibbons, gorillas, and orangutans, Ape examines the many ways these remarkable animals often serve as models for humans. Anthropologists use their behavior to help explain our fundamental human nature; scientists utilize them as subjects in biomedical research; and behavioral researchers experiment with ways apes emulate us. Sorenson explores the challenges to the complex division between apes and ourselves, describing language experiments, efforts to cross-foster apes by raising them as human children, and the ethical challenges posed by the Great Ape Project. As well, Ape investigates representations of apes in popular culture, particularly films and advertising in which apes are often portrayed as human caricatures, monsters, and clowns.
Containing nearly one hundred illustrations of apes in nature and culture, Ape will appeal to readers interested in animal-human relationships and anyone curious to know more about our closest animal cousins, many of whom teeter on the brink of extinction.
Table of Contents
Contents
1        Natural History
2        Thinking about Apes
3        Pets, Captives, Hybrids
4        Looking at Apes
5        Models for Human Behavior
6        Extinction
Timeline
References
Select Bibliography
Associations and Websites
Acknowledgements
Photo Acknowledgements
      Index
Review Quotes
TLS
"Ape is an emotionally powerful book that traces humankind's long and troubled relationship with our closest living relatives . . . John Sorenson packs this little volume with riveting examples . . . At once a lucid cultural history and a manifesto for change."
—Times Literary Supplement
Vegan
"A compelling book with a clear message. If apes are to survive in the wild we are going to have to put self-interest aside and treat them with the same care and respect as we show towards our human relatives. Their future is in our hands."
Quarterly Review of Biology
"Sorenson writes well and carries readers with him, and I found myself appreciating the book more and more as I read on. At times, he writes with suppressed, but barely suppressed, indignation – as when he talks about apes being caged, brutally treated to make them perform, slaughtered for bushmeat, and used as proxies in procedures that could not be performed on humans 'for ethical reasons'–and his message communicates itself all the more effectively for avoiding emotive language."–Quarterly Review of Biology
For more information, or to order this book, please visit https://press.uchicago.edu
Google preview here