---
Who Should Pay for Medicare?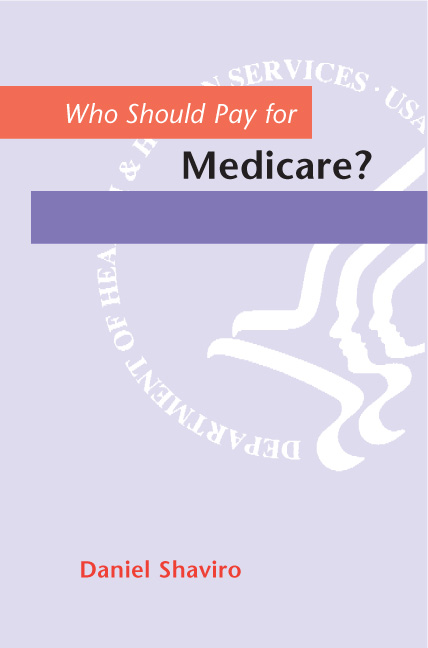 184 pages | 6 x 9 | © 2004
Good news first? The good news is that Americans today are living longer, in part because of continual advances in healthcare. But the bad news is that with our aging population larger than ever before, nothing is being done to ensure that we can continue to afford the increasing costs of care. How Medicare—with the Bush administration's reforms and a slumping economy—will meet the needs of its recipients without adequate financing is among the most pressing issues facing this country today.

Daniel N. Shaviro sees the future of our national healthcare system as hinging on the issue of funding. The author of books on the economic issues surrounding Social Security and budget deficits, Shaviro is a skilled guide for anyone seeking to understand the financial aspects of government programs. Who Should Pay for Medicare? offers an accessible overview of how Medicare operates as a fiscal system. Discussions of Medicare reform often focus on the expansion of program treatment choices but not on the question of who should pay for Medicare's services. Shaviro's book addresses this critical issue, examining the underanalyzed dynamics of the significant funding gap facing Medicare. He gives a balanced, nonpartisan evaluation of various reform alternatives—considering everything from the creation of new benefits in this fiscal crunch to tax cuts to the demographic pressures we face and the issues this will raise when future generations have to pay for the care of today's seniors.

Who Should Pay for Medicare? speaks to seniors who feel entitled to expanded coverage, younger people who wonder what to expect from the government when they retire, and Washington policy makers who need an indispensable guidebook to Medicare's future.
Table of Contents
Contents
Acknowledgments
1. Introduction
2. Medicare Today: Key Features of the Current System
3. Medicare's Incentive and Distributional Effects
4. A Five-Part Conceptual Decomposition of Medicare
5. Medicare's Social Insurance and Risk Prevention Purposes
6. Medicare's Long-Term Fiscal Gap and Its Underlying Causes
7. Significance of Medicare's Long-Term Fiscal Gap
8. Paying for Medicare I: Benefits
9. Paying for Medicare II: Enrollee Contributions
10. Paying for Medicare III: Other Financing to Narrow the Fiscal Gap
11. Conclusions and Predictions
Notes
References
Index
For more information, or to order this book, please visit https://press.uchicago.edu
Google preview here