---
They Can't Take That Away from Me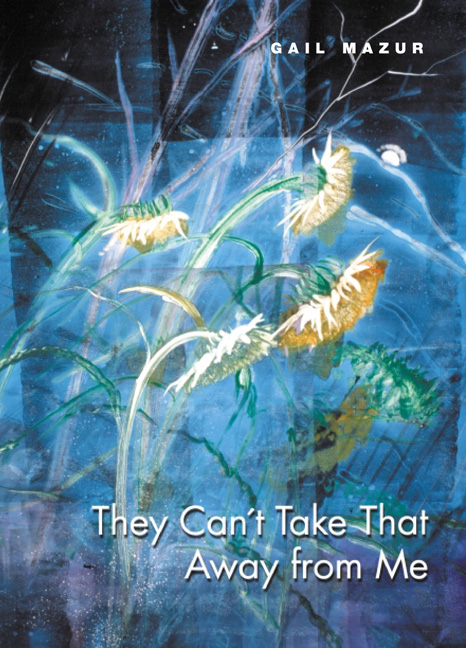 96 pages | 6-1/8 x 8-1/2 | © 2001
In this series of new poems Gail Mazur takes stock-of the complexity of relationships between parents and children, the desires of the body as well as its frailties, the distinctions between memory and history, and the hope of art to capture these seemingly inscrutable realities. By turns mordant and passionate, narrative and meditative, Mazur's poems imply that life, with all of its losses, triumphs, and abrasive intimacies, is far richer and more elaborately metaphorical than poetry can aspire to be-and yet her poems do affectingly recreate this reality. These illuminating poems are the work of an acclaimed poet at the top of her form.
Contents
Acknowledgments
I. Five Poems Entitled "Questions"
II. Maybe It's Only the Monotony
Not Crying
Evening
I Wish I Want I Need
Young Apple Tree, December
The Weskit
Penumbra
Last Night
My Dream after Mother Breaks Her Hip
They Can't Take That Away from Me
III. Hypnosis
At the Ear, Nose, and Throat Clinic
Girl in a Library
Twenty Lines before Breakfast
Wakeful before Tests
Shangri-la
Two Bedrooms
IV. Poems
Michelangelo: To Giovanni da Pistoia When the Author Was Panting the Vault of the Sistine Chapel (translation)
V. Air Drawing
Leah's Dream
Then
Right Now
Keep Going
The Beach
Low Tide
To Begin This Way Every Day
Three Provincetown Mornings
Insomnia at Daybreak
National Book Foundation: National Book Awards
Short Listed

View
Recent Awards
page for more award winning books.
For more information, or to order this book, please visit https://press.uchicago.edu
Google preview here