---
Trance-Migrations
Stories of India, Tales of Hypnosis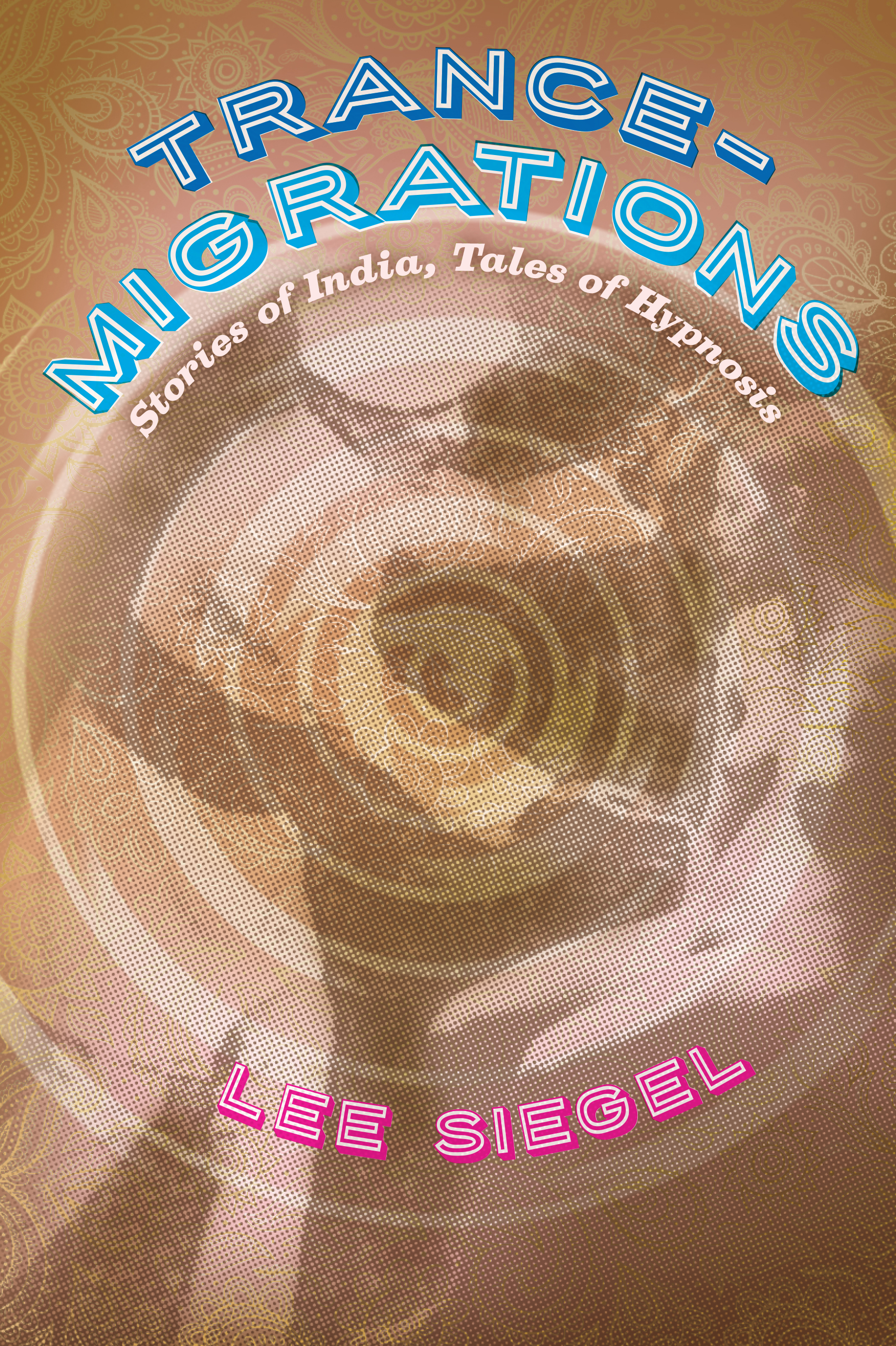 264 pages | 14 halftones | 6 x 9 | © 2014
Listen to what I am about to tell you: do not read this book alone. You really shouldn't. In one of the most playful experiments ever put between two covers, every other section of Trance-Migrations prescribes that you read its incantatory tales out loud to a lover, friend, or confidant, in order to hypnotize in preparation for Lee Siegel's exploration of an enchanting India. To read and hear this book is to experience a particular kind of relationship, and that's precisely the point: hypnosis, the book will demonstrate, is an essential aspect of our most significant relationships, an inherent dimension of love, religion, medicine, politics, and literature, a fundamental dynamic between lover and beloved, deity and votary, physician and patient, ruler and subject, and, indeed, reader and listener.
           
Even if you can't read this with a partner—and I stress that you certainly ought to—you will still be in rich company. There is Shambaraswami, an itinerant magician, hypnotist, and storyteller to whom villagers turn for spells that will bring them wealth or love; José-Custodio de Faria, a Goan priest hypnotizing young and beautiful women in nineteenth-century Parisian salons; James Esdaile, a Scottish physician for the East India Company in Calcutta, experimenting on abject Bengalis with mesmerism as a surgical anesthetic; and Lee Siegel, a writer traveling in India to learn all that he can about hypnosis, yoga, past life regressions, colonialism, orientalism, magic spells, and, above all, the power of story. And then there is you: descending through these histories—these tales within tales, trances within trances, dreams within dreams—toward a place where the distinctions between reverie and reality dissolve.
           
Here the world within the book and that in which the book is read come startlingly together. It's one of the most creative works we have ever published, a dazzling combination of literary prowess, scholarly erudition, and psychological exploration—all tempered by warm humor and a sharp wit. It is informing, entertaining, and, above all, mesmerizing. 
Table of Contents
Contents
IN[TRO]DUCTION: Reading, Listening, and Hypnosis
MAYAVATI'S SPELL: India, Stories, and Hypnosis
Part One: For the Reader
     The Child's Story
     The Hypnographer's Story
Part Two: For the Listener
     The Storyteller's Tale
     The Magician's Tale
LE SOMMEIL LUCIDE: Religion, Sex, and Hypnosis
Part One: For the Reader
     The Abbé's Story
     The Sculptor's Story
     The Psychiatrist's Story
     The Screenwriter's Story
Part Two: For the Listener
     The Translator's Tale
     The Writer's Tale
     The Reader's Tale
     The Listener's Tale
AN-ESTHETICS: Politics, Medicine, and Hypnosis
Part One: For the Reader
     The Surgeon's Story
     The Anesthesiologist's Story
Part Two: For the Listener
     The Patient's Tale
     The Mesmerist's Tale
BIBLIOGRAPHY: History, Fiction, and Hypnosis
Review Quotes
Jeffrey Kripal | Chronicle of Higher Education
"At turns provocative, entertaining, and hilarious, much of it is intended to be read out loud to a lover or a friend. It thus literally performs its thesis: that trance states and their illusions are the generators and very nature of human relationships (particularly erotic and therapeutic ones), political phenomena (like colonialism), religious phenomena (like repetitive ritual, enchanting mythology, and charismatic authority), and, most of all, those magical practices we call reading and writing."
Fortean Times
"The wisdom of India, wittily reimagined."

American Journal of Clinical Hypnosis
"A semi-autobiographical travelogue and work of hypnotically inspired history and fiction. Lee Siegel uses a great deal of . . . hypnotic patter, spellbinding storytelling, and weaving of tales within tales to craft an enjoyable book. . . . At its most adventuresome level, Trance-Migrations is a modern take on worlds-within-worlds mysticism that reads like one long nested loop induction."
 
Steve Tomasula, author of Once Human: Stories
"Anyone who has fallen under the spell of a master storyteller, hypnotist, Indian Yogi or shaman, illusionist, or con artist, will have experienced a little of the force of Lee Siegel's Trance-Migrations: a book in which Siegel simultaneously plays all of these roles. Part memoir, part exploration of hypnotism and storytelling—by turns erotic, comic, and poignant—Trance-Migrations seduces readers into losing themselves within it, to reflect upon the power of stories to make dreams reality, be they in a fable of ancient India, a Hollywood movie, our own bed at night, or on a therapist's couch. We awake from his spell to a deeper understanding of the power of suggestion and how it can create whole civilizations as well as individual lives: an achievement, and a book, that seems impossible until it is experienced."
Sheri Holman, author of Witches on the Road Tonight
"Whether or not you fall into a trance while reading this book, the intellectual delight that comes from allowing yourself to surrender to it is reward enough. As in all of his work, Siegel challenges us to examine the infinite aspects of subjective reality more deeply than we could alone. He does so with wit, scholarship, passionate engagement, and, most of all, humor."
Eliot Weinberger
"Professional Indologist and amateur magician Siegel spins a spiral disc of fascinating histories, captivating memoir, and mesmeric metafictions. Never has the phrase 'hypnotic prose' been so literal. When I woke from reading, I had an overwhelming compulsion to praise this book."
For more information, or to order this book, please visit https://press.uchicago.edu
Google preview here