---
The Triumph of Human Empire
Verne, Morris, and Stevenson at the End of the World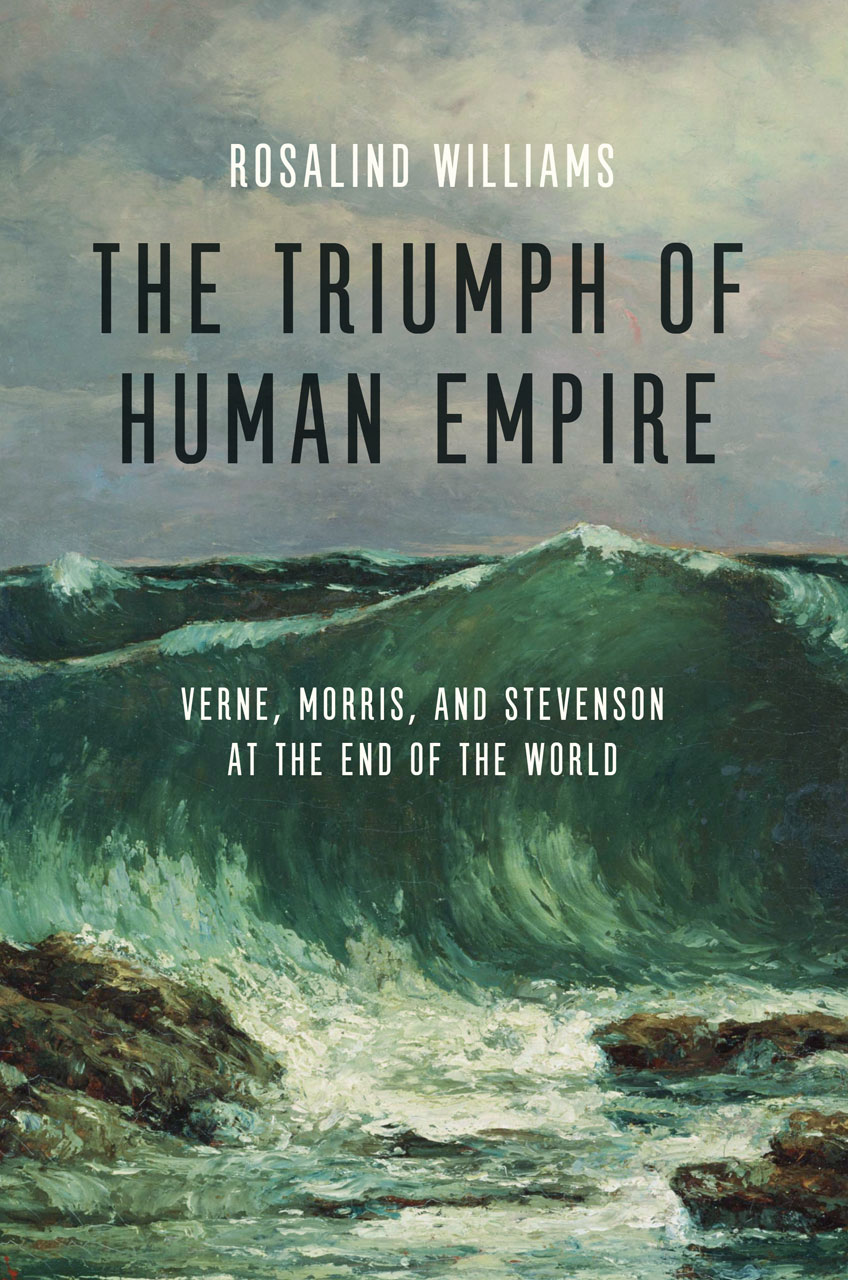 432 pages | 4 color plates, 11 halftones | 6 x 9 | © 2013
In the early 1600s, in a haunting tale titled New Atlantis, Sir Francis Bacon imagined the discovery of an uncharted island. This island was home to the descendants of the lost realm of Atlantis, who had organized themselves to seek "the knowledge of Causes, and secret motions of things; and the enlarging of the bounds of Human Empire, to the effecting of all things possible." Bacon's make-believe island was not an empire in the usual sense, marked by territorial control; instead, it was the center of a vast general expansion of human knowledge and power.  
Rosalind Williams uses Bacon's island as a jumping-off point to explore the overarching historical event of our time: the rise and triumph of human empire, the apotheosis of the modern ambition to increase knowledge and power in order to achieve world domination. Confronting an intensely humanized world was a singular event of consciousness, which Williams explores through the lives and works of three writers of the late nineteenth century: Jules Verne, William Morris, and Robert Louis Stevenson. As the century drew to a close, these writers were unhappy with the direction in which their world seemed to be headed and worried that organized humanity would use knowledge and power for unworthy ends. In response, Williams shows, each engaged in a lifelong quest to make a home in the midst of human empire, to transcend it, and most of all to understand it. They accomplished this first by taking to the water: in life and in art, the transition from land to water offered them release from the condition of human domination. At the same time, each writer transformed his world by exploring the literary boundary between realism and romance. Williams shows how Verne, Morris, and Stevenson experimented with romance and fantasy and how these traditions allowed them to express their growing awareness of the need for a new relationship between humans and Earth.
The Triumph of Human Empire shows that for these writers and their readers romance was an exceptionally powerful way of grappling with the political, technical, and environmental situations of modernity. As environmental consciousness rises in our time, along with evidence that our seeming control over nature is pathological and unpredictable, Williams's history is one that speaks very much to the present.
Table of Contents
Contents
Preface: An Event of Consciousness
1: The Rise of Human Empire
 
Part One
Jules Verne
2. Life on the Loire
3. The Empire of Paris
4. Inventing the Geographic Romance
5. The End of the World
 
Part Two
William Morris
6. Life on the Thames
7. Pilgrimage to a Holy Land
8. A River of Fire
9. From Romance to Fantasy
 
Part Three
Robert Louis Stevenson
10. Romantic Engineering and Engineering Romance
11. Two Voyages: Inland Waterways and High Seas
12. Worlds of Wonder and Problematic Shores
13. The Romance of Destiny
 
14. A Rolling Apocalypse
 
Acknowledgments
Notes
Index
Review Quotes
Economist, a 2013 Book of the Year in Science and Technology
"A magnificent attempt to recapture the sense, so prevalent at the end of the 19th century, that the world was finished, explored and done. The responses of the three creative men on whom Rosalind Williams focuses have strong resonances for anyone who worries about today's Anthropocene era."
Philip Hoare | Telegraph
"One of the most fascinating books I've read this year, deftly drawing together the themes of utopian ambition, technological change, and a visionary sense of escape."
Tom Wright | Times Higher Education Supplement
"Captivating and unsettling. . . . [This] is a book that manages to be densely researched, accessible, and disarmingly polemical. Williams's triplet of complex and neglected figures, writing 'through the rolling apocalypse of their time, at once deciphering and prophesying it,' reminds us that 'we are not the first to live in this historical condition' of intense ecological concern, and encourages us to think seriously about our modern-day duties. The Triumph of Human Empire will be a thought-provoking book for anyone concerned with the imagination of the 'Anthropocene' and how it was formed."
Felipe Fernandez-Armesto | Times Literary Supplement
"Williams's perceptive readings, fluent writing, immense erudition, and engaging voice make her book an irresistible, endlessly instructive pleasure."
J. R. McNeill | Wall Street Journal
"Millions of people had their ideas about technology, nature, and the human condition influenced by these men. If Ms. Williams introduces one more reader to the remarkable worlds of Morris's News from Nowhere, or Verne's Invasion of the Sea, that is justification enough for her insightful book."
A. M. Bain | Choice
"Prodigious in scope. . . . Those interested in the cross-disciplinary potential of the history of science and technology will find this book of interest. Recommended."
Science Direct
"An engaging book that will interest scholars of nineteenth-century technology and the environment, as well as those concerned with science's influence on literature."
Clifford Cunningham | Sun News Miami
"[A] well-researched and valuable book."
John Tresch, author of The Romantic Machine
"Engaging, highly informative, and entertaining, The Triumph of Human Empire addresses issues of crucial current importance—the impact of humans on the environment; the dangerous pace of late modernity; the political and psychological consequences of globalization, high-speed communications, and industrial capitalism—through lively and colorful biographies of important literary figures, presented here from a novel perspective. Rosalind Williams follows the advice of the authors she discusses—of finding the right balance between factual detail, narrative drive, and human interest—yet presents a strikingly original and timely synthesis of literary history, history of technology, and environmental history."

Alan Lightman, author of Einstein's Dreams
"As in her previous work, Rosalind Williams uses literature to explore the monumental shifts in human understanding of our place in nature—in this case, the realization in the late nineteenth century that human beings had physically occupied the planet and would now be re-engineering it according to their own thoughts and desires. Her writing is deeply thoughtful, particular, and well researched, and it is relevant for the troubling scientific and technological challenges of today."

For more information, or to order this book, please visit https://press.uchicago.edu
Google preview here