---
Succeeding as an International Student in the United States and Canada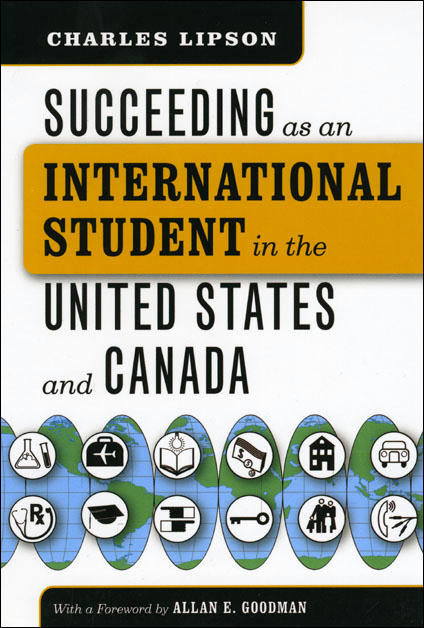 380 pages | 4 halftones | 6 x 9 | © 2008
Each year, 700,000 students from around the world come to the United States and Canada to study. For many, the experience is as challenging as it is exciting.  Far from home, they must adapt to a new culture, new university system, and in many cases, a new language. The process can be overwhelming, but as Charles Lipson's Succeeding as an International Student in the United States and Canada assures us, it doesn't have to be.
            Succeeding is designed to help students navigate the myriad issues they will encounter—from picking a program to landing a campus job. Based on Lipson's work with international students as well as extensive interviews with faculty and advisers, Succeeding includes practical suggestions for learning English, participating in class, and meeting with instructors. In addition it explains the rules of academic honesty as they are understood in U.S. and Canadian universities.
            Life beyond the classroom is also covered, with handy sections on living on or off campus, obtaining a driver's license, setting up a bank account, and more. The comprehensive glossary addresses both academic terms and phrases heard while shopping or visiting a doctor. There is even a chapter on the academic calendar and holidays in the United States and Canada.
           Coming to a new country to study should be an exciting venture, not a baffling ordeal. Now, with this trustworthy resource, international students have all the practical information they need to succeed, in and out of the classroom.
Table of Contents
Contents
Foreword by Allen Goodman, President and CEO, Institute of International Education
Introduction

Part I: Moving Here

1          What to Bring with You
2          Passports and Visas: A Quick Overview
3          The First Ten Things You Should Do Here

Part II: Succeeding at Your University

4          The Biggest Academic Challenges for International Students
5          Succeeding Academically
6          Thinking Creatively: Going Beyond What the Professor Said
7          Working as a Teaching Assistant, Lab Assistant, or Research Assistant
8          Avoiding Plagiarism and Doing Honest Work
9          The Culture of Universities in the United States and Canada

Part III: Living in the United States and Canada

10        Settling In
11        Learning the Terrain
12        Learning the Language
13        Identification Cards
14        Earning Money
15        Managing Money: Bank Accounts, Debit Cards, and Credit Cards
16        Spending Money: Shopping at Local Stores, Malls, and Online
17        Getting Around: Buses, Bikes, and Taxis
18        Getting Around: Cars
19        University Housing and Meals
20        Apartment Rentals
21        Kids and Family
22        Health Care
23        Campus Life
24        Telecommunicating: Phone Calls, Internet, Cable TV, and More
25        Dealing with Problems 

            Appendix 1      A Glossary of Words and Phrases for International Students
            Appendix 2      Abbreviations, Acronyms, Nicknames, Holidays, Floor Numbering, and Clothing Sizes
            Index

Review Quotes
Tamara Felden, director of the Office of International Affairs, University of Chicago
"I believe that if an international student adviser could by sheer magic make a good guidebook appear that every prospective or newly admitted international student should have, it would be Succeeding as an International Student in the United States and Canada. The book is devoted to the day-to-day practical matters a foreigner encounters when initially arriving (or preparing to arrive) in the U.S. It also provides a very strong introduction to academic life . . .  a combination particularly useful to an international student but rarely found. I would strongly recommend that prospective international students purchase this book as soon as they receive their offers of admission. It will become a valuable tool for many."
Allan E. Goodman | Foreword
"Lipson provides a true insider's perspective on American higher education with a view from the classroom, to help students to not only find their way around, but to get the most out of their academic pursuits. Succeeding as an International Student is uniquely useful in its approach to providing detailed practical advice to help students truly immerse themselves in their campuses and communities. Lipson guides them through the day-to-day details of student life in North America, and, more significantly, he explains with tremendous insight the nuances of the academic environments in which they will be working."
Peter Cowhey, dean, Graduate School of International Relations and Pacific Studies, University of California, San Diego
"From negotiating academic expectations and practices through the art of buying a used car, this is one-stop shopping for students tackling the intellectual and logistical barriers to entry in the American marketplace of ideas."
Rodolfo R. Altamirano, director, Office of International Programs, the University of Pennsylvania
"As a former international student, I find this work to be very helpful. It covers many topics that prospective international students will face as they embark on a new academic journey. I wish I had read something like this when I came to the United States. . . . Many students will benefit from this piece of work."
Philip G. Altbach, director of the Center for International Higher Education at Boston College
"Succeeding as an International Student is a well-written, highly informative guide to campus life in the United States and Canada. Everything an international student needs to know about—from avoiding plagiarism in academic work to managing tips in restaurants—is discussed in a clear and direct way. The advice is valuable and Lipson's direct and informal style very effective."
Walter Mattli, professor of international political economy and fellow of St. John's College, University of Oxford
"Succeeding as an International Student in the United States and Canada is the single-most helpful and comprehensive guide on the market that addresses the needs of foreign students. It is packed with essential information on how to succeed in a highly competitive academic setting; it also provides plenty of excellent tips for efficiently organizing life far away from home and enjoying it to the fullest. Charles Lipson has written the sort of brilliant guide that I wish had existed when I was a graduate student in the U.S. It would have saved me from some initial mistakes, misunderstandings, and embarrassments and helped to make my overwhelmingly positive experience as a foreign student an even more enjoyable one."
Henry Beinen, president, Northwestern University
"Charles Lipson's Succeeding as an International Student in the United States and Canada is a clever, conversational, and very useful primer. Not only international students but good old Americans will find it helpful, fun and culturally sensitive. With topics as diverse as renting an apartment, paying a traffic ticket, finding health care, and thinking creatively, even presidents of universities or vice presidents of student affairs can read this book with profit."
Everett Egginton, Dean, International and Border Programs, New Mexico State University; and  president of NAFSA: Association of International Educators
"Succeeding as an International Student in the United States and Canada is a highly useful, convenient, well-organized, easy-to-use reference book for international students attending, planning to attend, or merely interested in attending a college or university in the United States or Canada....Lipson leaves no topic uncovered, hardly surprising since, in preparing the book, he consulted with literally hundreds of international students from all over the world, asking them what they should know before they arrived. Their answers to this question largely determined the book's contents. Indeed, Succeeding as an International Student in the United States and Canada answers the very questions and addresses the very concerns posed by the international students themselves."
Josef Joffe, publisher of Die Zeit and Senior Fellow at the Freeman-Spogli Institute for International Studies, Stanford University
"The United States hosts about one-quarter of the world's foreign students each year, and all of them should read this book before arriving. Succeeding as an International Student in the United States and Canada makes it so much easier to hit the ground running, while avoiding the pitfalls and frustrations of life in a country that seems so familiar to the rest of the world, but follows its own rhythm and rules."
Lydialyle Gibson | University of Chicago Magazine
"Succeeding as an International Student in the United States and Canada compiles thirty years of conversations with foreign students and research about the hurdles they face. The book covers everything from what to pack on the airplane (a month's supply of any prescription medicines, just in case) to office-hours etiquette (be punctual; bring a question to discuss) and cultural civility."
Akira Iriye, emeritus professor of Japanese and American history at Harvard University and professor of history at Waseda University, Tokyo
"My own experiences both as a student and as a faculty member in the United States completely resonate with what Lipson writes. His emphasis on individuality and originality in an academic setting is right on target, and his suggestions concerning housing, health care, and other issues outside the classroom are both thoughtful and helpful. I would recommend the book as required reading for all prospective international students coming to the United States and Canada."
Otto Keck
"In order to master an academic subject, students from many foreign countries first have to learn to live in a foreign academic culture and to cope with a myriad of practical problems. Charles Lipson's book gives these students exactly what they need: an orientation in the academic culture of the United States and Canada and helpful advice for virtually every practical problem they encounter."–Otto Keck, Chair of International Organizations and International Public Policy, University of Potsdam, Germany
Anne-Marie Slaughter, dean of the Woodrow Wilson School of Public and International Affairs at Princeton University
"Absolutely indispensable reading for any student heading for a college or university in North America. Alongside countless practical tips that will make the logistics of student life far less daunting to students from other cultures, Professor Lipson distills the essence of the North American attitude to university education in a direct and accessible way that provides an actual guide to succeeding in the classroom. This book is long overdue; it will be an invaluable aid to both foreign students and their North American hosts."
Susan Lindquist, former director of the Whitehead Institute for Biomedical Research, professor of biology at MIT
"An extraordinarily thoughtful compilation. Succeeding as an International Student in the United States and Canada covers the pragmatic, the sublime, and the seemingly trivial (but not!) things that will give every foreign student the chance to realize their full potential here. Indeed, I think every new faculty member should have a copy. It explains cultural differences, such as concepts of plagiarism and originality, which were a complete surprise to me with my first foreign students.  I'm ordering several copies for my lab and will recommend it to everyone I can!"
For more information, or to order this book, please visit https://press.uchicago.edu
Google preview here