---
Reforming Philosophy
A Victorian Debate on Science and Society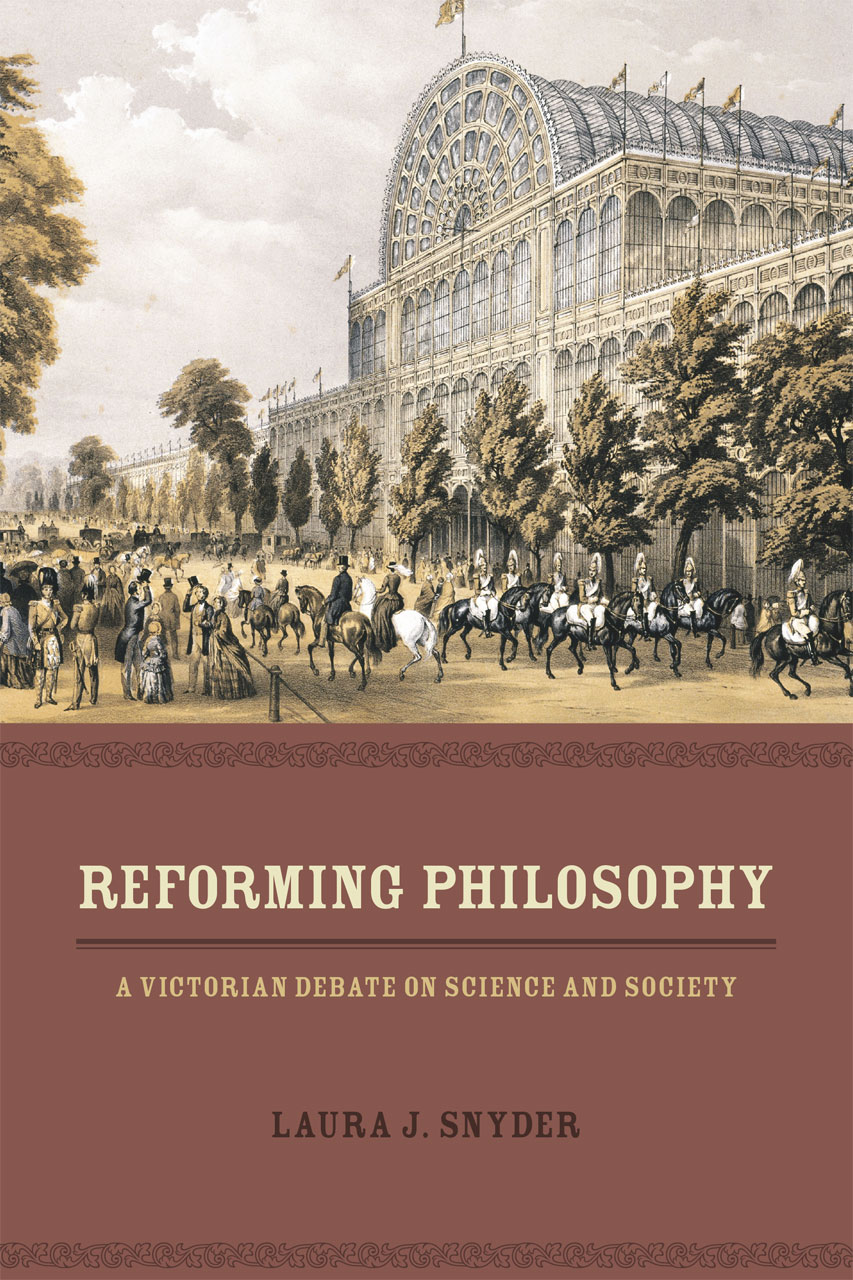 386 pages | 8 halftones | 6 x 9 | © 2006
The Victorian period in Britain was an "age of reform."  It is therefore not surprising that two of the era's most eminent intellects described themselves as reformers. Both William Whewell and John Stuart Mill believed that by reforming philosophy—including the philosophy of science—they could effect social and political change. But their divergent visions of this societal transformation led to a sustained and spirited controversy that covered morality, politics, science, and economics. Situating their debate within the larger context of Victorian society and its concerns, Reforming Philosophy shows how two very different men captured the intellectual spirit of the day and engaged the attention of other scientists and philosophers, including the young Charles Darwin.
 
Mill—philosopher, political economist, and Parliamentarian—remains a canonical author of Anglo-American philosophy, while Whewell—Anglican cleric, scientist, and educator—is now often overlooked, though in his day he was renowned as an authority on science. Placing their teachings in their proper intellectual, cultural, and argumentative spheres, Laura Snyder revises the standard views of these two important Victorian figures, showing that both men's concerns remain relevant today.
 
A philosophically and historically sensitive account of the engagement of the major protagonists of Victorian British philosophy, Reforming Philosophy is the first book-length examination of the dispute between Mill and Whewell in its entirety. A rich and nuanced understanding of the intellectual spirit of Victorian Britain, it will be welcomed by philosophers and historians of science, scholars of Victorian studies, and students of the history of philosophy and political economy.  
 
Table of Contents
Contents
Acknowledgments 
Prologue 
Introduction: "Reforming the Philosophy of the Age"  
1. Whewell and the Reform of Inductive Philosophy  
2. Mill's Radicalization of Induction  
3. Reforming Science  
4. Reforming Culture: Morality and Politics  
5. Reforming Political Economy  
Conclusion: The Debate's Legacy 
Bibliography
Index
Review Quotes
John North | Times Literary Supplement
"Snyder's book is history of philosophy at its best."
Richard Yeo | Isis
"In this impressive study of two major Victorian intellectuals, Snyder displays both analytical acumen and historical sensitivity; she has written a book that will be read with profit and pleasure by anyone interested in the history of moral, political, and philosophical reflection on science."
Michael Ruse | Journal of British Studies
"This is the definitive work and must be on the shelves of any library with pretensions to completeness about the [Victorian] age."
Peter Mandler | American Historical Review
"Snyder's impressive achievement is not only to register a significant improvement in our understanding of the technicalities of this debate over the proper method of scientific reasoning, but also to bring the debate alive in a way that illuminates the whole terrain of mid-Victorian intellectual life."
David S. Karr | History
"Snyder's careful recovery of a process of knowledge-production through dialogue is compelling. . . . For those who want to understand Mill or Whewell, Snyder's is an indispensable study."
Elihu Gerson | Historical Studies in the Physical and Biological Sciences
"Snyder's great strength is in elaborating and refining our understanding of Whewell, but she does us an additional important service by situating the technical debates between Mill and Whewell in their political and social circumstances. . . . A strong contribution not only to a better understanding of 19th-century British philosophy of science, but of the intellectual foundations of that broader institutional reform as well."
Fred Wilson | Victorian Studies
"The scholarship is everywhere evident, both in the history and in the way it relates, in often illuminating fashion, this older debate to more recent discussions, especially in ethics and in the philosophy of science."
Nancy LoPatin Lummis | The Historian
"Tracing the intellectual origins of how two men came to understand the needs for Victorian reform is, without question, a worthwhile and interesting examination for the more traditional political or social historian."
Simon Thompson | Political Studies Review
"The remarkable amount of contextual detail presented will render this volume indispensable to scholars of the history of the philosophy of science. . . . In this sophisticated and elegant intellectual history, Snyder effectively communicates complex ideas and rejuvenates Whewell's philosophical legacy."
John Hedley Brooke | Annals of Science
"Brilliant. . . . [A]n exciting and comprehensive account of [the Mill-Whewell] debate. . . . Snyder's outstanding study will be indispensable for commentators on Whewell and Mill. By providing a window on social, political, and moral issues, as well as those at the heart of scientific methodology, she also has much to offer historians of early Victorian culture. For historians of science, there is a bonus in that the receptivity of Whewell and Mill to Charles Darwin's theory of evolution is also excellently discussed."
Menachem Fisch, Tel Aviv University
"Though the broader contours of Whewell's and Mill's philosophies are clear enough, discerning what the two great Victorians were trying to say in any detail has been subject to lively discussion in recent years. Laura Snyder, a major voice in this discussion, now takes it to a new level. Reforming Philosophy lends their theories of induction and scientific truth new life and meaning by reassessing them in the keenly polemical context of their debates, which Snyder exposes masterfully. Much of what was philosophically at stake in these exchanges remains highly relevant and challenging. This is history of the philosophy of science at its best."
Pietro Corsi, Oxford University
"Philosophy, theology, and politics were never far away from each other when John Stewart Mill and William Whewell engaged in a dialogue destined to last all along their mature lives. The issues they addressed were complex and multifaceted: the development of strong foundations for a science of the mind, as well as a gnoseology and an epistemology on which to ground hopes for social stability and progress. The radical Mill and the High Anglican Whewell shared many assumptions: fear of democracy and faith in a reformed intellectual clerisy. They differed strongly on who was going to appease fears and lead the times. Laura Snyder's book helps us to get a close look at these two seminal thinkers of the modern age. For the first time, the dialogue between Mil and Whewell comes back in its own terms, and it will surprise scholars and general readers alike."
Alan Ryan, Oxford University
"Dr William Whewell, the impossibly learned Master of Trinity, had an enormous influence in his own day—he was not only a more than competent scientist in his own right, but the person who coined the word 'scientist' in its modern sense—but he has largely vanished from sight, other than as the target of John Stuart Mill's attacks on intuitionism. Laura Snyder has not only brought him back to life, as a philosopher of science and ethics, but has put him in his proper place in the landscape of those Victorian reformers who thought that sound thinking in science and its method was an aid to sound thinking in religion and politics, as well. It is an engrossing story and well worth the telling."
Michael Ruse, Florida State University
"Reforming Philosophy is a superb piece of work that fills out in needed detail the debates in the mid-nineteenth century about the nature of good science.  She follows through with understanding and clarity the ideas of the chief actors in the discussions, William Whewell and John Stuart Mill, showing that their concerns are no less valid for us today.  This book will be required reading for students of the period as well as for those interested in the way that science defined itself through the ages."
For more information, or to order this book, please visit https://press.uchicago.edu
Google preview here