---
The Rise of the West
A History of the Human Community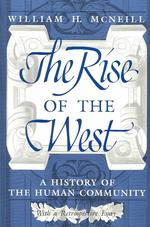 With a Retrospective Essay
860 pages | 18 maps, 53 charts, 71 plates | 6 x 9 | © 1963, 1991
The Rise of the West, winner of the National Book Award for history in 1964, is famous for its ambitious scope and intellectual rigor. In it, McNeill challenges the Spengler-Toynbee view that a number of separate civilizations pursued essentially independent careers, and argues instead that human cultures interacted at every stage of their history. The author suggests that from the Neolithic beginnings of grain agriculture to the present major social changes in all parts of the world were triggered by new or newly important foreign stimuli, and he presents a persuasive narrative of world history to support this claim.

In a retrospective essay titled "The Rise of the West after Twenty-five Years," McNeill shows how his book was shaped by the time and place in which it was written (1954-63). He discusses how historiography subsequently developed and suggests how his portrait of the world's past in The Rise of the West should be revised to reflect these changes.

"This is not only the most learned and the most intelligent, it is also the most stimulating and fascinating book that has ever set out to recount and explain the whole history of mankind. . . . To read it is a great experience. It leaves echoes to reverberate, and seeds to germinate in the mind."—H. R. Trevor-Roper, New York Times Book Review

Table of Contents
Contents
List of Illustrations
"The Rise of the West after Twenty-five Years"
Preface 

PART I 

THE ERA OF MIDDLE EASTERN DOMINANCE TO 500 B.C. 

I. IN THE BEGINNING 

II. THE BREAKTHROUGH TO CIVILIZATION IN MESOPOTAMIA 

III. THE DIFFUSION OF CIVILIZATION: FIRST PHASE  
A. INTRODUCTION
B. THE CIVILIZATIONS OF THE NILE AND INDUS VALLEYS TO 1700 B.C.
1. Ancient Egypt
2. The Indus Civilization
C. THE TRANSPLANTATION OF CIVILIZATION TO RAIN-WATERED LANDS
1. Introductory
2. Asia Minor
3. Crete
D. THE IMPACT OF CIVILIZATION ON THE OUTER FRINGES OF THE AGRICULTURAL WORLD
1. Megalithic Protocivilization
2. High Barbarism of the Eurasian Steppe 

IV. THE RISE OF A COSMOPOLITAN CIVILIZATION IN THE MIDDLE EAST, 1700-500 B.C.
A. INTRODUCTION
B. MILITARY-POLITICAL CHANGES
C. ADMINISTRATIVE SYSTEMS
D. SOCIAL STRUCTURE
E. CULTURAL CONSERVATION AND ADVANCE
1. Babylonia
2. Egypt
3. The Intermediate Regions
4. Zoroastrianism and Judaism 

V. THE FORMULATION OF PERIPHERAL CIVILIZATIONS IN INDIA, GREECE, AND CHINA, 1700-500 B.C.
A. INTRODUCTION
B. THE FORMULATION OF INDIAN CIVILIZATION
C. THE FORMULATION OF GREEK CIVILIZATION
1. Political and Social Development
2. Cultural Growth
Religion
Art
Literature
Philosophy
D. THE BEGINNINGS OF CHINESE CIVILIZATION TO 500 B.C.
E. CHANGES IN THE BARBARIAN WORLD TO 500 B.C. 

PART II 

EURASIAN CULTURAL BALANCE 500 B.C.-1500 A.D.
GENERAL INTRODUCTION 

VI. THE EXPANSION OF HELLENISM, 500-146 B.C. 
A. THE FLOWERING OF GREEK CULTURE, 500-336 B.C.
1. Introduction
2. Political Evolution
3. The Perfecting of Greek Cultural Forms
Tragedy
Philosophy
History and Rhetoric
Monumental Art
Summary
B. HELLENIC EXPANSION INTO BARBARIAN EUROPE
C. THE HELLENIZATION OF THE ORIENT, 500-146 B.C.
1. Military and Political
2. Social and Cultural 

VII. CLOSURE OF THE EURASIAN ECUMENE, 500 B.C.-200 A.D.
A. INTRODUCTION
B. EXPANSION AND DEVELOPMENT OF THE NON-HELLENIC
CIVILIZATIONS OF EURASIA, 500-100 B.C.
1. India
2. China
3. The Far West: Rome and Western Europe, 336-146 B.C.
C. THE EURASIAN ECUMENE, 100 B.C.-200 A.D.
1. Political and Social Developments
2. Cultural Growth and Interchange
Art
Religion
3. Other Aspects of the High Cultural Tradition of Eurasia, 100 B.C.-200 A.D. 

VIII. BARBARIAN ONSLAUGHT AND CIVILIZED RESPONSE, 200-600 A.D.
A. INTRODUCTION
B. THE FLOWERING OF INDIAN CULTURE
1. Political and Social Framework
2. Cultural Achievements
Language
Literature
Religion and Philosophy
Science
Art
Other Aspects of Indian Culture 
C. THE EXPANSION OF INDIAN CIVILIZATION
1. Southeast Asia
2. Eastern Mediterranean, Iran, and Central Asia
3. China
D. THE NORTHERN FRONTIER: BARBARIAN BREAKTHROUGH AND
CIVILIZED REACTION
1. The Great Migrations
2. Consequences of the Migrations
Civilizing the Barbarians
Modification of Civilized Military and Political Institutions in Western Eurasia
Cultural Changes in Persia and Rome
E. THE OUTER FRINGES 

IX. THE RESURGENCE OF THE MIDDLE EAST, 600-1000 A.D.
A. INTRODUCTION
B. THE MOSLEM WORLD
C. CHRISTENDOM
D. INDIA
E. CHINA AND THE FAR EAST
F. THE OUTER FRINGES 

X. STEPPE CONQUERORS AND THE EUROPEAN FAR WEST, 1000-1500 A.D.
A. INTRODUCTION
B. INFILTRATION AND CONQUEST FROM THE STEPPE
C. ISLAMIC REACTION TO THE PRESSURES FROM THE STEPPE
1. Political and Social
2. Cultural
D. INDIANS, CHRISTIANS, AND JEWS UNDER MOSLEM RULE
1. The Moslem Heartlands
2. India
3. Orthodox Christendom
E. THE FAR EAST
1. China
2. China's Outliers
F. THE FAR WEST
1. Introductory
2. The Struggle for Political Order
3. The Expansion of Western Europe
4. Cultural Growth: The High Middle Ages
5. Unique Characteristics of West European Civilization
G. THE FRINGES OF THE ECUMENE 

PART III 

THE ERA OF WESTERN DOMINANCE, 1500 A.D. TO THE PRESENT
GENERAL INTRODUCTION 

XI. THE FAR WEST'S CHALLENGE TO THE WORLD, 1500-1700 A.D. 
A. THE GREAT EUROPEAN EXPLORATIONS AND THEIR WORLD-WIDE CONSEQUENCES
B. THE TRANSMUTATION OF EUROPE, 1500-1650 A.D.
1. Politics
2. Economics
3. Culture
C. EUROPE'S OUTLIERS: THE AMERICAS AND RUSSIA, 1500-1650 A.D.
1. The Americas
2. Russia
D. THE CHANGING BALANCE OF THE ECUMENE, 1500-1700 A.D. 
1. The Moslem World
The Iberian Crusade and Moslem Response
The Rise of Russia and Its Consequences for Islam
The Sunni-Shi'a Conflict and Its Consequences for Islam 
2. The Subject Religious Communities in the Moslem World
Hindu India and Buddhist Southeast Asia
Christians under Moslem Rule
Jews in Moslem Lands
3. The Far East
China
Japan
Tibet, Mongolia, and the Central Asian Steppe
4. Africa
E. CONCLUSION 

XII. THE TOTTERING WORLD BALANCE, 1700-1850 A.D.
A. INTRODUCTION
B. THE OLD REGIME OF EUROPE, 1650-1789 A.D.
1. European Expansion to New Ground
Exploration, Trade, and National Rivalries
Plantations and the Conscious Transformation of Tropical and Subtropical Economies
The Spread of European Settlement
2. Acculturation in the Older Outliers of Europe: America and Russia
Spanish America
Brazil and North America
Russia
3. The Compromises of the Old Regime in the European Heartlands
Political and Social Compromises
Intellectual Compromises
Compromises in the Arts
Elements of Instability in the Old Regime
C. MOSLEM CATALEPSY, 1700-1850 A.D.
1. Ottoman Reform and Christian Rebellion
2. Iran and Turkestan
3. Disintegration of the Mogul Empire in India
4. Islam in Africa and Southeast Asia
D. HINDU AND BUDDHIST ASIA, 1700-1850 A.D.
E. CREEPING CRISIS IN THE FAR EAST, 1700-1850 A.D.
1. China
2. Japan
F. THE RETREAT OF BARBARISM, 1700-1850 A.D. 

XIII. THE RISE OF THE WEST: COSMOPOLITANISM ON A GLOBAL SCALE, 1850-1950 A.D.
A. INTRODUCTORY
B. THE WESTERN EXPLOSION, 1789-1917 A.D.
1. Territorial Expansion
2. Industrialism
The First or British Phase
The Second or German and American Phase
3. The Democratic Revolution
4. Artistic and Intellectual Aspects
C. THE NON-WESTERN WORLD, 1850-1950 A.D.
1. The Changing Shape and Style of the Ecumene
2. The Moslem World
3. Hindu India
4. China
5. Japan
6. Other Parts of the World

CONCLUSION 

A. SCALE OF POLITICS
B. SCOPE OF POLITICS
C. DILEMMAS OF POWER
INDEX
For more information, or to order this book, please visit https://press.uchicago.edu
Google preview here