---
The Politics of School Reform, 1870 - 1940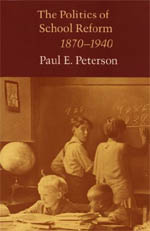 252 pages | 6.00 x 9.00 | © 1985
Was school reform in the decades following the Civil War an upper-middle-class effort to maintain control of the schools? Was public education simply a vehicle used by Protestant elites to impose their cultural ideas upon recalcitrant immigrants? In The Politics of School Reform, 1870-1940, Paul E. Peterson challenges such standard, revisionist interpretations of American educational history. Urban public schools, he argues, were part of a politically pluralistic society. Their growth—both in political power and in sheer numbers—had as much to do with the demands and influence of trade unions, immigrant groups, and the public more generally as it did with the actions of social and economic elites.

Drawing upon rarely examined archival data, Peterson demonstrates that widespread public backing for the common school existed in Atlanta, Chicago, and San Francisco. He finds little evidence of systematic discrimination against white immigrants, at least with respect to classroom crowding and teaching assignments. Instead, his research uncovers solid trade union and other working-class support for compulsory education, adequate school financing, and curricular modernization.

Urban reformers campaigned assiduously for fiscally sound, politically strong public schools. Often they had at least as much support from trade unionists as from business elites. In fact it was the business-backed machine politicians—from San Francisco's William Buckley to Chicago's Edward Kelly—who deprived the schools of funds. At a time when public schools are being subjected to searching criticism and when new educational ideas are gaining political support, The Politics of School Reform, 1870-1940 is a timely reminder of the strength and breadth of those groups that have always supported "free" public schools.
Table of Contents
Contents
Acknowledgments
Part One - Forming Public Schools
1. The Pluralist Politics of Public Schools
2. Political Support for the Free School
3. The Politics of Curricular Change
4. The Politics of Resource Allocation
5. The Politics of Race and Equity
Part Two - Reforming Public Schools
6. Urban Reform without Class Conflict
7. Compromise Reform
8. Reform and the Professional Administrator
9. Finance and Reform: Issues of the Thirties
10. Reform and Expansion: Some Conclusions
Notes
References
Index
For more information, or to order this book, please visit https://press.uchicago.edu
Google preview here