---
On the Nature of Limbs
A Discourse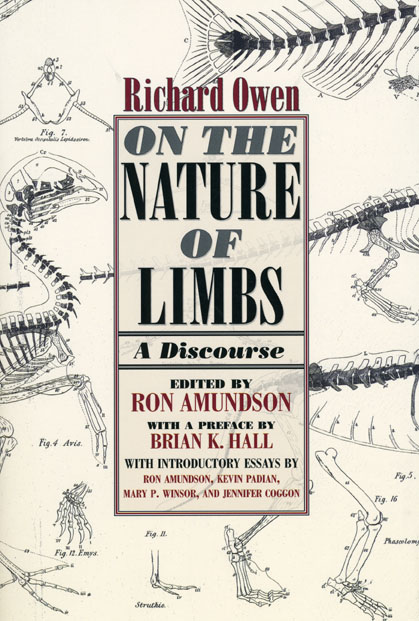 119 pages | 6 x 9 | © 2007
The most prominent naturalist in Britain before Charles Darwin, Richard Owen made empirical discoveries and offered theoretical innovations that were crucial to the proof of evolution. Among his many lasting contributions to science was the first clear definition of the term homology—"the same organ in different animals under every variety of form and function." He also graphically demonstrated that all vertebrate species were built on the same skeletal plan and devised the vertebrate archetype as a representation of the simplest common form of all vertebrates.

Just as Darwin's ideas continue to propel the modern study of adaptation, so too will Owen's contributions fuel the new interest in homology, organic form, and evolutionary developmental biology. His theory of the archetype and his views on species origins were first offered to the general public in On the Nature of Limbs, published in 1849. It reemerges here in a facsimile edition with introductory essays by prominent historians, philosophers, and practitioners from the modern evo-devo community.
Table of Contents
Contents
Foreword by Brian K. Hall
 
"Richard Owen and Animal Form" by Ron Amundson
 
"Richard Owen's Quadrophenia: The Pull of Opposing Forces in Victorian Cosmogony" by Kevin Padian
 
"The Mystery of Richard Owen's Winged Bull-Slayer" by Mary P. Winsor and Jennifer Coggon
 
On the Nature of Limbs
Review Quotes
Michael Coates | Nature
"Brian Hall's preface and introductory essays by Mary P. Winsor, Jennifer Coggon, Ron Amundsen and Kevin Padian bring out the subtleties of Owen's arguments and place them in a historical and social context, among the philosophical turmoil of biology in the early to mid-nineteenth century....A contentious character, Owen is all too easily dismissed as the self-promoting, vitriolic critic of Darwin. On the Nature of Limbs is a timely reminder that his work was— is—of real value."
Michael T. Ghiselin | History and Philosophy of the Life Sciences
"[This] is one of the most important primary sources for idealistic morphology as it existed in Victorian England. The publishers deserve our gratitude for making the book widely available to the modern reader."
Marian Dagosto | Journal of Mammalian Evolution
"It is well to be reminded of the debt modern evolutionary biology, particularly comparative anatomy, owes [Owen]. This volume admirably serves this valuable purpose."
For more information, or to order this book, please visit https://press.uchicago.edu
Google preview here