---
Out of the Pits
Traders and Technology from Chicago to London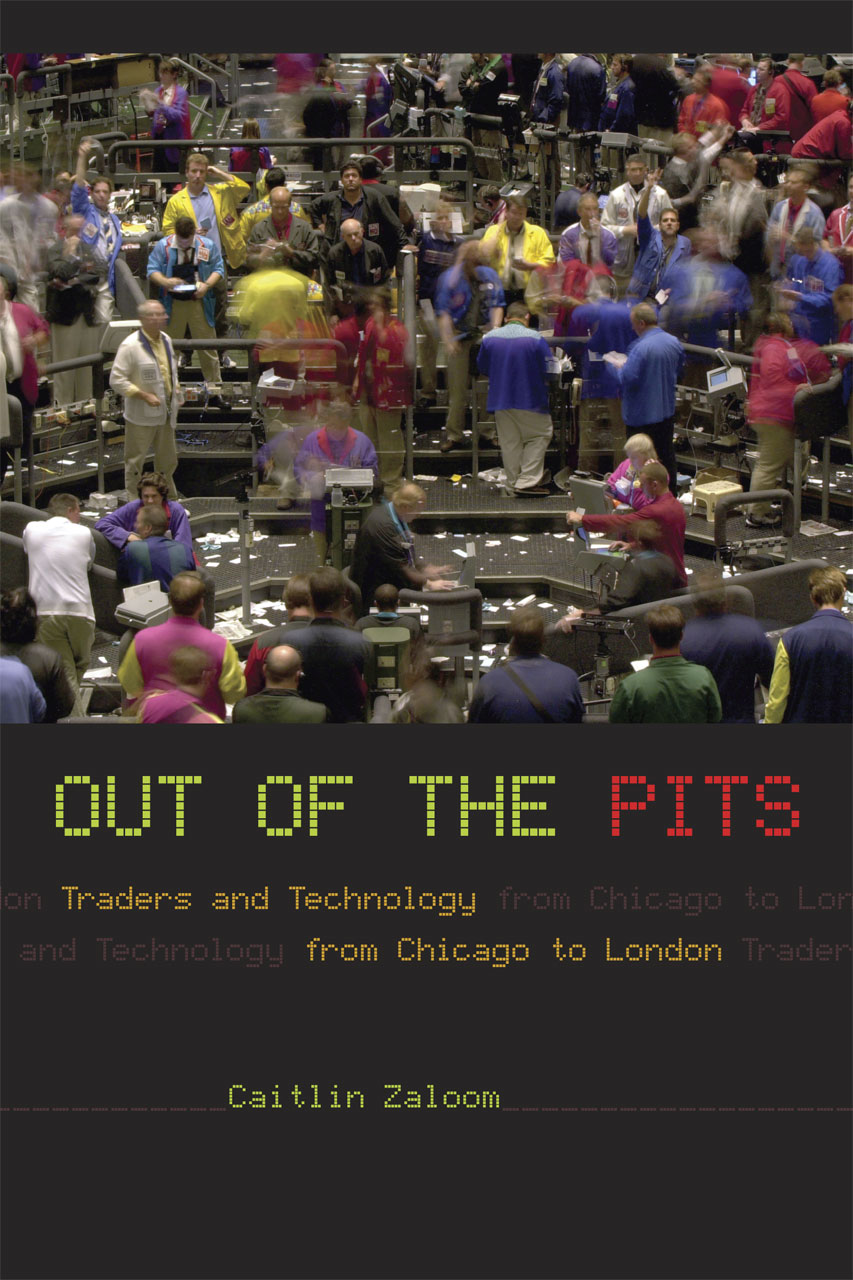 240 pages | 17 halftones | 6 x 9 | © 2006
From New York to Singapore, from Chicago to London, the trading floors of the world's financial markets are icons of global capitalism. Images of them are used on the news all the time—traders burying their heads in their hands when the market is down, their arms flailing in a frenzy when fortunes are rising—to convey the current state of the economy. But these marketplaces, and the cultural life that sustains them, are dissolving into the ether of the digital age: powerful financial institutions are shutting down the trading pits, replacing face-to-face exchanges with an electronic network where traders sit, face to screen, finger to mouse, and compete in a global arena made up of digits and charts. 

Out of the Pits considers the implications of this sea change for everyone involved, from the traders and brokers to the market as a whole. Caitlin Zaloom takes us down to the floor at the Chicago Board of Trade and into a digital dealing room in the City of London. Drawing on her own firsthand experiences as a clerk and a trader and on her unusual access to these key sites of global finance, she explainshow changes at the world's leading financial exchanges have transformed economic cultures and the craft of speculation; how people and places are responding to the digital transition; how traders are remaking themselves to compete in the contemporary marketplace; and how brokers, business managers, and software designers are collaborating to build new financial markets. 

A penetrating and richly detailed account of how cities, culture, and technology shape everyday life in the new global economy, Out of the Pits will be must reading for business buffs or anyone who has ever wondered how financial markets work.


Table of Contents
Contents
Preface
Acknowledgments

Introduction: Finance from the Floor

Chapter 1         Materials of the Market
Chapter 2         Trapped in the Pits
Chapter 3         Social Experiments in London Markets
Chapter 4         The Work of Risk
Chapter 5         Economic Men
Chapter 6         The Discipline of the Speculator
Chapter 7         Ambiguous Numbers

Conclusion: Practical Experiments

Notes
Bibliography
Index
Review Quotes
Donald MacKenzie | London Review of Books
"Zaloom's superb book is a double-site ethnography. She first worked as a runner on the Chicago Board of Trade. . . . The appearance of chaos hid a complex social order, which Zaloom delineates beautifully."
American Journal of Sociology
"A fascinating story, likely to be engaging not only for sociologists, particularly those interested in markets, but for other social scientists and nonacademic audiences as well."
Theory and Society
"Zaloom's account of the social world of the pits . . . demonstrates interpretive skills reminiscent of classics of cultural and economic anthropology. In this book, she has provided an empirically rich and theroretically sophisticated ethnographic account."—Theory and Society
Business  History Review
"In her brilliant qualitative study . . . Zaloom makes a strong case for the relevance of cultural analysis in extending our understanding of the functionality and evolution of organized markets and exchanges. Her excellent achievement demonstrates the power of interdisciplinary approaches in extending the scope and the richness of scholarship in business and economic history."—Business  History Review
For more information, or to order this book, please visit https://press.uchicago.edu
Google preview here