---
The Nature of Diversity
An Evolutionary Voyage of Discovery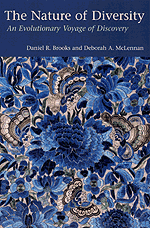 676 pages | 235 line drawings, 44 tables | 6 x 9 | © 2002
All living things on earth—from individual species to entire ecosystems—have evolved through time, and evolution is the acknowledged framework of modern biology. Yet many areas of biology have moved from a focus on evolution to much narrower perspectives.

Daniel R. Brooks and Deborah A. McLennan argue that it is impossible to comprehend the nature of life on earth unless evolution—the history of organisms—is restored to a central position in research. They demonstrate how the phylogenetic approach can be integrated with ecological and behavioral studies to produce a richer and more complete picture of evolution. Clearly setting out the conceptual, methodological, and empirical foundations of their research program, Brooks and McLennan show how scientists can use it to unravel the evolutionary history of virtually any characteristic of any living thing, from behaviors to ecosystems. They illustrate and test their approach with examples drawn from a wide variety of species and habitats.

The Nature of Diversity provides a powerful new tool for understanding, documenting, and preserving the world's biodiversity. It is an essential book for biologists working in evolution, ecology, behavior, conservation, and systematics. The argument in The Nature of Diversity greatly expands upon and refines the arguments made in the authors' previous book Phylogeny, Ecology, and Behavior.
Table of Contents
Contents
Preface
1. Voyage of Discovery
2. Tools for the Voyage
3. Species: Exploring the Entities
4. Historical Biogeography: Exploring Space
5. Functions: Exploring Options
6. Evolutionary Radiations: Exploring Time
7. Community Evolution: Exploring the Space-Time
Continuum
8. Coevolution: Exploring Personal Relationships
9. Biodiversity: Exploring the Future

References
Index
For more information, or to order this book, please visit https://press.uchicago.edu
Google preview here