---
Maximum Security
The Culture of Violence in Inner-City Schools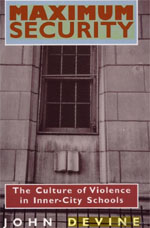 296 pages | xii., 280 p., 10 halftones | 6 x 9 | © 1996
Escalations in student violence continue throughout the nation, but inner-city schools are the hardest hit, with classrooms and corridors infected by the anger, aggression, and criminality endemic to street life. Technological surveillance, security personnel, and paramilitary control tactics to maintain order and safety are the common administrative response. Essential educational programs are routinely slashed from school budgets, even as the number of guards, cameras, and metal detectors continues to multiply.

Based on years of frontline experience in New York's inner-city schools, Maximum Security demonstrates that such policing strategies are not only ineffectual, they divorce students and teachers from their ethical and behavioral responsibilities. Exploring the culture of violence from within, John Devine argues that the security system, with its uniformed officers and invasive high-tech surveillance, has assumed presumptive authority over students' bodies and behavior, negating the traditional roles of teachers as guardians and agents of moral instruction. The teacher is reduced to an information bureaucrat, a purveyor of technical knowledge, while the student's physical well-being and ethical actions are left to the suspect scrutiny of electronic devices and security specialists with no pedagogical mission, training, or interest. The result is not a security system at all, but an insidious institutional disengagement from the caring supervision of the student body.

With uncompromising honesty, Devine provides a powerful portrayal of an educational system in crisis and bold new insight into the malignant culture of school violence.

Table of Contents
Contents
Acknowledgments
Introduction
1: Schools or "Schools"? Competing Discourses on Violence
2: Tutors, Mentors, Ethnographers
3: Foucault, Security Guards, and Indocile Bodies
4: Teachers and the "Marshmallow Effect"
5: Pedagogical Theory and the Mind/Body Duality
6: Violence: The Latest Curricular Specialty
7: "Youth's Youthfulness": An Alternate View
8: Remythologizing Inner-City Schooling
Epilogue: A Jesuitical Fantasy
Notes
Bibliography
Index
For more information, or to order this book, please visit https://press.uchicago.edu
Google preview here