---
In the House of the Hangman
The Agonies of German Defeat, 1943-1949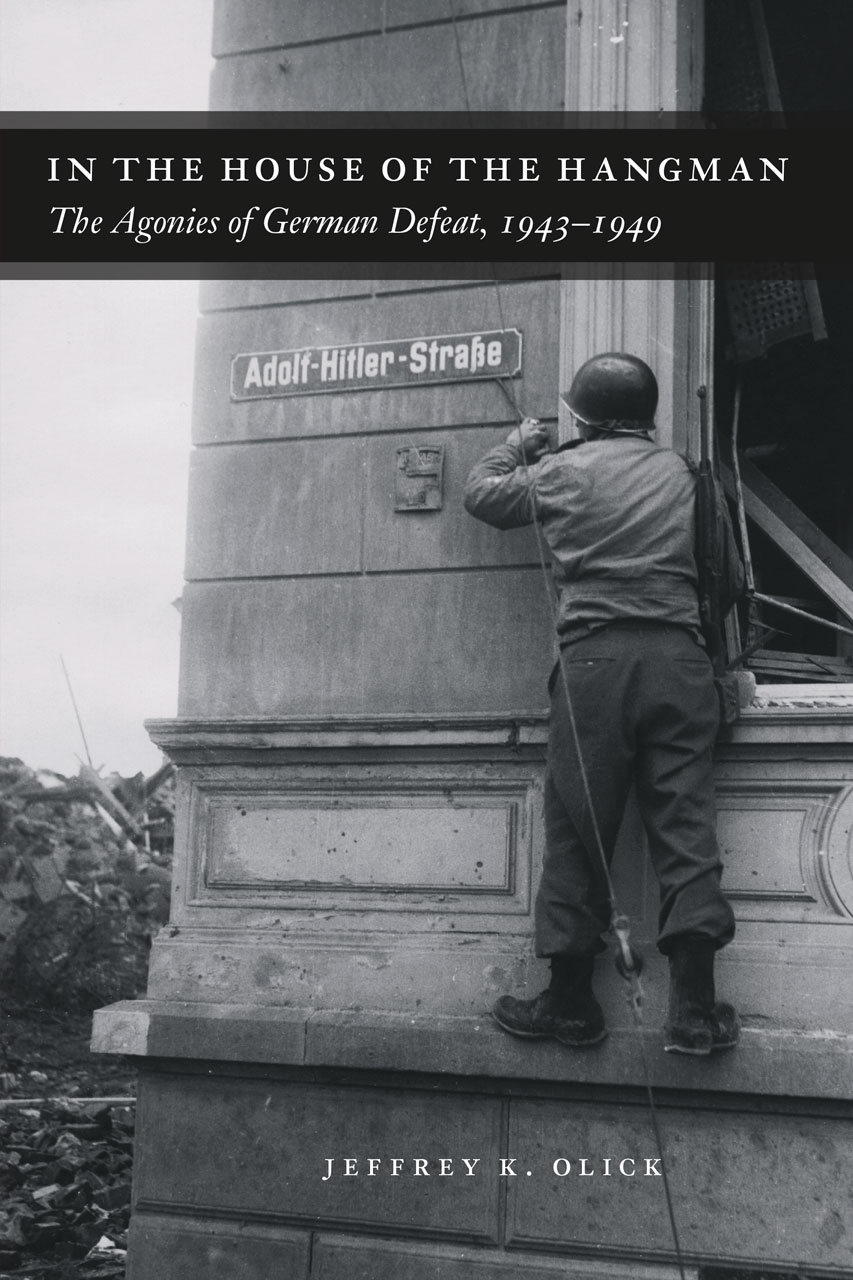 392 pages | 17 halftones | 6 x 9 | © 2005
The central question for both the victors and the vanquished of World War II was just how widely the stain of guilt would spread over Germany. Political leaders and intellectuals on both sides of the conflict debated whether support for National Socialism tainted Germany's entire population and thus discredited the nation's history and culture. The tremendous challenge that Allied officials and German thinkers faced as the war closed, then, was how to limn a postwar German identity that accounted for National Socialism without irrevocably damning the idea and character of Germany as a whole. 

In  the House of the Hangman chronicles this delicate process, exploring key debates about the Nazi past and German future during the later years of World War II and its aftermath. What did British and American leaders think had given rise to National Socialism, and how did these beliefs shape their intentions for occupation? What rhetorical and symbolic tools did Germans develop for handling the insidious legacy of Nazism? Considering these and other questions, Jeffrey K. Olick explores the processes of accommodation and rejection that Allied plans for a new German state inspired among the German intelligentsia. He also examines heated struggles over the value of Germany's institutional and political heritage. Along the way, he demonstrates how the moral and political vocabulary for coming to terms with National Socialism in Germany has been of enduring significance—as a crucible not only of German identity but also of contemporary thinking about memory and social justice more generally.

Given the current war in Iraq, the issues contested during Germany's abjection and reinvention—how to treat a defeated enemy, how to place episodes within wider historical trajectories, how to distinguish varieties of victimhood—are as urgent today as they were sixty years ago, and In the House of the Hangman offers readers an invaluable historical perspective on these critical questions.
Table of Contents
Contents
Preface
List of Abbreviations

Chapter 1. Introduction

Part I. The Victors
Chapter 2. Defining Defeat
Chapter 3. Culture and Character
Chapter 4. Woe to the Vanquished?
Chapter 5. Indictment
Chapter 6. Nurembergs of the Common Man?

Part II. The Vanquished
Chapter 7. Other Germanies?
Chapter 8. The Meanings of German History
Chapter 9. The Psychology of Guilt
Chapter 10. The New Political Theology
Chapter 11. The Politics of the Past?
Chapter 12. The Philosophy of Guilt
Chapter 13. The Recalcitrance of Shame

Chapter 14. Conclusion

Works Cited
Index

Review Quotes
Ruti Teitel, New York Law School
"Sixty years after the war, Jeffrey K. Olick revisits German self-understanding regarding the profound questions of who bears responsibility for wrongdoings of the past. This deft interdisciplinary exploration illuminates the moral, legal, and political discourses of the time to offer a revelatory, nuanced, and fresh account of the critical process of reconstruction of memory in shaping national culture. Olick makes an important contribution as well to the growing fields of collective memory, transitional, and post-conflict justice, offering a sober and timely message about the potential and limits of imposing democratic transition."
Kai Erikson, Yale University
"Jeffrey K. Olick knows that national identities emerge from the way a people makes sense of—which is to say constructs—a shared memory of the past. He has become a reigning master of that intellectual terrain, as this important study of German political culture in the years following World War II attests brilliantly."
Barry Schwartz, University of Georgia
 "In the House of the Hangman is a moral drama that shows how postwar German officials tried to defend the dignity of the state and its citizens against the stigma of National Socialism and the Holocaust during the aftermath of World War II. This is a brilliant book that radically rejects reductive statements about the construction of memory and the invention of the past by recognizing the complexity of the relations between history and human experience."
James Ron | Canadian Journal of Sociology
"A welcome and timely intervention by a prominent sociologist of collective memory."
Frank Biess | Ethics & International Affairs
"This very learned study has much to offer for both the specialist as well as for readers who are new to the wide-ranging literature on German memory. It also should be essential reading for everybody who is interested in the role of memory in democratic regime transitions."
Michaela Hoenicke Moore | H-Net Book Review
"Olick's impressive synthesis brings together an in-depth discussion of Anglo-American political and intellectual approaches to Nazi Germany . . .  with an equally thorough . . . study of German elite responses to Allied policies and charges of guilt. . . . It is a tribute to the important accomplishments of this fine study that it raises questions that lead beyond its boundaries."
Jaimey Fisher | German Quarterly
"A highly effective, syncretic account of the engagement with Nazism and its legacy in the early postwar period."
Norman LaPorte | History
"This book will intrigue historians of 'collective memory' and will provide a number of valuable case studies as texts for students on methodology courses."
Astrid M. Eckert | Central European History
"[The book] offers a helpful synthesis of the postwar intellectual climate and should be of particular use to students unfamiliar with these highly charged debates."
Devin Pendas | Journal of Modern History
"This is a book that deserves a very wide readership, both for the subtlety of Olick's interpretations of key texts and for the verve of his own argumentation."
For more information, or to order this book, please visit https://press.uchicago.edu
Google preview here