---
An Interpretation of Desire
Essays in the Study of Sexuality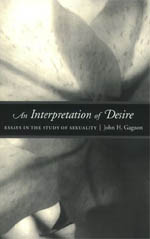 With a foreword by Jeffrey Escoffier
336 pages | 3 line drawings | 6 x 9 | © 2004
An Interpretation of Desire offers a bracing collection of major essays by John Gagnon, one of the leading and most inspiring figures in sexual research. Spanning his work from the 1970s, when he explored the idea that sexuality is mediated through social processes and categories—thus paving the way for Foucault—and then extending through his turn to issues of desire during the 1990s, these essays constitute an essential entrée to the study of sexuality in the twentieth century.

Gagnon may be best known as the coauthor of Sexual Conduct—a book that introduced the seminal concept of sexual scripting—and as one of the coauthors of The Social Organization of Sexuality, a foundational work that is widely considered to be the most important study of human sexual behavior since the Kinsey report. The essays collected here first trace the influence of scripting theory on Gagnon, outlining the radical departure he took from the dominant biological and psychiatric models of sex research. The volume then turns to more recent essays that consider such vexed issues as homosexuality, the theories of Sigmund Freud, HIV, hazardous sex, and the social aspects of sexually transmitted diseases.
Table of Contents
Contents
Preface
Foreword, by Jeffrey Escoffier
Prologue
An Unlikely Story (1990)
Part One: Scripts, Conduct, and Science
Sex Research and Social Change (1975)
Scripts and the Coordination of Sexual Conduct (1974)
Reconsiderations: The Kinsey Reports (1978)
Science and the Politics of Pathology (1987)
Gender Preference in Erotic Relations: The Kinsey Scale and Sexual Scripts (1990)
The Explicit and Implicit Use of the Scripting Perspective in Sex Research (1991)
Part Two: The Quest for Desire
Disease and Desire (1989)
Theorizing Risky Sex (2000)
Epidemics and Researchers: AIDS and the Practice of Social Studies 1992)
Captain Cook and the Penetration of the Pacific (1997)
Who Was That Girl? (2000)
Epilogue
Sexual Conduct Revisited (1998)
References
Index
Review Quotes
Alain Giami | Archives of Sexual Behavior
"The arrival of this series of 'essays in the study of sexuality' .  . has been long awaited. . . . Gagnon is quite a unique character in the landscape of contemporary sex research, since he is interested and deeply involved in the production of theory--a sociological theory of sexuality--and at the same time in the production of empirical research."
E-streams
"A fascinating scholarly treatment of the subject."--<I>E-streams<I>
Lenore Manderson | Journal of the History of Sexuality
"An invaluable account of developments in the study of sexuality, sexual behavior, and society in the second half of the twentieth century through the work of one man. John Gagnon has perhaps contributed more than any other individual in taking sexual research from the margins to the center. . . . Book reviews cannot do justice to a volume when each chapter within it deserves full engagement, analysis, and debate."
For more information, or to order this book, please visit https://press.uchicago.edu
Google preview here