---
Hunting for Frogs on Elston, and Other Tales from Field & Street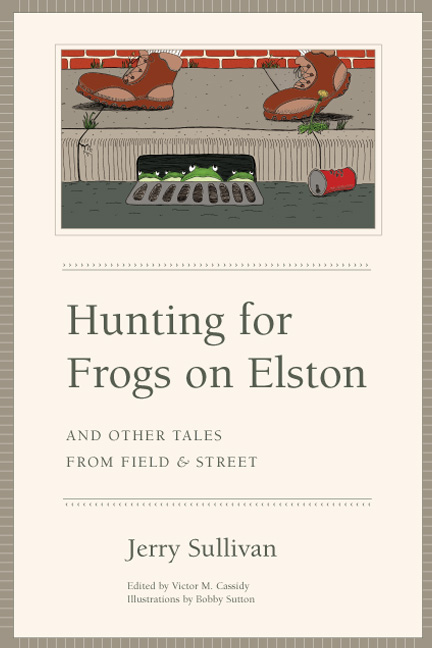 320 pages | 33 line drawings, 3 maps | 6 x 9 | © 2004
A selection of savvy observations on urban ecology from one of the Midwest's foremost authorities on the subject, Hunting for Frogs on Elston collects the best of naturalist Jerry Sullivan's weekly Field & Street columns, originally published in the Chicago Reader. Engaging, opinionated, inspiring, and occasionally irreverent, Hunting for Frogs on Elston pays tribute to Chicago's natural history while celebrating one of its greatest champions.

Published in association with the Chicago Wilderness coalition, Hunting for Frogs on Elston comprehensively chronicles Chicagoland's unique urban ecology, from its indigenous prairie and oft-delayed seasons to its urban coyotes and passenger pigeons. In witty, informed prose, Sullivan evokes his adventures netting dog-faced butterflies, hunting rattlesnakes, and watching fireflies mate. Inspired by regional flora and fauna, Sullivan ventures throughout the metropolis and its environs in search of sludge worms, gyrfalcons, and wild onions. In reporting his findings to otherwise oblivious urbanites, Sullivan endeavors to make "alienated, atomized, postmodern people feel at home, connected to something beyond ourselves."

In the sprawling Chicagoland region, where an urban ecosystem teeming with remarkable life evolves between skyscrapers and train tracks, no writer chronicled the delicate balance of nature and industry more vividly than Jerry Sullivan. An homage to the urban ecology Sullivan loved so dearly, Hunting for Frogs on Elston is his fitting legacy as well as a lasting gift to the urban naturalist in us all.
Table of Contents
Contents
Acknowledgments
Introduction by Glenda Daniel
1 State of the Prairie
Prairie Cathedral 9/27/85
Fragmented Grasslands 5/22/87
Managing Nature 10/9/87
Too Many Deer 1/3/92
Middle Fork Savanna 7/9/93
Biodiversity 2/22/91
Transanimaling 6/26/92
Prairie September 9/25/98
2 The Seasons
Spring Comes to Chicago 2/24/95
Early Spring 3/13/98
Early Risers 3/9/84
The Ephemerals' Moment 4/12/85
Cherries 7/11/97
Bees 7/3/98
Fall Flora 10/17/97
Turkeys 11/16/84
Winter Reading 12/20/85
Squirrels' Nests 1/27/95
Ice Fishing 1/20/84
Feeding Urban Birds 12/12/86
3 Creatures Great and Small
Hunting for Frogs on Elston Avenue 5/16/86
Caterpillars 8/30/85
Woodchucks 3/8/91
Counting Butterflies 7/15/88
Sludgeworms 2/14/92
Rattlesnake Hunting 8/14/92
Ant Transplant 3/27/87
Searching for Bats 8/10/84
Fireflies 7/19/85
Migrating Monarchs 9/7/84
Badgers 11/23/90
Chorus Frogs 3/27/98
Coyotes in the City 2/2/96
Yellow Jackets 9/11/87
Reading Animal Tracks 1/25/91
4 Birds and More Birds
The Bird Hunter 5/10/85
Woodpeckers 1/16/87
Looking for a Gyrfalcon 2/8/91
Sparrows 4/6/84
Red-Tailed Hawks 3/13/87
Birding in North Channel 7/17/92
Kestrels 1/18/85
Savanna Birds 2/19/93
Feathers 4/10/87
Winter Flocks 12/1/89
Christmas Bird Count 1/8/88
How to Find Nests 6/14/91
Mourning Doves 3/24/95
Goldfinches 9/28/90
The Passenger Pigeon 4/4/86
5 Plants
Healthy Communities 2/27/98
Oak Trees 12/16/94
Sedges 6/27/97
Nightshade 6/13/86
Purple Loosestrife 9/5/97
Jewelweed 10/3/86
Hazels 10/11/96
Raspberries 7/17/98
Wild Onions 1/31/92
Eastern Prairie Fringed Orchid 10/1/93
6 People and Places
Field Guides 9/8/89
Surveying Illinois 6/21/96
Inland Marsh 1/5/96
Women Naturalists 7/25/86
Bird-Watchers 8/28/87
Henry Chandler Cowles 11/6/98
Poplar Creek Preserve 9/6/91
Lichen Scholar 11/3/95
Dinosaurs and Birds 11/9/90
Roger Tory Peterson 8/16/96
Review Quotes
Aaron M. Ellison and Jessica L. Butler | Quarterly Review of Biology
"Sullivan had a unique passion for urban ecology and his writings bring out the naturalist in all of us. A master of the short essay (each is 1000 to 1500 words), the author captivated his audience by skillfully blending ecological theory, natural history, and humor. . . . . An excellent resource for any urban dweller with an interest in natural history. . . . The essays can be enjoyed equally by scientists and nonscientists, whether or not they have ever been to or lived in Chicago. This book is also a 'must read' for any high school or college environmental science class, especially [in] the growing field of urban ecology."
For more information, or to order this book, please visit https://press.uchicago.edu
Google preview here