---
House Full
Indian Cinema and the Active Audience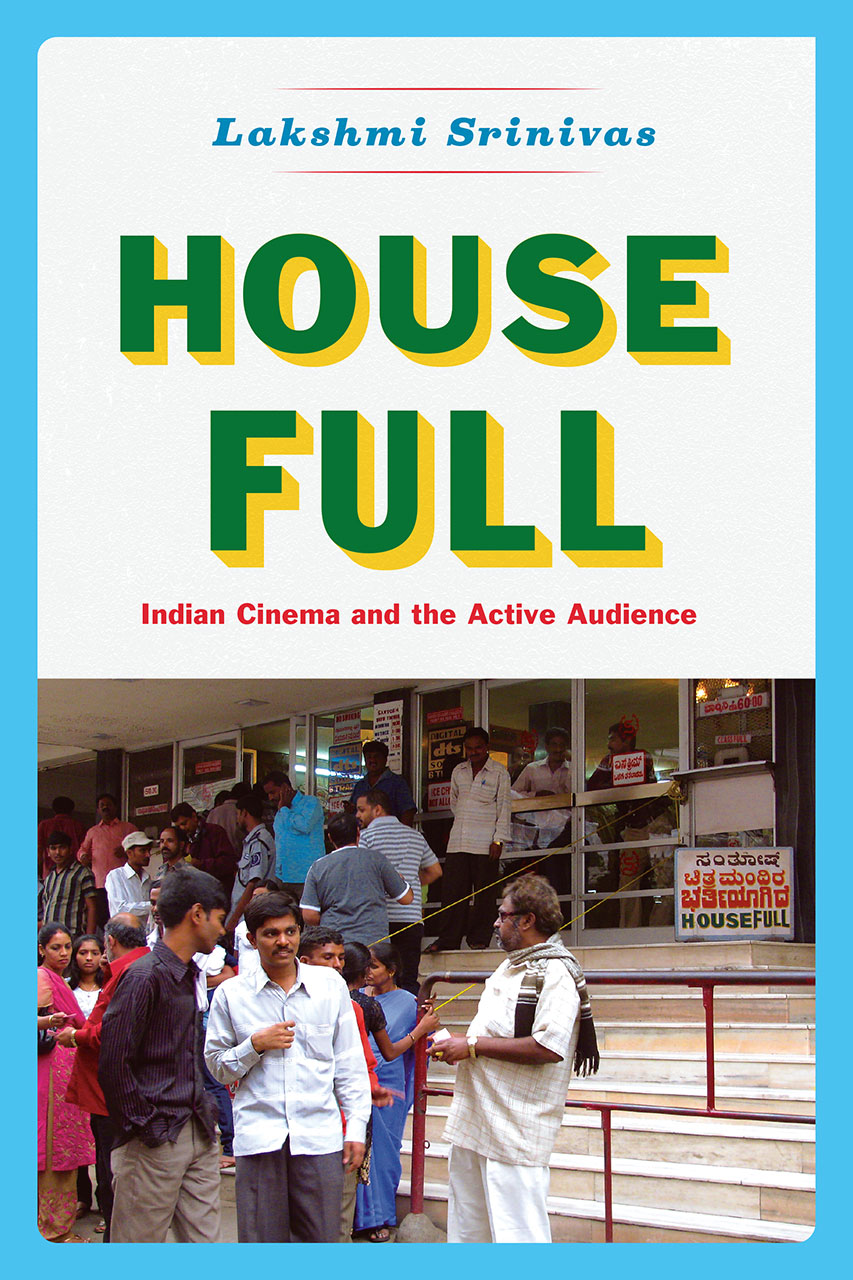 See a
map
to accompany the book.
312 pages | 16 halftones, 1 table | 6 x 9 | © 2016
India is the largest producer and consumer of feature films in the world, far outstripping Hollywood in the number of movies released and tickets sold every year. Cinema quite simply dominates Indian popular culture, and has for many decades exerted an influence that extends from clothing trends to music tastes to everyday conversations, which are peppered with dialogue quotes.
            With House Full, Lakshmi Srinivas takes readers deep into the moviegoing experience in India, showing us what it's actually like to line up for a hot ticket and see a movie in a jam-packed theater with more than a thousand seats. Building her account on countless trips to the cinema and hundreds of hours of conversation with film audiences, fans, and industry insiders, Srinivas brings the moviegoing experience to life, revealing a kind of audience that, far from passively consuming the images on the screen, is actively engaged with them. People talk, shout, whistle, cheer; others sing along, mimic, or dance; at times audiences even bring some of the ritual practices of Hindu worship into the cinema, propitiating the stars onscreen with incense and camphor. The picture Srinivas paints of Indian filmgoing is immersive, fascinating, and deeply empathetic, giving us an unprecedented understanding of the audience's lived experience—an aspect of Indian film studies that has been largely overlooked.
Table of Contents
Contents
Acknowledgments
Chapter 1 Introduction
Chapter 2 Participatory Filmmaking and the Anticipation of the Audience
Chapter 3 Cinema Halls, Audiences, and the Importance of Place
Chapter 4 Audiences Negotiate Tickets and Seating
Chapter 5 Families, Friendship Groups, and Cinema as Social Experience
Chapter 6 Active Audiences and the Constitution of Film Experience
Chapter 7 "First Day, First Show": A Paroxysm of Cinema
Chapter 8 Conclusion
Notes
References
Index
Review Quotes
American Journal of Sociology
A most enjoyable and even fun read (rare in
sociology) that provides both an acutely immersive and profoundly empathetic
rendering. . .Drawing from a small, but potent, body of work on ethnographic studies of
film reception, Srinivas formulates an impressive research design in Bangalore,
India. . .House Full is an impressive, necessary, and innovative
study that pushes conventional sociological renderings of media toward
their social realities.
Visual Anthropology
"Srinivas's book is a refreshing contribution to the study of popular south Asian film, by its acknowledgement of the ways in which different actors, including the audiences, make films, but also by its focus on the social spaces that go beyond the theater itself. It offers a rich ethnographic account on the practices and experiences that surround cinemagoing and its social situatedness. The book knits together rich fieldwork data, personal experiences, theory and analysis and shows how the trivia of cinemagoing do matter. One of the most innovative points made in the book is how spatial cultures define cinemagoing, something barely touched upon in earlier accounts on cinema in South Asia and beyond. Taking this together the book offers a range of material and observations to reflect on the cultural production of film."
Philip Lutgendorf | Asian Ethnology
"That such practices of reception, even in darkened cinema halls of the late twentieth century, remained quite 'normal' for a significant segment of humanity has been richly documented by sociologist Lakshmi Srinivas in House Full, her engaging study of the 'active audience' of South Asian popular cinema. Based on extensive fieldwork, primarily in the late 1990s, in the burgeoning metropolis of Bangalore (now officially Bengaluru) in Karnataka state, Srinivas's book turns its focus away from the 'reading' of films as 'texts'—the predominant mode of cinematic analysis, which, she argues, is itself a byproduct of the learned discipline of silent, individualized reading—to look seriously at audience reception and its attendant practices, permitting her to conceptualize and examine the presentation of films as collectively-staged 'performance events.' . . . The examination of . . . messages must remain, in my view, a desideratum of comprehensive film studies, though additional and supplemental research on the context of film reception—so excellently pioneered in House Full—should be equally welcomed."
Economic and Political Weekly
"House Full is a welcome addition to research on Indian cinema in general and audiences in particular. This is the most detailed record yet of an important moment in the history of cinema and urban cultures in India. . .The book is well-researched and is accessible to scholars and students alike."
Symbolic Interaction
"Srinivas powerfully demonstrates that in India, cinema-going is foremost a social event undertaken and experienced in often large groups. The book has eight captivating chapters that offer the reader detailed observations of the organization of making and consuming Indian films as well as a discussion of the theoretical contribution of the study to a sociology of cinema-going in particular and a sociology of film in general. . . . Also fascinating is Srinivas's treatment of the importance of space and locality for the film experience. In short, the book provides a deluge of resources to fundamentally rethink reception as conceived by scholars in media and cultural studies that thus far have often focused on the individual viewer of film as an interpreter or 'reader' of content preproduced by film creators. Srinivas's ethnography powerfully demonstrates that film consumption is not simply amatter of individual viewers' interpretations but an interactional process through which experiences emerge that feed back into the production of films. Therewith, it offers numerous points of connections to interactionist debates about media production and media consumption."
Howard S. Becker, author of What About Mozart? What About Murder?
"Srinivas's originality starts with her fundamental insight that understanding film requires understanding every aspect of film: its distribution as well as its production, and, especially, the role of the audience in choosing, buying tickets for, sitting through, and reacting to movies. Srinivas makes clear that differences in film viewing make us aware that something we have taken for granted as a fixed, unchanging aspect of filmgoing is actually a variable quantity, whose variations shape specific film experiences for real people in various places and times. In so doing, she outlines a vast field of study of comparative film experience in different social and cultural circumstances. This is an excellent book."
Paul Hockings, editor, Visual Anthropology
"This is urban ethnography at its best! Srinivas has immersed herself in the filmgoing activities of a large city, engaging at the same time with the film industry, the contemporary Indian urban class structure, the heterogeneity of a city's population, and the negotiations that occur between different social elements on a daily basis. Few books on the Indian cinema range so widely to pull together the observations and obligations of film stars, producers, distributors, theater managers, ushers, guards, moviegoers, film critics, fans, and the 'low-life' scalpers and hangers-on who congregate around Bangalore's dozens of cinemas. The detail of personal interaction that Srinivas offers is unparalleled and her breadth of reading on the film industry and grasp of pertinent theory is impressive."
Sudhir Kakar
"This book is a wonderful, nuanced portrait of one of the chief creators of popular Indian cinema: its audience of hundreds of millions. Srinivas's writing is as lively as the phenomena she so richly details."
Sara Dickey, author of Cinema and the Urban Poor in South India
"Drawing on over fifteen years of observation, employing innovative research methods, and collecting an exceptional breadth of data, Srinivas reveals provocative sociological lessons in mundane activities that most of us would miss, such as the ticket queue, or the mahurat ritual that marks the official start to filming. Her methodological and conceptual insights can be applied to any large city in India, not only those sites as linguistically and culturally diverse or as cosmopolitan as Bangalore, and they offer fruitful models for other scholars of urban India."
Ien Ang, author of Desperately Seeking the Audience
"In House Full, Srinivas provides us with a rich, insightful, and evocative ethnography of cinema audiences in India, in a time when the place and role of cinema in this hugely diverse and dynamic country is rapidly changing as a consequence of the globalization of the multiplex. Far from being an individualized, anonymous experience, as is the case predominantly in the West, the cinema experience in India is pictured by Srinivas as a deeply social, collective, and performative act."
For more information, or to order this book, please visit https://press.uchicago.edu
Google preview here