---
A History of the Twentieth Century in 100 Maps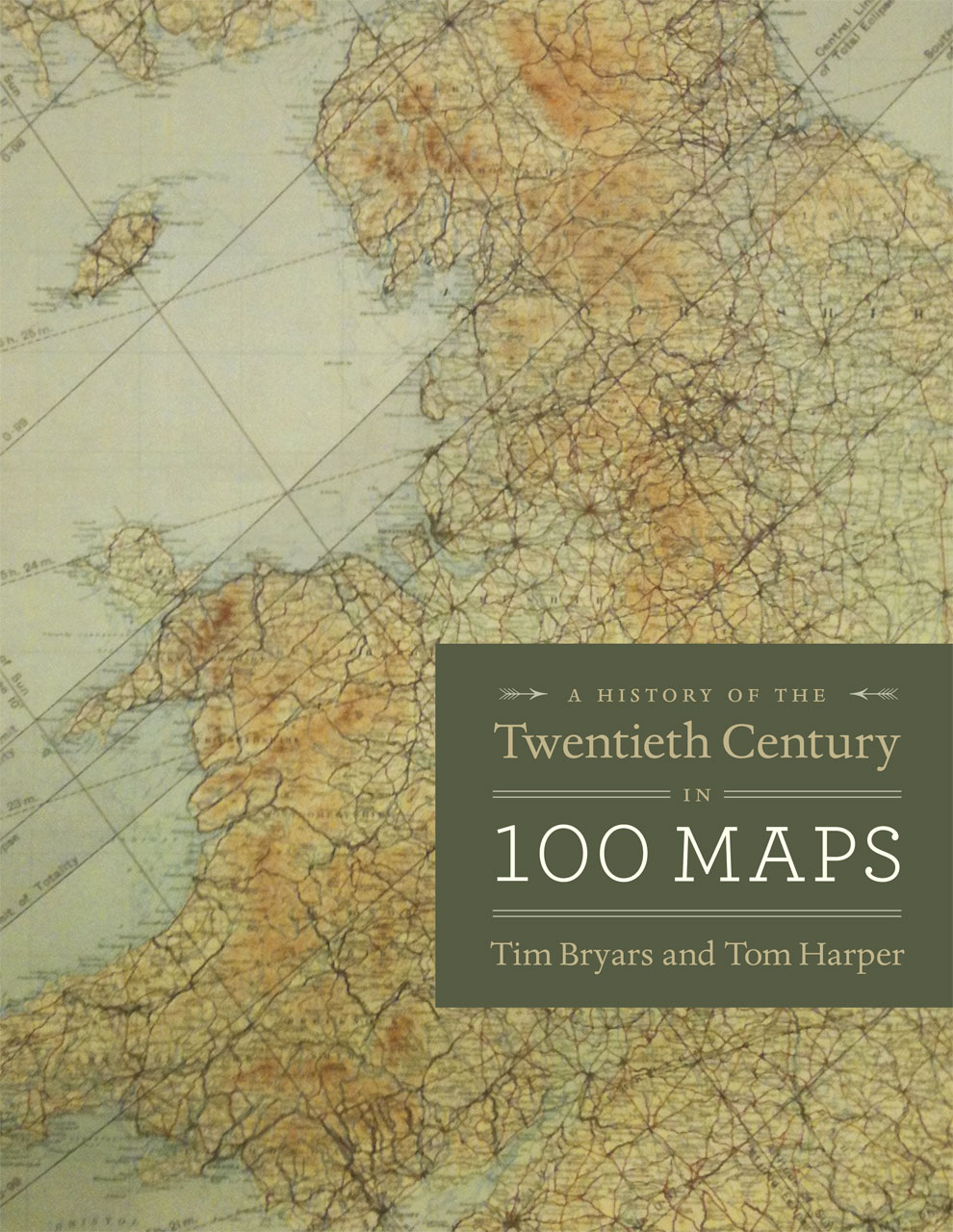 224 pages | 100 color plates | 8 1/2 x 11 | © 2014
The twentieth century was a golden age of mapmaking, an era of cartographic boom. Maps proliferated and permeated almost every aspect of daily life, not only chronicling geography and history but also charting and conveying myriad political and social agendas. Here Tim Bryars and Tom Harper select one hundred maps from the millions printed, drawn, or otherwise constructed during the twentieth century and recount through them a narrative of the century's key events and developments.
           
As Bryars and Harper reveal, maps make ideal narrators, and the maps in this book tell the story of the 1900s—which saw two world wars, the Great Depression, the Swinging Sixties, the Cold War, feminism, leisure, and the Internet. Several of the maps have already gained recognition for their historical significance—for example, Harry Beck's iconic London Underground map—but the majority of maps on these pages have rarely, if ever, been seen in print since they first appeared. There are maps that were printed on handkerchiefs and on the endpapers of books; maps that were used in advertising or propaganda; maps that were strictly official and those that were entirely commercial; maps that were printed by the thousand, and highly specialist maps issued in editions of just a few dozen; maps that were envisaged as permanent keepsakes of major events, and maps that were relevant for a matter of hours or days.
           
As much a pleasure to view as it is to read, A History of the Twentieth Century in 100 Maps celebrates the visual variety of twentieth century maps and the hilarious, shocking, or poignant narratives of the individuals and institutions caught up in their production and use.
Table of Contents
Contents
Introduction
A Weary Titan? 1900–1918
Top Dog! 1919–1945
Bust to Boom to Bust. 1946–1972
Out of the Red and Into the Blue. 1973–1999
Postscript  
Endnotes
List of Maps
Further Reading
Picture Credits
Index 
Review Quotes
Claire Fallon | Huffington Post
"Charts the political and social upheavals of the last century by means of maps, digging below the functional surface to reveal how maps of the time reflected popular ideas, prejudices, and waves of progress. . . . The highly eclectic result serves in itself as a reminder of the myriad ways in which we see and interpret the world around us."
Henrietta Verma | Library Journal
"Chronicles 'the first period of near-universal map literacy.' Its beautiful entries are not only traditional maps; the authors' careful language shows that some of the items that were 'printed, drawn, or otherwise constructed' last century were technically diagrams. Others showed imaginary places or were rendered as, for example, postcards. The images are accompanied by lengthy histories of the items and the circumstances under which they were created, making the work ideal for readers of cultural and cartographic history."
Henry S. Cohn | The Federal Lawyer
"It has been said that history is nothing more than chronology and geography. Two British specialists in antiquarian maps, Tim Bryars and Tom Harper, aim to prove this point with their book, A History of the Twentieth Century in 100 Maps, setting forth maps that serve as historic markers of the 20th century. . . . A History of the Twentieth Century in 100 Maps succeeds in showing how maps depict the brutalities and wonders of the last century."
For more information, or to order this book, please visit https://press.uchicago.edu
Google preview here