---
The Gang
A Study of 1,313 Gangs in Chicago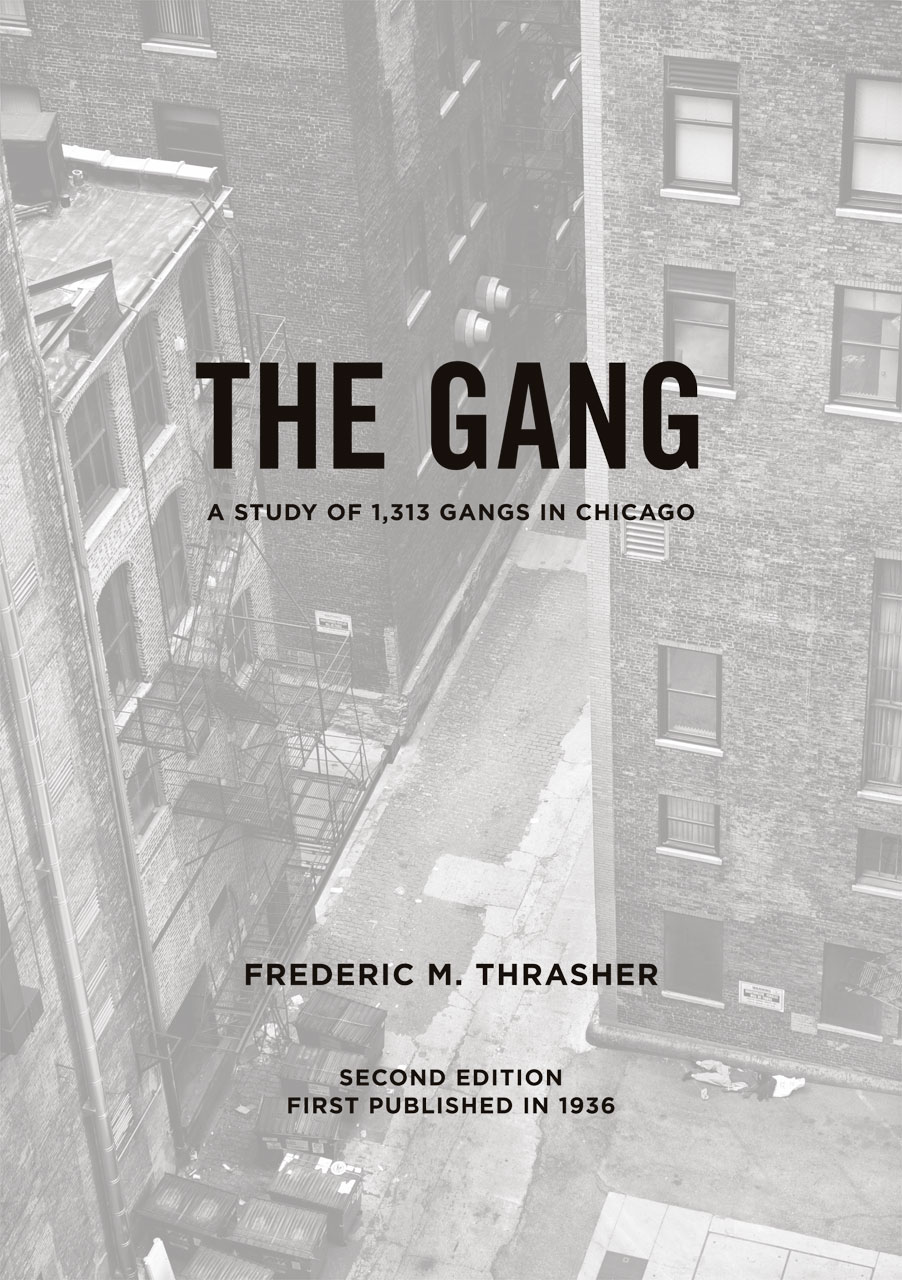 Thasher's "Chicago Gangland Map" is
available online
from the University of Chicago Library.
628 pages | 20 halftones | 5 x 8 | © 1929, 1936, 1963
While gangs and gang culture have been around for countless centuries, The Gang is one of the first academic studies of the phenomenon. Originally published in 1927, Frederic Milton Thrasher's magnum opus offers a profound and careful analysis of hundreds of gangs in Chicago in the early part of the twentieth century. With rich prose and an eye for detail, Thrasher looked specifically at the way in which urban geography shaped gangs, and posited the thesis that neighborhoods in flux were more likely to produce gangs. Moreover, he traced gang culture back to feudal and medieval power systems and linked tribal ethos in other societies to codes of honor and glory found in American gangs. Thrasher approaches his subject with empathy and insightfulness, and creates a multifaceted and textured portrait that still has much to offer to readers today. With handsome images that evoke the era, this unabridged edition of The Gang not only explores an important moment in the history of Chicago, but also is itself a landmark in the history of sociology and subcultural theory.
Table of Contents
Contents
LIST OF ILLUSTRATIONS
MAPS AND DIAGRAMS
TABLES
PART I. THE NATURAL HISTORY OF THE GANG
INTRODUCTION

I. GANGLAND
II. GANGING
III. WHAT IS A GANG?
IV. TYPES OF GANGS

PART II. LIFE IN THE GANG

INTRODUCTION

V. THE QUEST FOR NEW EXPERIENCE
VI. THE MOVIES AND THE DIME NOVEL
VII. THE ROLE OF THE ROMANTIC
VIII. PLAYGROUNDS OF THE GANG
IX. JUNKING AND THE RAILROADS
X. WANDERLUST.
XI. GANG WARFARE
XII. RACE AND NATIONALITY IN THE GANG
XIII. SEX IN THE GANG

PART III. ORGANIZATION AND CONTROL IN THE GANG

INTRODUCTION

XIV. SOCIAL PATTERNS AND THE GANG
XV. GROUP CONTROL IN THE GANG
XVI. THE STRUCTURE OF THE GANG
XVII. PERSONALITY AND THE ACTION PATTERN OF THE GANG
XVIII. LEADERSHIP IN THE GANG

PART IV. THE GANG PROBLEM
INTRODUCTION

XIX. DEMORALIZATION IN THE GANG
XX. THE GANG AND ORGANIZED CRIME
XXI. THE GANG IN POLITICS
XXII. ATTACKING THE PROBLEM
XXIII. CRIME PREVENTION AND THE GANG

SELECTED BIBLIOGRAPHY

INDEX 
For more information, or to order this book, please visit https://press.uchicago.edu
Google preview here