---
The Early History of the Ancient Near East, 9000-2000 B.C.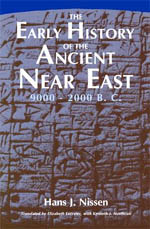 224 pages | 64 halftones, 43 line drawings | 6 x 9 | © 1988
Hans J. Nissen here provides a much-needed overview of 7000 years of development in the ancient Near East from the beginning of settled life to the formation of the first regional states. His approach to the study of Mesopotamian civilization differs markedly from conventional orientations, which impose a sharp division between prehistoric and historic, literate, periods. Nissen argues that this approach is too rigid to explain the actual development of that civilization. He deemphasizes the invention of writing as a turning point, viewing it as simply one more phase in the evolution of social complexity and as the result of specific social, economic, and political factors.

With a unique combination of material culture analysis written data, Nissan traces the emergence of the earliest isolated settlements, the growth of a network of towns, the emergence of city states, and finally the appearance of territorial states. From his synthesis of the prehistoric and literate periods comes a unified picture of the development of Mesopotamian economy, society, and culture. Lavishly illustrated, The Early History of the Ancient Near East, 9000-2000 B.C. is an authoritative work by one of the most insightful observers of the evolution and character of Mesopotamian civilization.

Table of Contents
Contents
List of Figures
Preface to English Edition
Preface to German Edition
1. Sources and Problems
2. The Time of Settlement (ca. 9000-6000 B.C.)
3. From Isolated Settlement to Town (ca. 6000-3200 B.C.)
4. The Period of Early High Civilization (ca. 3200-2800 B.C.)
5. The Period of the Rival City-States (ca. 2800-2350 B.C.)
6. The Period of the First Territorial States (ca. 2350-2000 B.C.)
7. Prospects
Bibliography
Index

For more information, or to order this book, please visit https://press.uchicago.edu
Google preview here