---
Drag Queens at the 801 Cabaret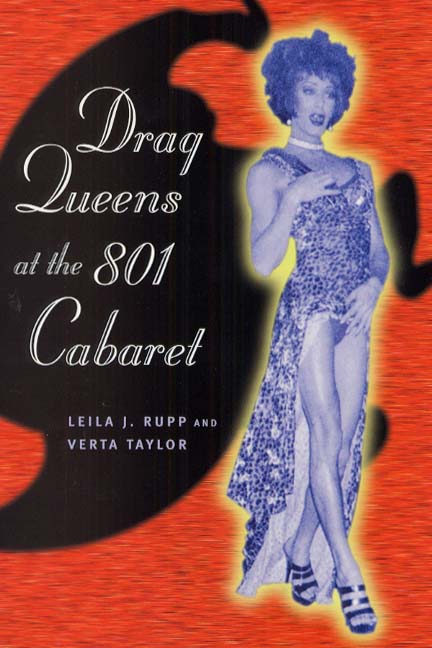 274 pages | 46 halftones | 6 x 9 | © 2003
It's Saturday night in Key West and the Girlie Show is about to begin at the 801 Cabaret. The girls have been outside on the sidewalk all evening, seducing passersby into coming in for the show. The club itself is packed tonight and smoke has filled the room. When the lights finally go down, statuesque blonds and stunning brunettes sporting black leather miniskirts, stiletto heels, and see-through lingerie take the stage. En Vogue's "Free Your Mind" blares on the house stereo. The crowd roars in approval.

In this lively book, Leila J. Rupp and Verta Taylor take us on an entertaining tour through one of America's most overlooked subcultures: the world of the drag queen. They offer a penetrating glimpse into the lives of the 801 Girls, the troupe of queens who perform nightly at the 801 Cabaret for tourists and locals. Weaving together their fascinating life stories, their lavish costumes and eclectic music, their flamboyance and bitchiness, and their bawdy exchanges with one another and their audiences, the authors explore how drag queens smash the boundaries between gay and straight, man and woman, to make people think more deeply and realistically about sex and gender in America today. They also consider how the queens create a space that encourages camaraderie and acceptance among everyday people, no matter what their sexual preferences might be.

Based on countless interviews with more than a dozen drag queens, more than three years of attendance at their outrageous performances, and even the authors' participation in the shows themselves, Drag Queens at the 801 Cabaret is a witty and poignant portrait of gay life and culture. When they said life is a cabaret, they clearly meant the 801.
Table of Contents
Contents
List of Illustrations
Preface
Cast of Characters
1 Introduction: "What Makes a Man a Man?"
Section I: "I'm Beautiful, Dammit!"
2 Getting Dressed
3 Becoming Drag Queens
4 Being a Drag Queen
Section II: "Take Me or Leave Me"
5 The Conch Republic
6 On the Street
7 A Plate of Food and a Drag Show
8 "The Hero Would Be You"
Section III: "Life Is a Cabaret"
9 "She Works Hard for the Money"
10 Performing Protest
Section IV: "We Are Family"
11 "Crazy World"
12 The 801 Family
Section V: "Free Your Mind"
13 In a Long Tradition
14 "We're Not Just Lip-Synching Up Here, We're Changing Lives"
15 A Night at the 801
16 Theoretical Conclusions: Thinking about Drag as Social Protest
Appendix: Methods
Notes
Bibliography
Index
Review Quotes
Judith Halberstam | Journal of the History of Sexuality
"The book will certainly find a general audience, and I imagine the queens of the 801 Cabaret themselves will find it to be fabulous bedtime reading. . . . [The book] will stand as a testament to the rich and imaginative texture of queer lives in the twenty-first century."
Gay & Lesbian Review
"Rupp and Taylor have trumped all the other researchers with Drag Queens at the 801 Cabaret, an in-depth look at a Duval Street institution in Key West. Scholarly, well-informed, and filled with fascinating people and their stories—the drag queens in their double lives as well as those who associate with them—the book is utterly entertaining."
For more information, or to order this book, please visit https://press.uchicago.edu
Google preview here