---
The Chemical Age
How Chemists Fought Famine and Disease, Killed Millions, and Changed Our Relationship with the Earth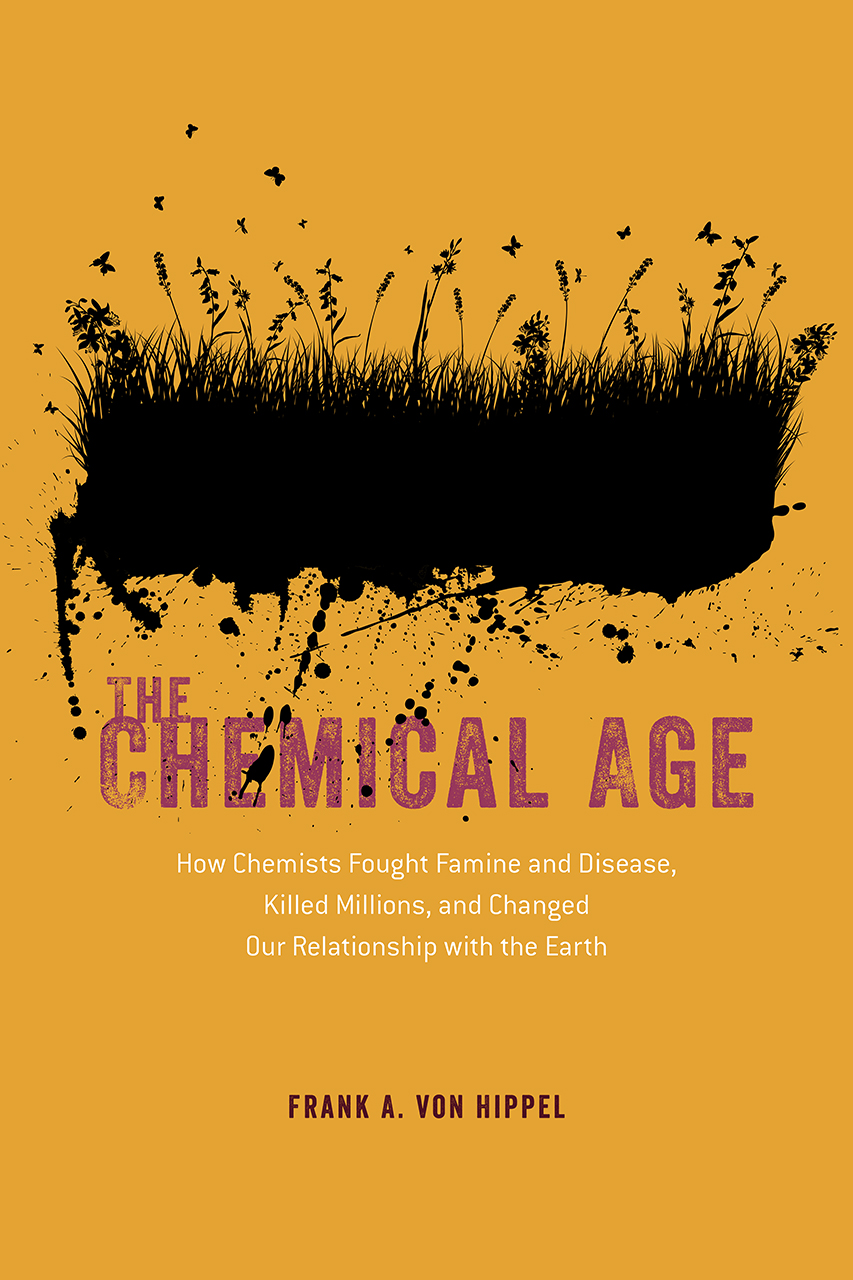 368 pages | 28 halftones | 6 x 9 | © 2020
For thousands of years, we've found ways to scorch, scour, and sterilize our surroundings to make them safer. Sometimes these methods are wonderfully effective. Often, however, they come with catastrophic consequences—consequences that aren't typically understood for generations.
 
The Chemical Age tells the captivating story of the scientists who waged war on famine and disease with chemistry. With depth and verve, Frank A. von Hippel explores humanity's uneasy coexistence with pests, and how their existence, and the battles to exterminate them, have shaped our modern world. Beginning with the potato blight tragedy of the 1840s, which led scientists on an urgent mission to prevent famine using pesticides, von Hippel traces the history of pesticide use to the 1960s, when Rachel Carson's Silent Spring revealed that those same chemicals were insidiously damaging our health and driving species toward extinction. Telling the story of these pesticides in vivid detail, von Hippel showcases the thrills and complex consequences of scientific discovery. He describes the invention of substances that could protect crops, the emergence of our understanding of the way diseases spread, the creation of chemicals used to kill pests and people, and, finally, how scientists turned those wartime chemicals on the landscape at a massive scale, prompting the vital environmental movement that continues today.
 
The Chemical Age is a dynamic, sweeping history that exposes how humankind's affinity for pesticides made the modern world possible—while also threatening its essential fabric.
Table of Contents
Contents
Prologue
Author's Note
Part 1: Famine
Chapter 1. Potato Blight (1586–1883)
Part 2: Plague
Chapter 2. Marsh Fever (2700 BCE–1902)
Chapter 3. Black Vomit (1793–1953)
Chapter 4. Jail Fever (1489–1958)
Chapter 5. Black Death (541–1922)
Part 3: War
Chapter 6. Synthetic Chemicals of War (423 BCE–1920)
Chapter 7. Zyklon (1917–1947)
Chapter 8. DDT (1939–1950)
Chapter 9. I. G. Farben (1916–1959)
Part 4: Ecology
Chapter 10. Resistance (1945–1962)
Chapter 11. Silent Spring (1962–1964)
Chapter 12. Wonder and Humility (1962–The Future)
Epilogue  
Acknowledgments
Map of Place Names
Literature Cited
Index
Review Quotes
Library Journal
"Von Hippel's leisurely and wide-ranging history will raise readers' awareness about the power of toxic chemical compounds introduced into our environment."
Nature
"Ecologist Von Hippel delves into historical accounts to tell the stories of the scientists who developed pesticides and chemical weapons, and trace their impact on the world."
New Scientist
"Reveals that while the chemical industry has averted famines and vanquished diseases, it has also driven countless species towards extinction."
Jessa Crispin, Public Intellectual Podcast
"Von Hippel takes us through the surprising relationship of disease and war, from how the treatment of malaria facilitated colonialism, how weapons against disease carrying pests were used against human beings in war and riot, the development of tear gas, and the coming insect apocalypse."
Thomas E. Lovejoy, coeditor of Biodiversity and Climate Change: Transforming the Biosphere
"A superbly written and riveting account of scientific myopia: the employment of chemistry to solve major problems while doggedly oblivious to the consequent ravages those solutions cast upon life on earth. Destined to be a classic, this would top the fiction bestseller list, except it is solid truth. The Chemical Age should be required reading for everyone."
McKay Jenkins, author of Food Fight: GMOs and the Future of the American Diet
"Our love affair with industrial chemicals may have heroic origins, but it also has Promethean consequences that we are only beginning to fully comprehend. The Chemical Age is an essential addition to this comprehension, and a delightful mix of deep research and vivid anecdotal storytelling."
David Kinkela, author of DDT and the American Century
"The Chemical Age is a vital and refreshing synthesis of public health, agricultural development, war, and pesticide history. With crisp writing, von Hippel draws from an impressive breadth of sources to tell a revealing and truly thought-provoking story."
For more information, or to order this book, please visit https://press.uchicago.edu
Google preview here