---
Community Health Equity
A Chicago Reader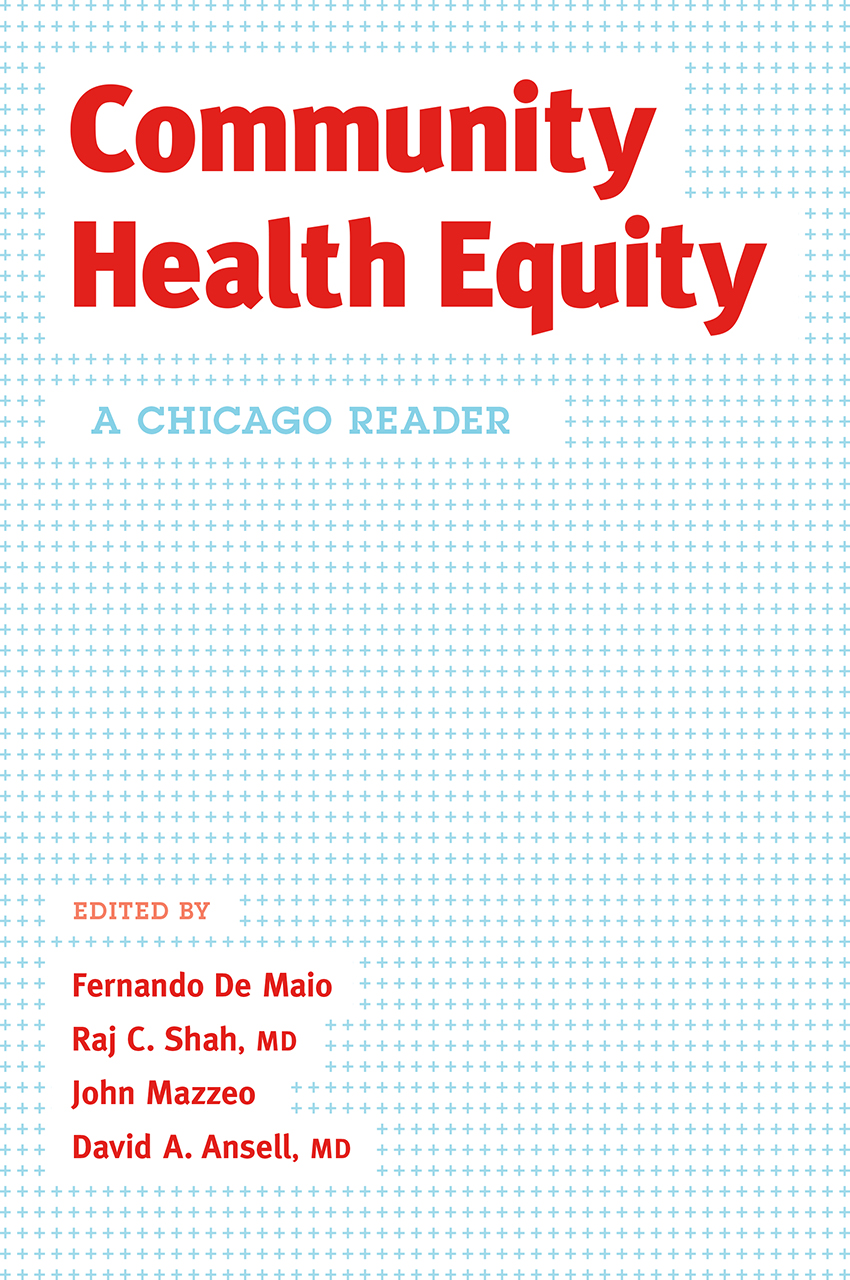 400 pages | 58 halftones, 55 tables | 6 x 9 | © 2019
Perhaps more than any other American city, Chicago has been a center for the study of both urban history and economic inequity. Community Health Equity assembles a century of research to show the range of effects that Chicago's structural socioeconomic inequalities have had on patients and medical facilities alike. The work collected here makes clear that when a city is sharply divided by power, wealth, and race, the citizens who most need high-quality health care and social services have the greatest difficulty accessing them. Achieving good health is not simply a matter of making the right choices as an individual, the research demonstrates: it's the product of large-scale political and economic forces. Understanding these forces, and what we can do to correct them, should be critical not only to doctors but to sociologists and students of the urban environment—and no city offers more inspiring examples for action to overcome social injustice in health than Chicago.
Table of Contents
Contents
Foreword, Linda Rae Murray
Acknowledgments
Introduction
Part I.          A Divided City
1.         Negro Mortality Rates in Chicago (1927)
H. L. Harris Jr.
2.         Selections from
Mental Disorders in Urban Areas: An Ecological Study of Schizophrenia and Other Psychoses
(1939)
Robert E. L. Faris and H. Warren Dunham
3.         Selection from
Black Metropolis: A Study of Negro Life in a Northern City
(1945)
St. Clair Drake and Horace R. Cayton
4.         Selection from
Mama Might Be Better Off Dead: The Failure of Health Care in Urban America
(1993)
Laurie Kaye Abraham
5.         Selections from
Great American City: Chicago and the Enduring Neighborhood Effect
(2012)
Robert J. Sampson
Part II.         The Health Gap
6.         Cancer Profiles from Several High-Risk Chicago Communities (1987)
Clyde W. Phillips and Loretta F. Prat Lacey
7.         Differing Birth Weight among Infants of U.S.-Born Blacks, African-Born Blacks, and U.S.-Born Whites (1997)
Richard J. David and James W. Collins Jr.
8.         Variations in the Health Conditions of Six Chicago Community Areas: A Case for Local-Level Data (2006)
Ami M. Shah, Steven Whitman, and Abigail Silva
9.         Demographic Characteristics and Survival with AIDS: Health Disparities in Chicago, 1993–2001 (2009)
Girma Woldemichael, Demian Christiansen, Sandra Thomas, and Nanette Benbow
10.       The Racial Disparity in Breast Cancer Mortality (2011)
Steven Whitman, David Ansell, Jennifer Orsi, and Teena Francois
11.       Black Women's Awareness of Breast Cancer Disparity and Perceptions of the Causes of Disparity (2013)
Karen Kaiser, Kenzie A. Cameron, Gina Curry, and Melinda Stolley
12.       Racial/Ethnic Disparities in Hypertension Prevalence: Reconsidering the Role of Chronic Stress (2014)
Margaret T. Hicken, Hedwig Lee, Jeffrey Morenoff, James S. House, and David R. Williams
Part III.       Separate and Unequal Health Care
13.       What Color Are
Your
Germs? (1954)
Committee to End Discrimination in Chicago Medical Institutions
14.       Letter to the President's Advisory Commission on Civil Disorders (1967)
Quentin D. Young
15.       Racism in Red Blood Cells: The Chicago 45,000 and the Board of Health (1972)
Edwin Black
16.       The Uptown People's Health Center, Chicago, Illinois (1979)
John Conroy
17.       Transfers to a Public Hospital: A Prospective Study of 467 Patients (1986)
Robert L. Schiff, David A. Ansell, James E. Schlosser, Ahamed H. Idris, Ann Morrison, and Steven Whitman
18.       Trauma Deserts: Distance from a Trauma Center, Transport Times, and Mortality from Gunshot Wounds in Chicago (2013)
Marie Crandall, Douglas Sharp, Erin Unger, David Straus, Karen Brasel, Renee Hsia, and Thomas Esposito
Part IV.       Communities Matter
19.       Social Support in Smoking Cessation among Black Women in Chicago Public Housing (1993)
Loretta P. Lacey, Clara Manfredi, George Balch, Richard B. Warnecke, Karen Allen, and Constance Edwards
20.       Life Expectancy, Economic Inequality, Homicide, and Reproductive Timing in Chicago Neighbourhoods (1997)
Margo Wilson and Martin Daly
21.       Neighborhoods and Violent Crime: A Multilevel Study of Collective Efficacy (1997)
Robert J. Sampson, Stephen W. Raudenbush, and Felton Earls
22.       Urban Violence and African-American Pregnancy Outcome: An Ecologic Study (1997)
James W. Collins Jr. and Richard J. David
23.       Social Capital and Neighborhood Mortality Rates in Chicago (2003)
Kimberly A. Lochner, Ichiro Kawachi, Robert T. Brennan, and Stephen L. Buka
24.       Weathering: Stress and Heart Disease in African American Women Living in Chicago (2006)
Jan Warren-Findlow
25.       The Protective Effect of Community Factors on Childhood Asthma (2009)
Ruchi S. Gupta, Xingyou Zhang, Lisa K. Sharp, John J. Shannon, and Kevin B. Weiss
Part V.        Taking Action
26.       Community Health in a Chicago Slum (1980)
John L. McKnight
27.       CeaseFire: A Public Health Approach to Reduce Shootings and Killings (2009)
Nancy Ritter
28.       A Community Effort to Reduce the Black/White Breast Cancer Mortality Disparity in Chicago (2009)
David Ansell, Paula Grabler, Steven Whitman, Carol Ferrans, Jacqueline Burgess-Bishop, Linda Rae Murray, Ruta Rao, and Elizabeth Marcus
29.       The Fight for a University of Chicago Adult Trauma Center: The Rumble and the Reversal (2016)
Claire Bushey and Kristen Schorsch
30.       Selections from
Healthy Chicago 2.0: Partnering to Improve Health Equity, 2016–2020
(2016)
Chicago Department of Public Health
Conclusion
Suggestions for Further Reading
Index
Review Quotes
Christina R. Welter, University of Illinois at Chicago
"Community Health Equity is an exciting and important opportunity to present the whole story of Chicago's long and deeply rooted history of structural inequities. The book exposes a city divided by power and racism, which impacts access to health care, causing gaps in public health outcomes throughout the last hundred years. The editors detail how these inequities are duly caused and reinforced by structural and social determinants of health; they also provide ways to take action to address them. The target audience for Community Health Equity is wide and broad—after all, learning from the past can help shape and influence the future."
Michelle Morse, founding codirector of EqualHealth
"In healthcare, we are taught that the right treatment comes from the right diagnosis. Paradoxically our profession almost always gets the diagnosis for health inequity wrong, and mistreats accordingly. Health workers who read this book will interrupt that cycle, recognizing that they cannot continue to support the current social arrangement if we dream of achieving health equity this generation."
Progress in Community Health Partnerships
"An invaluable resource for both researchers and community practitioners, both inside and outside of Chicago. . . . The editors do an outstanding job of drawing linkages across disciplines, methodological approaches, health conditions, populations, and communities. While the book provides no simple map to solutions, the editors provide a selection of works and thoughtfully pose questions that will challenge a broad swath of readers to reflect, engage, and hopefully use this book as a tool toward health equity and justice."
For more information, or to order this book, please visit https://press.uchicago.edu
Google preview here