---
Cultural Producers In Perilous States
Editing Events, Documenting Change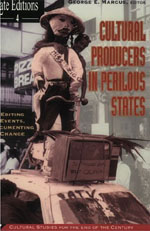 424 pages | viii., 408 p., 43 halftones, 1 map | 6-1/2 x 9-1/4 | © 1997
Ten innovative interviews explore how producers of documentary media—filmmakers, journalists, and artists—located in societies considered marginal to the high-tech global centers respond to local and international audiences in creating their works.

We meet a South African playwright who is shaping a distinctive form of activist journalism; a New Guinean producer who manages several media careers; Polish and German filmmakers developing critical documentaries on compromised new orders; a Columbian artist who provides powerful representations of endemic violence in her society; and writers from Martinique and Argentina with varied careers in the arts, media, and politics who provide tragicomic accounts of the marginal situations of their societies.

Cynical, hopeful, ambivalent all at once, these cultural producers in perilous states share a keen awareness of the marginality of their societies in the broader context of global change, and associate integrity in the reporting of local events with a critical politics of representation.


Table of Contents
Contents
Introduction
George E. Marcus
I: Cultural Producers as Journalists
1: Natural Cockroaches Fly: Khaba Mkhize and Communitarian Journalism in KwaZulu-Natal, South Africa
Lesley Fordred
2: The Most Visible Hand: Russian Journalism and Media-Context
Thomas C. Wolfe
II: Cultural Producers as Filmmakers and Artists
3: Filming Poland: The Ethnographic (Documentary, Narrative) Films of Maria Zmarz-Koczanowicz
Michael M. J. Fischer
4: Correspondences: A Letter from Germany
Gudrun Klein
5: The Accented Style of the Independent Transnational Cinema: A Conversation with Atom Egoyan
Hamid Naficy
6: Art and Media-tion: Reflections on Violence and Representation
Santiago Villaveces-Izquierdo
III: Cultural Producers as "Intellectuals"
7: Mediating Martinique: The "Paradoxical Trajectory" of Raphael Confiant
Lucien Taylor
8: Interview with Albert Toro
Nancy Sullivan
9: Pueblo Chico, Infierno Grande - Small Town, Large Hell: Toward the Global Village?
Julie Taylor
IV: Looking Backward and Forward: A Pre(re)view
10: Pescando en Rio Revuelto: The Crisis of Human Rights in Colombia
Santiago Villaveces-Izquierdo
Contributors
Index
For more information, or to order this book, please visit https://press.uchicago.edu
Google preview here