---
The Chicago Auditorium Building
Adler and Sullivan's Architecture and the City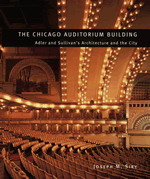 580 pages | 16 color plates, 200 halftones | 8 1/2 x 10 | © 2002
Winner of the Alice Davis Hitchcock Award from the Society of Architectural Historians

When the magnificent Auditorium Building opened on Chicago's Michigan Avenue in December 1889, it marked Chicago's emergence both as the leading city of the Midwest and as a metropolis of international stature. In this lavishly illustrated book, Joseph M. Siry explores not just the architectural history of the Auditorium Building but also the crucial role it played in Chicago's social history. Covering the Auditorium from the early design stage to its opening, its later renovations, its links to culture and politics in Chicago, and its influence on later Adler and Sullivan works (including the Schiller Building and the Chicago Stock Exchange Building), this volume recounts the fascinating tale of a building that helped to define a city and an era.

Table of Contents
Contents
List of Illustrations
Acknowledgments
Introduction
1. Ferdinand Peck, Chicago Politics, and Chicago Theaters to 1880
2. Theater Architecture and Social Conflict in Chicago, 1880-1886
3. Initiating and Designing the Auditorium Building
4. The Auditorium Theater
5. The Auditorium Hotel: Architecture and Urban Life
6. Adler and Sullivan's Later Architecture in Chicago, 1890-1894
Epilogue: The Chicago Auditorium Building since 1890
Appendix: Chicago Loop Properties of Philip F.W. Peck and His Sons, 1849-1896
Notes
Selected Bibliography
Index
Review Quotes
Edward Keegan | Chicago Tribune
"Siry writes history with a storyteller's gift. His book is often dense with detail, but he weaves even arcane references as part of a broad narrative that conveys the complex relationships that were the reality of the late 19th-century American city. The hefty tome sports the extensive visual documentation expected of a book focused on an architectural gem, and Siry makes the most of it, deftly weaving these illustrations into the course of his text."


Atlantic Monthly
"This meticulous, abundantly illustrated, and wide-ranging 580-page chronicle of the building's funding, design, and construction is as much a social history as an architectural one. . . . Siry also details (in an approach that is somewhat refreshing for an art historian) the building's triumph in engineering as well as in aesthetic design."

Society of Architectural Historians: Alice Davis Hitchcock Book Award
Won

Choice Magazine: CHOICE Outstanding Academic Title Awards
Won

View
Recent Awards
page for more award winning books.
For more information, or to order this book, please visit https://press.uchicago.edu
Google preview here