---
Cutting the Fuse
The Explosion of Global Suicide Terrorism and How to Stop It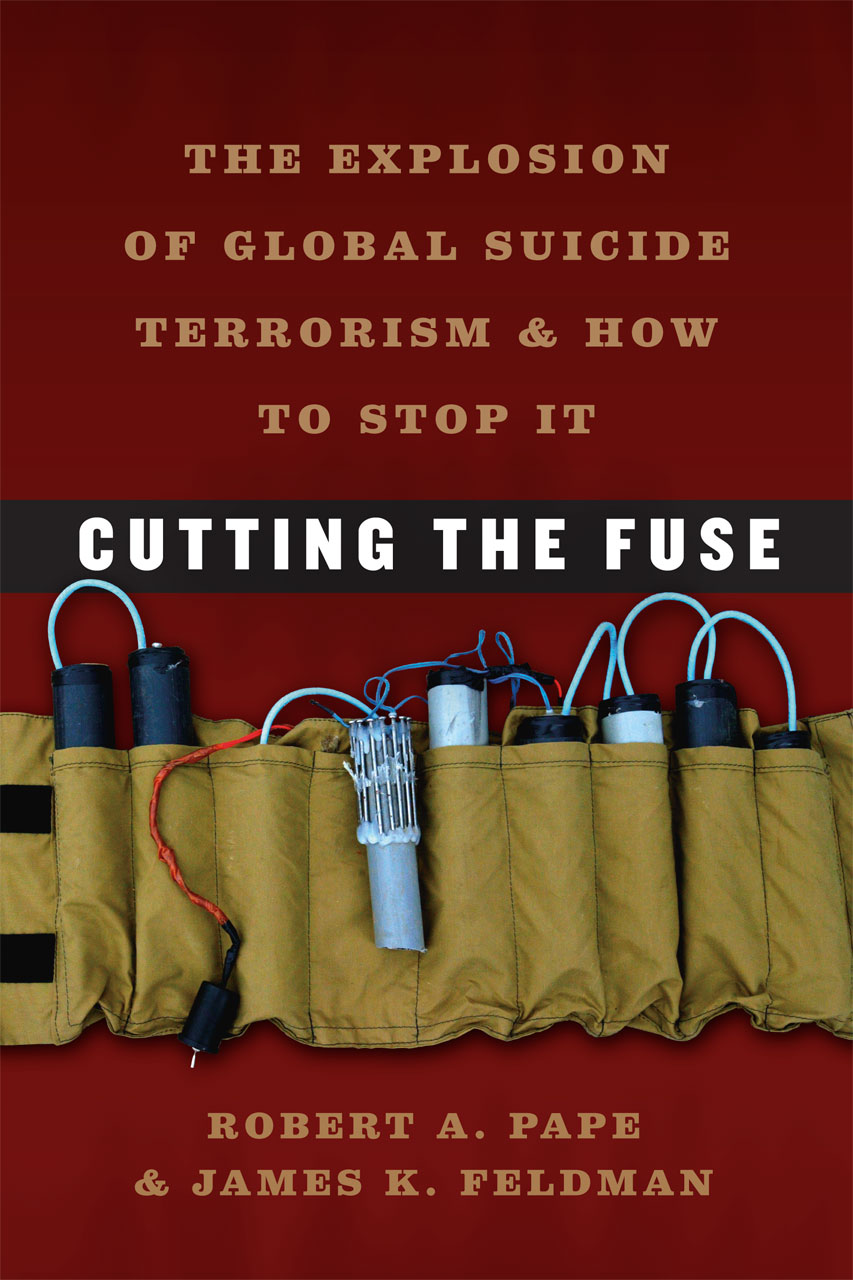 360 pages | 34 line drawings, 11 tables | 6 x 9 | © 2010
Cutting the Fuse offers a wealth of new knowledge about the origins of suicide terrorism and strategies to stop it. Robert A. Pape and James K. Feldman have examined every suicide terrorist attack worldwide from 1980 to 2009, and the insights they have gleaned from that data fundamentally challenge how we understand the root causes of terrorist campaigns today—and reveal why the War on Terror has been ultimately counterproductive. Through a close analysis of suicide campaigns by Al Qaeda and other terrorist organizations in Iraq, Afghanistan, Pakistan, Lebanon, Israel, Chechnya, and Sri Lanka, the authors provide powerful new evidence that, contrary to popular and dangerously mistaken belief, only a tiny minority of these attacks are motivated solely by religion. Instead, the root cause is foreign military occupation, which triggers secular and religious people alike to carry out suicide attacks.
Cutting the Fuse calls for new, effective solutions that America and its allies can sustain for decades, relying less on ground troops in Muslim countries and more on offshore, over-the-horizon military forces along with political and economic strategies that empower local communities to stop terrorists in their midst. 
Table of Contents
Contents
Acknowledgments
Introduction. Why Focus on Suicide Terrorism
PART I. Analytic Overview
Chapter 1. Why Occupation Ignites Suicide Terrorism
Chapter 2. What Really Motivates Transnational Suicide Terrorists
PART II. The Largest Suicide Terrorist Campaigns
Chapter 3. Iraq
Chapter 4. Afghanistan
Chapter 5. Pakistan
Chapter 6. Al Qaeda
Chapter 7. Lebanon
Chapter 8. Israel and Palestine
Chapter 9. Chechnya
Chapter 10. Sri Lanka
Conclusion. The End of Fear, the Beginning of Understanding
Index
Review Quotes
Steven D. Levitt, author of Freakonomics
"Pape and Feldman are the world's experts on suicide terrorism. In this carefully researched yet highly readable book, the authors lay bare the causes of suicide terrorism and demonstrate that our current military strategy serves only to breed a new generation of terrorists. This book is a must-read for anyone who cares about America's role in the world."
Thomas C. Schelling, Winner of the Nobel Prize in Economics
"Robert Pape and Ken Feldman mine a unique library of data to arrive at a radical diagnosis of what motivates suicide terrorists. I think you'll find it persuasive; I am convinced."
Lee H. Hamilton, Co-Chair of the 9/11 Commission
"Pape and Feldman offer a powerful analysis of the factors underlying the rise in suicide terrorism in recent years and bring clarity to a complex and challenging subject. I commend this book to both scholars and policy makers with a serious interest in U.S. national security policy."
Thomas Kean, Co-Chair of the 9/11 Commission
"In this impressively researched book the authors question our conceived wisdom about the motivation of suicide bombers. If they are correct (and I suspect they are) it calls for a total reexamination of U.S. military strategy. Cutting the Fuse should be required reading for policy makers."
Huffington Post
One of The Huffington Post's Best Social and Political Awareness Books of 2010
Choice
"In this most welcome contribution to a growing body of literature, Pape and Feldman serve up a novel, compelling analysis of the root causes of suicide terrorism. The authors challenge the assumption that Islamic fundamentalism generates the peculiar phenomenon of suicide terrorism, suggesting instead that military occupation is the proximate cause. The book picks up where coauthor Pape left off in his previous, groundbreaking work, Dying to Win, and is most remarkable for its thorough research and extensive scholarship."
For more information, or to order this book, please visit https://press.uchicago.edu
Google preview here